The Best Affordable Day Trips from Buenos Aires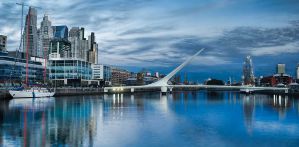 Buenos Aires, federal capital of Argentina, also known as "The City of Tango", is best known for its energetic and unpredictable character. Like a restless child, Buenos Aires is a dynamic and modern city full of surprises. The beautiful city is also called the "Paris of South America" due to its lovely green parks, plazas and wide boulevards. While its French-style palaces, rooftop restaurants and large avenues resemble European-style architecture; Buenos Aires preserves its musical, literary and culinary traditions. You can't miss dining in front of a Tango show, walking around the colorful streets of La Boca and visiting the renowned Recoleta Cemetery, designed by Argentina's most important architects and home to hundreds of illustrious corpses. There is plenty to see and do right in the heart of the city but if you decide to stay a little longer in Buenos Aires, you will enjoy a day trip to Tigre. Only an hour away in train from the capital, Tigre is a town build around the Parana Delta, on which you can feel the exoticism of Latin America on a small boat excursion. Discover La Plata, the capital of the province of Buenos Aires or spend a day or two in a traditional ranch to visit the Argentinian cowboys or gauchos. You may even decide to take the ferry to leave for a weekend to the charming coastal capital of Uruguay, Montevideo or to the UNESCO-listed Uruguayan town of Colonia del Sacramento.
Visit the city of La Plata on this day trip from Buenos Aires. After pickup from your hotel around 9h30am, head out on this 35-mile (57-km) trip to La Plata via coach and learn about the culture, religion, history and architecture of the colonial city through commentary from your bilingual and knowledgeable guide. Stop at the Cathedral of La Plata, one of Argentina's largest churches. Located near the city center, this imposing building is inspired by the architecture of European churches and is one of the city's most important landmarks. Visit the campus of the University of La Plata, home to the Natural Science Museum. Host to over 2 million artifacts, including dinosaur bones and fossils from Patagonia, this museum is a national treasure. Follow your guide to the astronomical observatory and learn about the particular views of the stars and galaxies that can be seen from the Southern hemisphere. Visit the Teatro Argentina de La Plata, and enjoy a behind-the-scenes tour of one of Argentina's leading opera houses. After this 5 hours adventure in La Plata is over, relax in your comfortable coach for the ride back to your Buenos Aires hotel. The tour also includes all the entrance fees for the visits mentioned above but does not provide food and drinks or pickups from Palermo district hotels.

offered by Viator
Discover the UNESCO-listed Uruguayan town of Colonia del Sacramento, a site full of fascinating architecture, on this day trip from Buenos Aires. Leave the cosmopolitan capital behind for a slower pace of life on the other side of the Rio de la Plata. Make your way to the ferry port in Buenos Aires or opt for hotel pickup and prepare to leave the hustle and bustle of the city behind. Hop aboard the ferry from Buenos Aires to Colonia for a 1-hour scenic boat ride across the Rio de la Plata. When you disembark in Colonia, ask inside the ferry station for directions on where to meet your guide for your city sightseeing tour. After your ferry ride, take a guided walking tour of the charming town of Colonia. Pause for a meal at your choice of restaurant (own expense), and enjoy regional Uruguayan specialties as well as Argentinian and international cuisine; then spend the afternoon discovering Colonia on your own. Wander the quaint streets of Colonia at your own pace. Peruse the local shops, visit the museums or take a stroll along the coastal beach. You'll return to Buenos Aires by ferry after a full 10-hour day and you will get beautiful point of views of the city as you approach. Disembark at the ferry terminal and make your way back to your Buenos Aires hotel or enjoy drop-off, if option selected. Please note that ferry tickets for this tour regularly sell out weeks in advance, so you should book ahead to avoid disappointment and a current valid passport is required to enter Uruguay.

offered by Viator
Explore the charming coastal capital of Uruguay with a full-day trip to Montevideo from Buenos Aires. Journey across the Rio Plata on a scenic ferry ride, and then discover the old-world atmosphere and cultural highlights of Montevideo on a sightseeing tour. Enjoy leisure time to wander the colonial streets, shop for unique goods or relax at the beach. It's a unique opportunity to experience one of South America's capital cities in a single day! Grab your passport and make your way to the ferry terminal in the early morning, or enjoy hotel pickup depending on the option selected. Your full-day tour to Montevideo begins with a 3-hour ferry ride across the Rio Plata that separates Argentina from Uruguay. Soak up the sights along this beautiful body of water and enjoy panoramic views of Montevideo and the Uruguayan coast as you approach. After arriving on land, embark on a 1.5-hour tour of the city's highlights. With a unique atmosphere that combines Latin American and European cultural influences, Montevideo is an artistic hub known for its rich theatrical and musical scene. See the beautifully restored Solis Theater, one of the first theaters in South America. Admire the impressive colonial architecture of Plaza Independencia, including the Palacio Salvo, Uruguay's tallest building. See the majestic marble statue of national military hero General Jose Gervasio Artigas, and keep your camera ready for the many highlights of Montevideo's old and new quarters. In the afternoon, enjoy several hours of leisure time of the city. Taste regional flavors with lunch at a local restaurant (own expense), and delve into the history of this historic port town at a variety of museums and cultural centers. Browse artisanal goods at local shops or stroll along the lovely coastline. Connect with your group at the appointed time and place, and board the ferry for the return trip to Buenos Aires. Gain a new fantastic new perspective on the Argentinian metropolis as you approach from water. After landing at the dock, you'll either be transported back to your hotel if option selected or make your own way to your next destination. Please note that a current valid passport is required to enter Uruguay.

offered by Viator
Experience a traditional gaucho party on this full-day excursion to the Argentine countryside. Visit the Argentinian cowboys, or gauchos, who live on the open plains at Estancia Don Silvano, a traditional ranch that will host you for a day of activities. Enjoy a barbecue lunch with wine and mate, horseback riding, trick horse demonstrations and dancing. Learn about life on a ranch on the Argentinian pampas from your guide and hosts, with round-trip transportation from your Buenos Aires hotel. Board a comfortable coach at your Buenos Aires hotel and head out into the Argentine pampas (plains). Attend a friendly welcome reception upon arrival at Estancia Don Silvano that includes juice, wine and traditional empanadas. Visit the ranch's bakery and its museum before attending a milking demonstration. Help the gauchos milk the cows yourself if you like, then watch as they saddle up the horses. Climb on a tame horse and enjoy a relaxed ride through the surrounding countryside. After the ride, eat a barbecue lunch including chicken, ribs, sausages, potato salad and ice cream for dessert. Watch a traditional Argentinian folkloric show including singing and dancing while you enjoy your beverages, including wine, soft drinks, coffee and water. Get on your feet and try out some of the dances yourself before opting for a carriage or tractor ride to view other parts of ranch. Watch the gauchos participate in ring racing and other demonstrations of their incredible horsemanship. Have a snack of quince jelly on sweet cakes before boarding your bus back to the city. Try mate, a traditional Argentine drink made of yerba mate leaves steeped in hot water that has its own rituals and history. Your full-day estancia (ranch) excursion on the pampas ends with drop-off in downtown Buenos Aires.

offered by Viator
An easy day trip from Buenos Aires, the Tigre Delta is a unique suburb built around the swampy land and meandering waterways that empty from the Rio Parana into the Rio de la Plata. Former Argentine president Domingo Sarmiento encouraged settlement in the area during the mid-1800s and lived there himself for nearly three decades. Full-Day Tour (8 hours): Make your way to central Buenos Aires, where you'll meet your guide and board a boat for a river cruise to Tigre. Learn about the history of the delta as you glide along the Costanera Navigation Canal past Buenos Aires' shoreline landmarks. Continue cruising along the narrower canals of the delta, where you'll see yacht clubs, markets and the stilted homes of local residents. When you reach the town of Tigre, climb back onto solid ground and ride a bus to Puerto de Frutos, a vibrant port that connects island dwellers to the mainland. Enjoy leisure time to explore the port on your own and have lunch at a local eatery (own expense). Soak up the relaxed waterside ambience of Tigre's Paseo Victoria lined with stately mansions, museums and rowing clubs. You'll have independent time to visit one of several local museums, including the Tigre Art Museum, the Naval Museum and Museum of Mate (tickets not included). Your full-day tour concludes with a scenic train ride back to Buenos Aires, where you'll arrive at the Retiro station after a 1-hour ride. Half-Day Tour (4 hours): choose from a morning or afternoon departure, and begin your half-day tour with hotel pickup (for more distant hotels, meet your guide in central Buenos Aires). Ride on a comfortable coach along the Rio de la Plata to the charming northern suburb of San Isidro, home to an impressive cathedral and mansions built by the city's old aristocratic families. Continue on to Tigre, where you'll embark on a 40-minute delta cruise. Float past stilted homes and learn how delta-dwellers access goods and services through a network of floating markets. See landmarks that line the waterways in the relaxed town of Tigre, including Sarmiento's historic home and museum. After your tour, relax on the scenic coach ride back to Buenos Aires.

offered by Viator
Share This Article