Best Party Hostels in Buenos Aires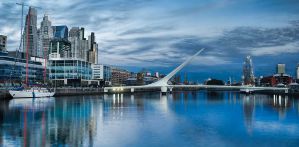 Buenos Aires is one of the largest cities in South America and is a popular starting and ending point for many travelers to the area. Whether you're just arriving, or in the final days of your trip, Buenos Aires is a city worth celebrating in. You can guarantee that there's always a party going on somewhere, and these hostels will likely know where it is.
How much do hostels in Buenos Aires cost?
| | |
| --- | --- |
| Average Dorm Price | $13 ($8 to $27) |
| Average Double Private Room Price (in a hostel) | $58 ($18 to $1,123) |
Dorm Bed:
$
230.00
Private Room:
$
273.00
Overall Rating:
88%
Milhouse Hostel is one of the area's most famous party hostels. It's reputation is well earned and you're guaranteed an all-night party if you stay here. It's location is just a few blocks from Plaza de Mayo and it's only a short walk from San Telmo. There are also many great restaurants and attractions in the surrounding areas.
The hostel is housed in a 19th century building that is impressive. There's a lounge on the first floor that includes a pool table and a bar where guests enjoying chatting and socializing.
There is a no-outside alcohol policy on-site so you have to pay a premium for drinks at the bar. There are countless activities available though. These include soccer games, city tours, dance classes, and club-hopping.
Other amenities offered by the hostel include free breakfast, a fully equipped kitchen, laundry, free internet, safety lockers and 24 hour security among other things.
Avenida de Mayo 1245
,
Buenos Aires
,
Argentina
,
Dorm Bed:
$
220.00
Private Room:
$
350.00
Overall Rating:
83%
If you're looking for a place that doesn't have the crowds of Milhouse Hostel, then check out Hostel Estoril. It's very social and promotes interaction among the guests without being loud or overbearing.
This hostel has a range of sleeping options including doubles, twins, and dorms. There's a rooftop terrace where you can relax with other guests and enjoy the stunning night time views of the city. It's a relatively new hostel and has a lot to offer guests who are looking for a good time in a chill atmosphere. Free breakfast is available as is WiFi, lockers, and a flat screen television. The cafe is open daily with food and plenty of activities for guests. Bicycles are also available for hire.
Avda. de Mayo 1385 1 Piso
,
Buenos Aires
,
Argentina
,
Dorm Bed:
$
13.00
Private Room:
$
16.75
Overall Rating:
78%
Located in a 19th century old house, this hostel has a lot of atmosphere and character. It's been recently remodeled so it has modern facilities in a uniquely styled building. The staff make this hostel a fun place to stay. They keep the atmosphere lively and have plenty of information on things to do in and around the city.
Here you can linger in a hostel with a social but mellow atmosphere that encourages guests to socialize and get to know each other. Whether you're a solo traveler looking for some companions, or traveling in a group, this hostel will make your stay comfortable and fun.
Pte. J.E.Uriburu 1183
,
Buenos Aires
,
Argentina
,
Dorm Bed:
$
15.47
Private Room:
$
16.69
Overall Rating:
91%
This Milhouse hostel offers guests a great mix of activity, energy, and hospitality. It embraces the culture and lifestyle of Buenos Aires with it's social atmosphere and frequent use of live music. You can enjoy Argentinian barbecues in a relaxed and mellow setting.
The open courtyard in the middle of the building is a great place to hang out, meet other travelers, and make plans to party.
The building is located near markets, restaurants, bars and more, so it's very convenient to get out and about. It's also near public transportation and other cental sights, as it is very close to the city center.
The hostel offers a range of rooms including both dorms and private rooms. You are encouraged to make reservations in advance, particularly during the peak seasons.
Hipolito Yirigoyen 959
,
Buenos Aires
,
Argentina
,
Share This Article