Quiet, Safe, and Affordable Hostels in Buenos Aires, Argentina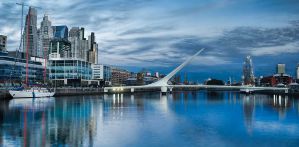 Buenos Aires is the capital of Argentina. It's also one of the largest cities in Latin America and it has a lot to offer travelers in the form of culture, art, music, and cuisine. This is a fascinating place to visit and it is worth spending a decent amount of time here.
There are a wide variety of accommodation options available in Buenos Aires. If you're looking for a fun but relaxed hostel, then the options below are affordable and nice.
How much do hostels in Buenos Aires cost?
| | |
| --- | --- |
| Average Dorm Price | $13 ($8 to $27) |
| Average Double Private Room Price (in a hostel) | $57 ($18 to $1,123) |
A good hostel for backpackers, students, and long term travellers.
Dorm Bed:
$
165.00
Private Room:
$
190.00
Overall Rating:
80%
Hostel Sol is a favorite hostel in Buenos Aires. It has a relaxed and fun atmosphere where it's easy to get to know other travelers in a peaceful and welcoming setting. The hostel is located in a historic house that was built in 1892. It's been renovated to meet the needs of travelers, but it retains much of its charm and character. This is a great option for all types of travelers. Whether you're a long term traveler, a student, or a backpacker, you're sure to feel right at home as Hostel Sol.
The hostel has 24 rooms that are spread over two floors. There are dorms that sleep four, six or eight people (either co-ed or female only). There are also a wide variety of private rooms to choose from. There are standard double rooms and there are rooms that have between three and eight beds. There is also a mini apartment loft and four larger loft apartments that have balconies.
Guests who are staying in dorms have access to their own security lockers. There's also a full kitchen in the hostel that guests can use as well as a roofed patio and a common area with tables and chairs.
Lima 1169
,
Buenos Aires
,
Argentina
,
A good hostel for backpackers, couples, and small groups of friends.
Dorm Bed:
$
10.00
Private Room:
$
22.00
Overall Rating:
92%
Rayuela Boutique Hostel is another warm and welcoming place to stay in Sao Paulo. It's located in a beautiful historic property that is in the middle of the city. The hostel appeals to all types of travelers and it makes a great base for exploring everything that Sao Paulo has to offer. The hostel is very close to Casa Rosada, Obelisco, and the bohemian quarter of San Telmo where you'll find many great antique shops and cafes. It's also close to the largest craft fair in Argentina.
The hostel is a comfortable place to stay with a good security system and modern furnishings. There is key card access to the building and large rooms that have air conditioning and central heating. Guests are also provided with large security lockers for their valuables.
The hostel has several nice social areas where you can hang out. There's a full shared kitchen, a common room, and a book exchange. Every morning a breakfast is provided that includes croissants, bread, cereal, coffee, juice, and fruit.
If you're looking for a social place to stay that is fun and laid back, then this is a good option. The building is very secure and the rooms remain quiet enough at night that you can enjoy a good nights sleep.
The hostel has private rooms that include singles, doubles, and three or four bed private rooms. The dorms sleep either six or eight people.
887 Belgrano Ave. 1
,
Buenos Aires
,
Argentina
,
A good hostel for backpackers, couples, and small groups of friends.
Dorm Bed:
$
12.00
Private Room:
$
12.50
Overall Rating:
91%
Circus Hostel and Hotel is conveniently located in San Telmo. It's just three minutes away from Palza Dorrego, the Antiques Market, and many great bars and nightclubs. It's also close to several types of public transportation including the subway and bus stops.
This is a great option if you want comfort and affordability. It also has a heated swimming pool and breakfast is included in the price of the room. Breakfast typically includes orange juice, fruit, croissants, toast, coffee, tea, cereal, and milk. The hostel staff is helpful and they regularly organize activities for guests including Argentinian cooking classes, movie nights, and city tours.
The hostel has dorms and double or triple private rooms. Dorms sleep four or six people. All of the rooms are large and clean with private bathrooms and air conditioning.
Chacabuco 1020
,
Buenos Aires
,
Argentina
,
Share This Article