The Best Alternative Cruise Shore Excursions in Adelaide, Australia (On Your Own)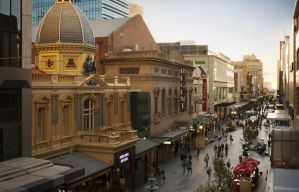 Adelaide is South Australia's cosmopolitan coastal capital. Its ring of parkland on the River Torrens is home to renowned museums such as the Art Gallery of South Australia, displaying expansive collections including noted Indigenous art, and the South Australian Museum, devoted to natural history. The city's Adelaide Festival is an annual international arts gathering with spin-offs including fringe and film events. The self-image Adelaide projects is sophisticated, cultured, and neat-casual.
Multicultural flavors infuse Adelaide's restaurants; there's a pumping arts and live-music scene; and the city's festival calendar has vanquished dull Saturday nights. There are still plenty of church spires here, but they're outnumbered by pubs and a growing number of hip bars tucked away in lanes. Just down the tram tracks is beachy Glenelg: Adelaide with its guard down and boardshorts up. Nearby Port Adelaide is slowly gentrifying but remains a raffish harbor 'hood with buckets of soul. With all of these fabulous attributes, Adelaide is a great place to experience, and there are several options for exciting shore excursions and tours for while you are in port here.
In the morning, your guide will introduce you to city, surrounded by parklands with a blend of historic buildings, wide streets, cafes and restaurants. Drive past Adelaide's cultural precinct - North Terrace as well as the National Wine Centre. You'll have free time to explore the iconic building with the opportunity to purchase morning tea at the cafe or taste wine from the extensive Australian collection. Adelaide Botanic Gardens and the beautiful Botanic Park, home to the Bicentennial Conservatory and the Adelaide Zoo. Continue through to historic North Adelaide. Stop and visit the iconic St Peters Cathedral and the newly developed Adelaide Oval. The next stop is Haigh's Chocolates for tastings of this famous South Australian icon. Your afternoon tour commences with a scenic drive to Mount Lofty Summit (710 meters above sea level) is the highest point in the southern Mount Lofty Ranges. Take in the spectacular views of the city and the coastline - a perfect photo opportunity. Visit Bridgewater Mill historic old Water driven flour mill, known as the 'Old Rumbler' before arriving at Hahndorf for a snack or afternoon tea or for a taste of traditional German beer at Adelaide's oldest German settlement. Spend the afternoon exploring the main street, and check out the local arts and crafts.

offered by Viator
Your first stop is the Adelaide Central Market in the heart of the city. This historic market has been a mecca of food in Adelaide for over 140-years and still today retains its unique charm and character. Renowned for its multicultural flavors and local produce, it has become one of Adelaide's must do attractions. A walking tour of the market is a great way to immerse yourself in the local culture while indulging your senses with some of the finest produce available in South Australia. Note: On days when the Adelaide Central Market is closed (Sunday and Monday), a substitute tour of Adelaide's historic Victoria (Tarndanyangga) Square is provided. This recently upgraded central Adelaide park provides a beautiful cosmopolitan atmosphere whilst being encircled by some of Adelaide finest historic buildings. Next up is a leisurely drive along Adelaide's bustling streets, precincts and surrounding park lands. Crossing the River Torrens, drive along the beautifully redeveloped Riverbank Precinct, past the world famous Adelaide Oval and then travel out of the city on Adelaide's cultural boulevard 'North Terrace'. Witness many of Adelaide's most important landmarks and historic buildings. Just 20-minutes from the heart of the city and nestled in the foothills of the beautiful Adelaide Hills, stop at the world-renowned Penfolds Winery. Established in 1844, Penfolds is one of South Australia's oldest and most famous wineries, offering stunning views across its iconic vineyards and historic buildings. In the state of art cellar door, experience personalized tasting of their internationally acclaimed wines. The major stop for the day is at Cleland Wildlife Park where you will have plenty of time to get close to Australia's most unique wildlife. While immersing yourself in the wonders of this natural bush environment, engage with impressive kangaroos, shy wallabies and cute inquisitive potoroos. The Koala close-up experience is a definite must do, along with seeing the Emu's, Dingoes, Wombats, and native bird life. The Cleland Wildlife Park is also your stop for lunch. Then it's on to Mount Lofty Summit, where you'll find fantastic panoramic views over the Adelaide Plains and Gulf St. Vincent await you. Originally spotted from Kangaroo Island in 1802 by Captain Matthew Flinders, Mount Lofty Summit is the highest point in the Adelaide Hills at 710-meters. This short stop gives you the perfect opportunity to take memorable pictures. To end an amazing day on a perfect note, enjoy a scenic drive along the coast back to your ship at Outer Harbor.

offered by Viator
Share This Article