Adelaide's Best Hostels for Backpackers, Couples, and Groups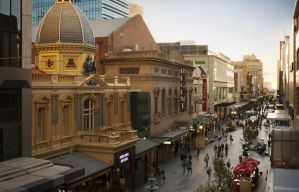 Adelaide has a lot to offer visitors, from culture to nightlife to the beach. And don't forget to come in March for all of the festivals!
The hostels we've listed below are some of the best in the city. Not only will they help you rest and relax, but they will also help you enjoy your stay in the city because they all focus on making your stay enjoyable through social activities with other travelers. Some of the hostels listed here are located in the "backpacker district" near Light Square, while some are in other interesting parts of Adelaide. Either way, you'll have a great time and be comfortable while doing it. You can't go wrong with any of these, so check them out and find the one that's right for you!
How much do hostels in Adelaide cost?
| | |
| --- | --- |
| Average Dorm Price | $19 ($15 to $27) |
| Average Double Private Room Price (in a hostel) | $52 ($28 to $89) |
A modern and relaxing hostel for families, backpackers, and couples
Dorm Bed:
$
30.00
Private Room:
$
33.75
Overall Rating:
90%
With everything you'd expect quality-wise from a YHA, the Adelaide Central does not disappoint. The location is terrific, right in the middle of the city on Light Square, and walking distance to everything you would need such as restaurants, bars, shops, grocery store, and all of the sights and activities you want to see.
The building itself is modern and many rooms have been recently refurbished. They are well painted with a basic but modern decorative style. Family rooms and private rooms have balconies and TVs. Dorms are also modern and spacious with lockers and clean bunks. Bathroom facilities are up to date and kept clean by the friendly and helpful staff.
The common areas are also very nicely laid out. The main common area has TVs, games and table tennis, and a huge, upgraded shared kitchen for those who wish to cook their own meals.
The vibe of this hostel is quiet and relaxed, yet the common area is social and fun, making for a good spot to meet and mingle with other travelers. The staff arranges various activities through the week to help travelers meet, such as pizza nights and tours of the city.
The front desk can arrange the booking of tours and activities. They also offer luggage storage.
Guest reviews give high marks for cleanliness, the modern facilities, and the helpfulness of the staff.
135 Waymouth Street
,
Adelaide
,
Australia
,
A social hostel for backpackers, couples, and solo travelers
Dorm Bed:
$
18.37
Private Room:
$
24.49
Overall Rating:
87%
With a great location in the middle of town, Backpack OZ is a family-owned hostel that emphasizes the social interaction between guests. They super-friendly staff continuously receives great reviews for helpfulness not just of Adelaide, but of all things around the hostel. The on-site bar, free breakfast, and other scheduled activities bring all of the guests together to mingle and make new friends.
Private rooms and dorms of various sizes are available, all with shared bathrooms. The bathrooms are kept very clean by the staff (an issue they take very seriously). Rooms are modern, clean, and laid out with everything a backpacker would need.
The common areas have a TV, pool table, communal kitchen, and more. Also on the list of amenities is Wi-Fi, laundry, bike rental, an outdoor terrace, lockers, luggage storage, and more.
Previous guests consistently give this hostel very high marks for the social atmosphere, the cleanliness of the facilities, and the amazingly helpful staff. You really can't go wrong here!
144 Wakefield St
,
Adelaide
,
Australia
,
A social hostel at the beach for backpackers, solo travelers, and couples
Dorm Bed:
$
23.00
Private Room:
$
30.00
Overall Rating:
81%
Just around the corner from the beach in Adelaide's suburb of Glenelg, this vibrant and social hostel resides in a beautiful and unique building that has been updated and refurbished. Not only is it close to the beach (check the map), but also near shopping, restaurants, bars, and nightlife as well as some tram stops which can take you into central Adelaide fairly quickly. This location is perfect!
The hostel itself has an onsite bar with an outdoor beergarden, making for a perfect place to sit back and unwind with fellow travelers. They open the bar to the public on some nights, letting the locals mix with travelers.
In addition to the bar, the common areas include a TV room with movies and a great communal kitchen. They also offer free Wi-Fi, a free breakfast, and more such as laundry, luggage storage, bike rental, and tour booking.
Private rooms and dorms are available. Dorms to not have bunks - instead all beds are normal so that no one has to climb on top. The rooms all have the character of the old building, some even have old fireplaces and bay windows. The character and atmosphere is terrific!
Guest reviews are very positive, and highlight the cleanliness, the location, the charm of the old building, and the social vibe.
1-7 Moseley Street Glenelg
,
Adelaide
,
Australia
,
A social hostel for backpackers
Dorm Bed:
$
16.16
Overall Rating:
76%
This small hostel in central Adelaide claims to be "like staying at a mate's place." Run by experienced travelers, they have been in business for a long time and have earned a reputation as being a fun, social hostel with a home-away-from-home feel. It is within walking distance of shops, restaurants, bars, nightlife, and more.
On offer are dorms with shared bathrooms, all of which are kept clean. A free pancake breakfast helps you start your day, and the very friendly staff will help you with anything, even non-tourist related issues. They also have Wi-Fi, a shared kitchen, games, TV, and more.
139 Franklin St
,
Adelaide
,
Australia
,
A social hostel for backpackers, groups, and couples (wheelchair friendly)
Dorm Bed:
$
23.00
Private Room:
$
35.17
Overall Rating:
73%
Also referred to as "
Shakeys
," this award-winning hostel resides in an old Victorian building with plenty of charm and tons of amenities located close to Light Square and plenty of shops, restaurants, bars, and nightlife.
Dorms and private rooms are available of various sizes, all with shared bathrooms. Bathrooms are clean, modern, and up to date despite the age of the building.
This hostel also specializes in group bookings, and can handle larger groups with their spacious multi-bunk dorms.
The spacious common areas include a comfortable main TV room with relaxing sofas, a large kitchen with multiple stoves, sinks, and more, outdoor balconies overlooking the city, and more. They also have tour booking, laundry services, internet and Wi-Fi, an onsite bar, a shuttle bus, and more.
They are also wheelchair friendly.
Guest reviews give them high marks for the friendly staff, great location, and cleanliness of the facilities.
123 Waymouth Street
,
Adelaide
,
Australia
,
Share This Article