Best Hostels for Solo Travellers, Couples, & Groups in Brisbane
Brisbane is the capital of Queensland and the third largest city in Australia. Although it is often overlooked by tourists to the area, it actually has a lot to offer. It's an energetic and young city with a friendly atmosphere. It's has a great climate and nice scenery and it's also one of the fastest growing cities in the area.
Brisbane has a handful of great hostels for budget travelers. Whether you're just looking for affordability, or want a social or party hostel, there are all kinds of options available to travelers.
How much do hostels in Brisbane cost?
| | |
| --- | --- |
| Average Dorm Price | $19 ($12 to $34) |
| Average Double Private Room Price (in a hostel) | $60 ($31 to $92) |
A good hostel for solo travellers and couples.
Private Room:
$
31.34
Overall Rating:
88%
Kookaburra Inn is an interesting option for backpackers and budget travelers who want to stay in the middle of the city. It's a short five minute walk to the Queen Street Mall, the Brisbane River, Brisbane City, Chinatown, and Fortitude Valley in the historic Spring Hill area. Despite its convenient location near everything, the hostel is still set on a quiet street that is lined with trees.
The Inn is recommended by several popular guide books, so it is a popular place to stay in Brisbane. They offer airport transfers and taxis are generally easy to locate. If you arrive with your own vehicle, there are parking permits available. In general, the atmosphere is quiet and relaxed and it's a nice place to hang out after a busy day exploring the city. The staff are helpful and approachable, and they can answer any questions that you might have.
The inn has private rooms available that sleep one or two people. There are single rooms, twins, and doubles, each with shared bathrooms.
41 Phillips Street Spring Hill, Downtown
,
Brisbane
,
Australia
,
A good party hostel for solo travellers and groups.
Dorm Bed:
$
25.95
Private Room:
$
34.46
Overall Rating:
86%
Brisbane City YHA is one of the most popular hostels in Brisbane. It's popular with groups or solo travellers that are looking for a social and fun environment. It has everything you could want in a hostel including a rooftop pool that looks out on the city and the Brisbane River. There's also an on-site bar where many guests enjoy hanging out. You really don't even have to leave the hostel to find a party. There are plenty of other areas where you can socialize as well, including tv rooms and game rooms. The hostel also has pool tables and video games available to guests. The staff is fun and friendly and they regularly host different events for guests. The activities include barbecues, walking tours, and movie nights.
This is a great option for young travellers who want a traditional hostel experience. It's easy to make friends here, and because it is so popular, there will almost always be an interesting and diverse crowd. It's also an affordable option for travelers who are looking to save a few bucks.
The hostel has both dorms and private rooms available. Dorms sleep between four and six guests and there are male only, female only, and mixed rooms available. Private rooms sleep two, with both twin and double rooms available. You can also choose from shared and private bathrooms.
392 Upper Roma Street Brisbane QLD 4000
,
Brisbane
,
Australia
,
A good hostel for couples.
Private Room:
$
36.50
Overall Rating:
87%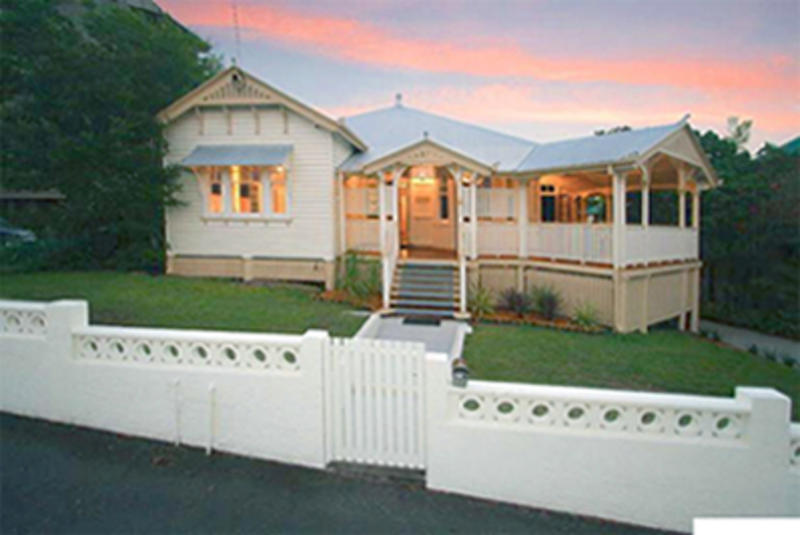 Minto Student House is a good option for young travelers in Brisbane who are looking for a peaceful setting with like-minded guests. The hostel is set in a charming building that is in a serene setting that looks out on the city. The building has been recently renovated. There is an impressive and large kitchen which guests can use as well as a large lounge room with comfortable sofas. The hostel is about a ten minute walk from the South Bank train station. It's a little further on to the Victoria Bridge and then you're in the central business district.
This guesthouse has private rooms available that sleep one or two people (both twins and doubles are available. All rooms use shared bathrooms. Prices are quite reasonable for budget travelers.
If you're looking for a retreat where you can relax and have some time alone, then this is a great place to stay. It has the feel of a home, and it's easy to get comfortable in the place. It's quite clean and relaxing, but it does not have the social atmosphere that you might expect at some hostels.
61 Gladstone Rd Highgate Hill
,
Brisbane
,
Australia
,
A good party hostel for small and large groups and solo travellers.
Dorm Bed:
$
22.00
Private Room:
$
31.67
Overall Rating:
83%
Another one of the most popular hostels in Brisbane, Bunk Brisbane is also a great option for backpackers and young travelers who want to stay at a more traditional hostel. The on-site bar, Birdees, is the place to go for a party. There are also regular activities held at the hostel that make it easy to meet other guests.
The hostel is located next to Story Bridge, and is convenient to most places that you could want to visit around town. There are also several great amenities including a free breakfast, and a half hour of wi-fi every day (a small fee applies for additional usage). There's also a free shuttle bus to the bus station.
The hostel is a unique option because it offers two bedroom apartments. These apartments sleep up to six people and have their own kitchen and television room. One bedroom is a double and the other has four bunks. There's also a private bathroom. There are also double private rooms and several different dorm types available. Dorms sleep four, six, eight, ten, twelve, or twenty people. Most rooms are co-ed but there are several female only rooms as well. The twenty person dorm is the most affordable option, but can be loud and overwhelming.
11-21 Gipps Street, Fortitude Valley
,
Brisbane
,
Australia
,
Share This Article