Best Hostels for Solo Travellers, Couples, & Groups in Salzburg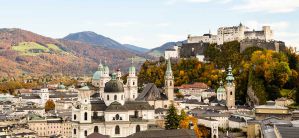 Salzburg is famous as the birthplace of Mozart and the setting for the movie The Sound of Music. The city is in central Austria and is visited by many tourists throughout the year. It's a compact and beautiful city that has a lot more to offer than the cliche tourist attractions that you've heard so much about.
As a popular tourist destination, there are several good hostels that appeal to young travelers and backpackers. Most offer a social setting in a good location for an affordable price. If you want a little more privacy, Salzburg also has many affordable guesthouses that are cute and fun.
How much do hostels in Salzburg cost?
| | |
| --- | --- |
| Average Dorm Price | $18 ($13 to $28) |
| Average Double Private Room Price (in a hostel) | $76 ($30 to $151) |
A good hostel for solo and female travellers.
Dorm Bed:
$
13.17
Private Room:
$
30.72
Overall Rating:
88%
Yoho International Youth Hostel is conveniently located just a couple of blocks from the train station. It's also just a three minute walk from the famous Sound of Music steps "DoReMi". You can be assured that the hostel will play the Sound of Music movie daily as well. The hostel is also just between the train station and the city center, so it's convenient when you arrive and leave, but also for exploring the area.
The hostel has many excellent amenities including a book exchange, hot showers, travel information, free wi-fi, dvd rentals, and microwaves and refridgerators. Bike rentals and ski rentals are also available. There's also an all you can eat buffet breakfast available so that you can start your day out right.
The hostel has several great common rooms where you can hang out with other guests or plan the next part of your trip. The on-site hostel bar is lively and fun. Many guests from around the world enjoy hanging out there and swapping travel stories. They also offer great happy hour deals.
There are no private rooms. Dorms sleep four, six, or eight people and both co-ed and female only rooms are available.
Paracelsusstr. 9 A 5020 Salzburg
,
Salzburg
,
Austria
,
A good hostel for solo travellers, female travellers, couples, and small groups.
Dorm Bed:
$
14.52
Private Room:
$
15.08
Overall Rating:
85%
Another member of the Meininger chain, this hostel is well located near the city's historic old town. It's in the Zentrum im Berg shopping center on the Kapuzinerberg and is in walking distance to many popular sights including Mozart's birthplace and Festival Hall.
The hostel starts the day right with an all you can eat buffet breakfast (for an additional fee). There's a kitchen available to guests where you can prepare your own meals as well. The hostel also has an on-site bar where guests enjoy hanging out in the evening. It's the perfect place to meet other travelers and make new friends. The general atmosphere of the hostel is very social and international. There's a game room where you can play pool or fuzzball and occasionally they host karaoke evenings.
The hostel has all of the standard amenities available including wi-fi and laundry. The staff are also friendly and helpful. Single and double rooms are available as are dorms. You can choose between female only and mixed dorms.
Fuerbergstrasse 18-20
,
Salzburg
,
Austria
,
A good hotel for couples and families.
The Kolpinghaus Salzburg is located about a thirty minute walk from Salzburg's city center. It's a simple hostel that has everything you might expect from budget accommodation. In general, it has more of the atmosphere of a hotel than a hostel, but it's a pleasant and affordable place to stay. They do have a restaurant on-site that serves decent food for a reasonable price. They are only open for breakfast and lunch and breakfast is not included in the price of the room. There's also a fitness room and a beach volleyball area just outside that many guests enjoy. Free parking facilities are available for guests as well.
There are a diverse range of private rooms available. You can choose from twins, triples, and quad family rooms. Each have their own private bathrooms. Dorms sleep four people and are basic but affordable.
Adolf-Kolping-Str. 10 5020
,
Salzburg
,
Austria
,
Share This Article