Salzburg Hostels & Hotels Near the Main Train Station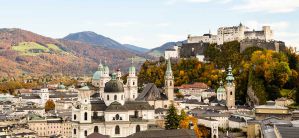 Located in central Austria, Salzburg is probably most recognized as the setting for the movie The Sound of Music. While many people come to see the setting for the film, there is so much more available to visitors.
The main train station in town is the Hauptbahnhof, which is located just north of the Salzach River in the New Town area. Many visitors choose to stay near the train station as it is convenient when you arrive or depart.
How much do hostels in Salzburg cost?
| | |
| --- | --- |
| Average Dorm Price | $18 ($13 to $28) |
| Average Double Private Room Price (in a hostel) | $76 ($30 to $151) |
Private Room:
$
32.75
Overall Rating:
94%
This hotel is located in an old apartment house dating back to 1900. As the tourism boom began in the 1970's the building was converted to a hotel. It is located conveniently close to the train station as well as the town center. Guests can choose between single, double, triple, and quadruple rooms. Included in the room is a private bathroom, television, telephone, and hairdryer. Guests also receive a breakfast buffet. If you're on a tighter budget, you could also choose a room with a shared bathroom. The rooms are each individually furnished in either a modern or more traditional Austrian style. The thirty rooms are spread out over four floors. The hotel is relatively quiet with many of the rooms looking out on a quiet courtyard.
Elisabethstr. 25
,
Salzburg
,
Austria
,
Private Room:
$
35.45
Overall Rating:
89%
This family owned hotel is located right in the middle of the city, but is still quiet and peaceful. You can walk to many different sights around town including the Mirabell Castle, congress house, and the Old Town Center. It's also within walking distance of the central train station.
If you've arrived in your own vehicle there is also parking available for a reasonable fee. The rooms have their own private bathrooms with showers, hair dryer, television, telephone, a safe, and minibar, as well as a free wi-fi connection. In total there are 28 rooms. Other perks available to guests include a complimentary breakfast buffet, elevator, multilingual staff, and much more.
Lasserstrasse 47
,
Salzburg
,
Austria
,
Dorm Bed:
$
13.17
Private Room:
$
30.72
Overall Rating:
88%
This hostel is designed for travelers who are on a tight budget. There are plenty of perks available to guests including free wi-fi, free showings of The Sound of Music, free city maps, a book exchange, postcards, and more. If you plan to take a tour with Panarama Tours, you'll also be able to arrange for free pick up. For an additional charge you can also enjoy an all you can eat buffet or a prepared dinner. There's also an internet cafe available to guests for a small fee.
You can easily walk to this hostel from the train station in a few minutes. It's also just a few minutes away from Mirabell Gardens and the famous Sound of Music fountains.
Paracelsusstr. 9 A 5020 Salzburg
,
Salzburg
,
Austria
,
Private Room:
$
39.46
Overall Rating:
97%
This hotel offers 58 rooms that have a private bathroom with a shower or bathtub, cable television, safe, telephone, and a full mini bar. Guests also have access to wi-fi and can enjoy a free breakfast buffet. It's located very close to many different sights around town including the historic city center, which is just a ten minute walk away, a five minute walk to Mirabell Palace, and a ten minute walk to Mozart's Birthplace.
Schallmooser Hauptstrasse 13
,
Salzburg
,
Austria
,
Share This Article