Vienna is the largest city and capital of Austria. It has a population of over 1.7 million and is a cultural, political and economic center for the country. The historical center is a UNESCO World Heritage Site, and some complain that it feels more like a museum than a real city. Outside of the historical center though, is a young and vibrant city with a huge music scene, many street performers, and eclectic and fun restaurants and nightclubs.
Vienna's climate has four seasons. Spring usually begins in late March and is very short. Summer weather quickly creeps in and Vienna is pleasant and warm through June, July and August. Some days may be hot and humid, but in general, this is a wonderful time to visit. Fall begins in September and temperatures become quite cold by November. These months are also known to be very windy and overcast. Winter is cold and rain or snow is not uncommon. If it does snow, it tends to melt quickly, but skies are often overcast and grey.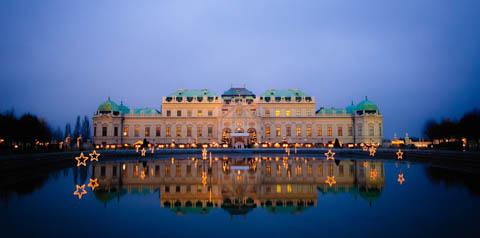 Sights
Most of Vienna's sights are concentrated in the Innere Stadt area. There you will find St. Stephen's Cathedral (Stephansdom) and many musueums. The two most famous museums in the city are Kunsthistorisches Museum (the Museum of Fine Arts) and Albertina. Other sights are found in the Outer West district, such as the Schloss Schonbrunn palace. This palace is included on the UNESCO World Heritage list.
Neighborhoods
Vienna's districts include Innere Stadt, Inner East, Outer East, Inner South, Outer South, Inner West, and Outer West. Innere Stadt is where you will find the greatest concentration of sights, attractions and museums. Inner East is where Prater and the Danube Island are found and Outer East has the Donauturm (Danube Tower) which has one of the best views of the city. Inner South has the Belvedere, the Vienna House of the Arts, and the Vienna Museum, and Outer South has the Wotruba Church, Gasometer, and Lainzer Tiergarten. Inner West is where you're find the museum district and Outer West has Wagner Villa and Schloss Schonbrunn.
Activities
Vienna is world famous for its glamorous balls. Most of these are held during the carnival season and they are often hosted at elegant locations such as the Vienna Hofburg or the City Hall, Rathous. The most recognized balls include the Opera Ball in the State Opera and the Ball of the Wiener Philarmoniker. Other balls are hosted by professional guilds such as the Kaffeesiederball, hosted by the Vienna Coffee house owners.
Related Articles
Food and Dining
Food in Vienna is quite diverse. Portion sizes are usually large and in recent years there has been an increase in vegetarian options. If you're having trouble interpreting the menu, you can ask for an "English menu" and most restaurants will have one to offer. Most restaurants also offer a daily special which will be written on a chalk board or on an insert in the menu. These dishes are usually the best deal with the freshest ingredients. Bread is usually offered on the table, but there is an additional charge. You will likely be charged by the piece, so if you do not want it, don't take it. Tips are usually 10%.
If you're on a particularly tight budget, street food or fast food can be an option. Sausage is available in many different styles. There are snack bars around town that sell both hot sausages and hot dogs with a variety of accompaniments. Other fast food includes Yugoslavian or Turkish style dishes. Doner Kebaps and sandwiches are common. The cheapest meal available is an Austrian sandwich. This can be purchased at a supermarket for about a euro. It is made with sliced brown bread, ham and cheese, and gherkin. You can have other style sandwiches prepared at supermarkets as well. They will usually only charge you for the ingredients.
Transportation
Public transportation is a great way to travel around Vienna. The system is reliable, efficient and comprehensive. It includes rail, commuter rail, underground, trams, and buses. The underground is efficient and thorough, and will likely take you within a short walk of your intended destination. There are five U-bahn lines that are serviced by trains every 2 to 7 minutes. There are 27 tram lines which stop frequently, making them a slower option. There is a tourist tram that loops around the ring. Most tourists avoid taking buses, as attractions are easily accessible by other means, but if you find yourself far from a subway or tram station, you can hop on a bus and will likely reach some higher means of transportation.
Travel Tips
Print Out Some Info
By backpackguru on Oct 28, 2011
Vienna is bigger than you might expect. It also has a lot of districts, neighborhoods, and sights. Come prepared. It's easy to get lost here or lose track of you plans for the day, so consider coming armed with a map and a list of places you want to see. Think about your route ahead of time so you're not backtracking across the city too much.

Of course, there's no need to over prepare, but it's a good idea when you're traveling to a city like Vienna to have some idea what you want to see and do and how you want to do it. Your legs and your travel companions with thank you.
Attending a Ball
By backpackguru on Nov 21, 2011 in Entertainment
A quintessential part of visiting Vienna is attending a Ball, particularly if you're in town during the carnival season when you a many different options. Vienna Balls can be quite impressive and elegant, particularly if you attend one at a popular destination like the Vienna Hofburg or the City Hall. The most famous and upscale ball is the Opera Ball in the State Opera. Another elegant one is the Wiener Philharmoniker. Other balls are put on by various professional organizations such as the Vienna Coffee house owners. Search at a comprehensive schedule of the balls to see your options and the best way of obtaining tickets. You can usually find the schedule on the Vienna City Council website.
Cheap lunch
By curtain on Jul 24, 2015 in Food
In Vienna a lot of restaurants offer lunch for 5 to 6 euros. Just look for restaurants outside the first district. Also Vienna has a lot of "fast food" stands located close to the metro stations. You will find kebap, falaffel, sausages and sushi for under 6 euro at any time of the day