The Best Hostels in Belize for Backpackers and Budget Travellers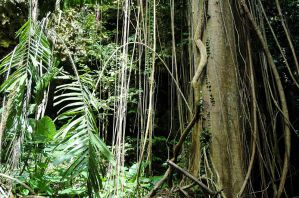 San Pedro | San Ignacio | Hopkins | Punta Gorda
Belize is an interesting country to visit with beautiful beaches, excellent scuba diving, and a fascinating culture. The country has a long coastline along the Caribbean coast. There are also unique jungles, deep sea fishing, and Mayan ruins throughout the country.
Belize is a relatively affordable country to visit. Most tourist destinations have at least a few hostels or budget accommodation options to choose from. The facilities may be basic and hot water is sometimes limited, but the price is usually reasonable. Many hostels offer a mosquito net with each bed. Wi-fi is sometimes available, but can be very patchy in smaller towns.
If you're looking for an affordable place to stay in Belize, then a hostel may be a good option.
How much do hostels in Belize cost?
| | |
| --- | --- |
| Average Dorm Price | $17 ($11 to $33) |
| Average Double Private Room Price (in a hostel) | $42 ($15 to $75) |
An affordable hostel for backpackers and small groups in San Pedro, Belize.
Dorm Bed:
$
15.00
Private Room:
$
16.00
Overall Rating:
88%
Hostel La Vista is an affordable hostel in the middle of the town of San Pedro. The location is convenient whether you want to go to the beach, central park, or a restaurant. It's also close to nightlife if you plan to head out to bars or clubs in the area.
The hostel has several room options available. There are two six bed dorms, one eight bed dorm, and eight private rooms available. There's also a patio area and a rooftop terrace where guests can hangout on the couches or hammocks. Every night guests can enjoy free rum punch starting at 7 pm.
Although there are several activities available to guests, it can still be a bit difficult to meet other visitors here, but this is a great place to stay if you're traveling with a group of friends. There are also bikes, kayaks, and snorkel equipment available for rent.
Barrier Reef Drive San Pedro
,
San Pedro
,
Belize
,
A quiet and relaxing hostel for backpackers, solo travellers, and groups of friends near San Ignacio, Belize.
Dorm Bed:
$
15.00
Private Room:
$
34.50
Overall Rating:
95%
Lower Dover is a relaxing place to spend some time. It's located a bit outside of San Ignacio and it's surrounded by nature and wildlife. The hostel offers a relaxing and quiet environment where you can sit back and relax for a few days. The staff here are knowledgeable of the area and can help you organize any number of tours. As always, shop around before booking tours as sometimes there's a bit of a markup on the price.
The most unique part of this hostel is its peaceful location on almost 100 acres of land, surrounded by old growth rainforest. The hostel has dorms available that sleep up to six people. There are also private twin rooms with options for either an attached bathroom or a shared bathroom depending on your budget and travel style.
Mile 59 George Price Highway (Western Highway) Road entrance @ Unitedville Hardware Store
,
San Ignacio
,
Belize
,
An affordable hostel for backpackers and solo travellers in Hopkins, Belize.
Dorm Bed:
$
12.21
Private Room:
$
14.02
Overall Rating:
91%
The Funky Dodo Backpackers Hostel is a chill place to spend a few days in the middle of the Garifuna village of Hopkins, which is on the Caribbean coast. The hostel is a bit rustic, but affordable. There is a fourteen bed dorm available as well as eight private rooms that can sleep between one and three people. Rooms with either private bathrooms or shared bathrooms are available.
The owners of the hostel are friendly and welcoming and they can help you with any tours or trips you might want to organize. They can also offer recommendations of things to see and do around town.
The hostel is conveniently located very close to the King Casava Bar and Restaurant. Nearby you'll also find an internet cafe, a supermarket, and several other bars and restaurants. The beach is also not far away.
If you're looking for a place to relax and chill out for a few days, then this hostel is a good option. It's nothing fancy and feels a bit basic, but it's friendly and affordable.
Hopkins Village
,
Hopkins
,
Belize
,
An affordable hostel for backpackers and solo travellers in Punta Gorda, Belize.
A Piece of Ground is a pleasant and comfortable place to stay in southern Belize. It's located in the southernmost town of Punta Gorda and it is an interesting place to spend some time. Although it's walking distance to the town center, it's still a bit removed and off the beaten path.
The hostel has a small restaurant where you can get food or drinks. There are also games, a sun deck, and music that you can enjoy. In general, it's relatively easy to meet other guests here.
The hostel has dorms that sleep either four or ten people. There are also private double and three bed rooms available.
12 Pelican street
,
Punta Gorda
, ,
Share This Article