Best Party Hostels in Sao Paulo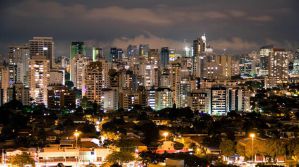 Sao Paulo is the largest city in Brazil, and is world renowned for its nightlife and cultural scenes. It has a diversity of neighborhoods worth exploring, and there shouldn't be a dull moment during your time in the vibrant city. Although many tourists choose to bypass this city for more popular options, if you're looking for a good party, you can't go wrong with Sao Paulo.
How much do hostels in Sao Paulo cost?
| | |
| --- | --- |
| Average Dorm Price | $16 ($7 to $113) |
| Average Double Private Room Price (in a hostel) | $44 ($10 to $136) |
Dorm Bed:
$
6.96
Overall Rating:
76%
LimeTime is all about fun. The owners work hard to make sure you love Sao Paulo as much as they do. They can tell you where the best sightseeing, restaurants, and parties are all over town. The hostel is located in the middle of one of the safest parts of the city and is near several different metro stations. It's just two blocks from Avenida Paulista, which is a major avenue in town.
LimeTime helps you take advantage of the best nightlife in all of Brazil. They organize events throughout the week and take guests out partying at least a few nights a week. There is an onsite bar as well which is open nightly, and a free drink is provided every night at 9 pm to "get the party started."
There's also no curfew for guests so you're free to come and go as you please. This is, hands down, one of the best hostels in Sao Paulo if your goal is to experience the city's nightlife.
Rua Mourato Coelho 973 - Vila Madalena - Sao Paulo
,
Sao Paulo
,
Brazil
,
Dorm Bed:
$
8.51
Private Room:
$
16.34
Overall Rating:
63%
Beats Hostel offers a great party setting for any traveler looking to experience the best that Sao Paulo has to offer. It's a relatively new facility, but it's reputation is growing rapidly. Because of it's new status, prices still remain low, but the party is going strong. Book early if you hope to take advantage of the lowest rates.
Amenities at the hostel including free breakfast, free wi-fi, a full kitchen, hot showers, and much more. It's located in a clean and safe party of city so you can feel comfortable during your stay.
Book with us now! Here your wildest night starts. You get the best info on where to go out and hey! here you get a free Beats-shot.
The staff is bilingual and very knowledgeable about the happenings around town. There is plenty of common space if all you want to do is stay in, and if you're planning to go out, just ask and anybody can tell you where the best party is.
Alameda Ribeirao Preto 258 Bela Vista
,
Sao Paulo
,
Brazil
,
Dorm Bed:
$
9.08
Private Room:
$
13.91
Overall Rating:
87%
3Dogs hostel is located in the heart of Sao Paulo. It's easily accessible from all over the city by public transportation. It's also just a two minute walk from the Ana Rosa metro stop, which conveniently connects to two different lines.
3Dogs hostel also has a large garden where you can lounge in beanbags, hammocks and more. There is free wi-fi access and food available to guests. There's also breakfast available. If you're looking for a social setting in a convenient location with a diverse group of travelers then 3Dogs hostel is an excellent option.
Rua Cel. Artur Godoi 51
,
Sao Paulo
,
Brazil
,
GOL Backpackers is a great hostel in a convenient location in Sao Paulo. It's near many different restaurants, pubs, museums and more. It offers guests a variety of different amenities including a full, shared kitchen, free internet access, wi-fi, and cable television. The hostel also has a great onsite bar that offers traditional Brazilian drinks, beer, liquor and more.
There are a range of room types you can choose from. These include mixed dorms, women only dorms, and smaller, four bed dorms. The staff is friendly and knowledgeable and can offer you information on anything you may need to know.
Rua Sao Carlos do Pinhal, 461
,
Sao Paulo
,
Brazil
,
Share This Article