Cheap Hostels in Rio de Janeiro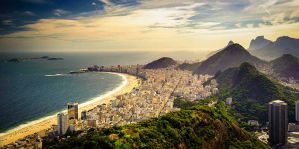 It's like paradise: beautiful beaches covered in beautiful bodies, amazing food, stunning landscapes, and a party atmosphere with drinks and music at every turn. Who wouldn't want to stay forever? Keeping your spending down can help you stretch your budget even further. Then, you can stay for much longer, but perhaps not forever. The following hostels are known for their inexpensive prices and festive atmosphere.
How much do hostels in Rio de Janeiro cost?
| | |
| --- | --- |
| Average Dorm Price | $27 ($1 to $1,717) |
| Average Double Private Room Price (in a hostel) | $56 ($3 to $687) |
Dorm Bed:
$
14.72
Private Room:
$
38.97
Overall Rating:
87%
One block from Ipanema Beach, this popular and active hostel has great prices, free breakfast, and great amenities for backpackers and travelers of all types. With private bathrooms, free WiFi and internet, full air conditioning throughout the building, and great customer service, you can't go wrong here. Mixed and same sex dorm rooms are also available, as well as private bedrooms with TV's and private baths.
A bar and breakfast buffet also help make this place more social.
Che Lagarto also offers transfer services, plus tours and excursions to see everything in Rio.
Rua Paul Redfern N48 Ipanema
,
Rio de Janeiro
,
Brazil
,
Dorm Bed:
$
7.69
Private Room:
$
11.18
Overall Rating:
89%
This hostel offers a great combination in Rio of a relaxing atmosphere that is close to everything but still hidden away from most of the tourists. It's in a nice local area of the city so you won't feel like you are stuck amid the tourist traps. It's still easily accessible to all of the sights and you won't have to go far to experience all of the city's best night life or entertainment. You're sure to have the experience of a lifetime at this facility and you'll make memories that you will never forget.
The building is located in the Bairro of Botafogo area. It's right beside the beach of Botafogo and is very near the impressive Sugarloaf. It's surrounded by a local community and has nearby places that are frequented by residents of Rio. These include local bars, restaurants and parks. You can watch older gentlemen playing cards in the street or chat with local children who have a pick up game of ball going in an alleyway. This is the perfect place to experience the Brazilian way of life and be removed from some of the tourist chaos that you might experience elsewhere.
If you're traveling to the city centre, Copacabana, Ipanema, Santa Teressa, or Corcovado, among other places throughout the city you can easily take either a metro or bus to your destination. Both can be caught within just 100 meters of the hostel. The world famous Copacabana is also just five minutes away.
You can choose between dorms or private rooms. All of the rooms are clean and comfortable and the atmosphere of the hostel is very welcoming. There's a kitchen area which guests can use and there is space where you can relax with a good book or play a game with other guests. There's also a house DJ that will play music.
Av. R. Praia de Botafogo 462 Casa 9, Botafogo
,
Rio de Janeiro
,
Brazil
,
Dorm Bed:
$
23.66
Private Room:
$
45.13
Overall Rating:
86%
This hostel is the perfect place to chill out for a while during your time in Rio. There are some great, comfortable couches that guests enjoy relaxing on and there are large common areas that have an inviting atmosphere and are always filled with other guests who you can get to know and make friends with.
There's a fully equipped kitchen which all of the guests are welcome to use and share. There you can make your own meals and cut down on the costs of eating all of your meals out at expensive restaurants. The hostel also provides guests with a filling breakfast so that you can start your day of exploration out right. There are regular activities which are organized by the staff and you can participate in anything from hang gliding to rock climbing. For the slightly less adventurous there are nature hikes, soccer games, and surfing lessons available as well.
The employees at this hostel are all young travelers themselves and they come from all over the world. They understand what travelers need and want and will go out of their way to provide to guests.
Once the sun goes down you can enjoy some time hanging out in the bar and sipping on tropical fruit drinks. The staff can recommend any number of places where you can go later in the night to experience some of Rio's infamous night life.
Rua Tonelero 197
,
Rio de Janeiro
,
Brazil
,
Dorm Bed:
$
10.86
Private Room:
$
18.60
Overall Rating:
51%
Located in Botafogo, and with a view of Christ the Redeemer from the balcony, this cheap place makes for a great stay in Rio. It's clean and comfortable, and just minutes from a metro station, the beach, an outdoor market, and other shopping, restaurants, and nightlife.
Situated in a natural setting with birds and monkeys, Rio Nature offers more than just the city around it. Free breakfast, free internet, a kitchen, and TV are all available to make your stay much more comfortable (and cheap).
Tours and excursions are also available.
Reviewers state that this is a great hostel to meet other travelers and make friends, as the staff is also made up of travelers to help get everyone acquainted.
Travessa Dona Marciana 31 - Botafogo
,
Rio de Janeiro
,
Brazil
,
Share This Article