Best Hostels for Solo Travellers, Couples, and Groups in Toronto
Toronto is the most populated city in Canada and is the capital of Ontario. The city has a rich cultural scene with many live music venues, art galleries, and excellent restaurants. If you're traveling to Toronto on a budget, a hostel will likely be your most affordable accommodation option. Many hostels are centrally located and offer a fun and vibrant atmosphere.
How much do hostels in Toronto cost?
| | |
| --- | --- |
| Average Dorm Price | $23 ($17 to $27) |
| Average Double Private Room Price (in a hostel) | $60 ($31 to $85) |
A good hostel for solo travellers, female travellers, and couples.
Dorm Bed:
$
33.19
Private Room:
$
46.91
Overall Rating:
95%
Planet Traveler Hostel is a fun hostel in Toronto that is both affordable and comfortable. It's located in a turn of the century building that has been restored to meet the needs of travelers. During the renovation, they incorporated a lot of green technology and the staff continue to focus on sustainable practices. The staff is friendly and helpful and the atmosphere is mellow and fun. There are a variety of amenities available to guests including a shared kitchen, a dining hall, and free breakfast. There is a common area where many guests enjoy relaxing by the fireplace. There's also a dining hall where you can comfortably enjoy your meals.
The hostel is located in the middle of downtown Toronto. It's near Kensington Market, Little Italy, the Annex, and Chinatown. In the immediate vicinity you'll find many different bars, restaurants, cafes, and shopping areas.
The hostel has private twin and double rooms available as well as six bed dorms. You can choose between male only, female only, and co-ed dorms.
357 College Street Toronto, Ontario
,
Toronto
,
Canada
,
A good hostel for solo and female travellers.
Dorm Bed:
$
27.00
Overall Rating:
88%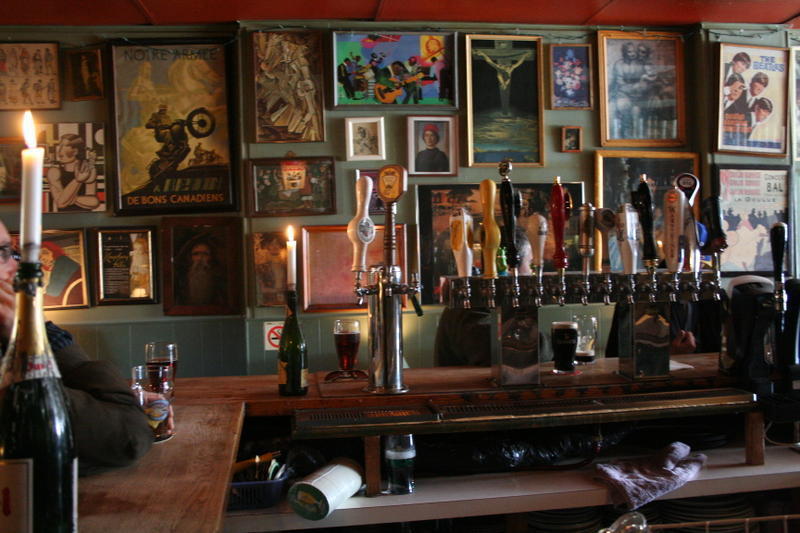 The Only Backpacker's Inn is a fun place to stay in a relaxed environment. This hostel will quickly become your home away from home. It's the perfect place to relax after a busy day exploring the city and you'll easily meet other guests and like-minded travelers. The hostel has a full service expresso bar and cafe downstairs and there's a small pub that has a surprisingly large selection of beers. Guests can enjoy the free waffle breakfast every morning as well. There are several great common areas available including two large patios.
The staff are helpful and genuinely know the area well. They can help with any travel or transportation related questions you might have and they can recommend the best local restaurants and bars nearby.
The hostel has several dorm sizes available. There is a standard four bed female only room as well as a standard six bed male only room. There are also six and eight bed co-ed dorms.
968 Danforth Ave
,
Toronto
,
Canada
,
A good hostel for solo travellers, female travellers, and small groups.
Dorm Bed:
$
23.47
Private Room:
$
42.64
Overall Rating:
86%
HI-Toronto is a member of the Hosteling International network and discounts are available for members. This is a fun and friendly hostel that is perfect for meeting other guests. It's in a central location and is convenient for many different sights and attractions around Toronto. There is even bicycle rental available through the hostel if you wish to explore the city efficiently. The hostel has a lively bar on-site, The Cavern Bar, that is the perfect place for meeting other travelers and enjoying a drink and live music.
The staff are fun and helpful. They can help you with any questions that you might have and can sometimes offer discounts for various events and activities around town. If you need a tour recommendation, be sure and ask.
There are no private rooms available but dorms are available in a range of sizes and types. Dorms sleep four, six, eight, or ten people and you can find male only, female only, and co-ed rooms all available.
76 Church St. Toronto
,
Toronto
,
Canada
,
A good hostel for solo travellers and small groups.
Dorm Bed:
$
22.10
Private Room:
$
15.55
Overall Rating:
80%
All Days Hostel is a fun place to stay with a lot of character. The hostel is well decorated with neo-classical furniture and many modern furnishings. It appeals to a range of travel types including backpackers, business travelers, and vacationers. It is an affordable option that's conveniently located in downtown Toronto.
The hostel has several great common areas including a large lounge room. The lounge has cable television and a different movie is shown every night. There are also several games available, a decent library, and multiple computers that you can use. A small kitchenette is also available.
The hostel staff is helpful and they run regular tours to Niagara Falls. You can also request an airport pickup or any other travel information that you might need. Private rooms sleep one, two, three, or four people and dorms sleep four people and are separated by gender.
5 Selby St
,
Toronto
,
Canada
,
Share This Article