Beijing by Bike: The Best Bicycle Tours in Beijing, China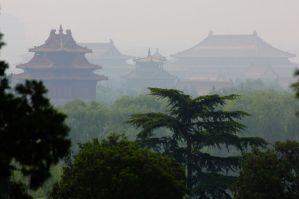 Beijing, China's massive capital, has history stretching back 3 millennia. Yet it's known as much for its modern architecture as its ancient sites such as the grand Forbidden City complex, the imperial palace during the Ming and Qing dynasties. Nearby, the massive Tiananmen Square pedestrian plaza is the site of Mao Zedong's mausoleum and the National Museum of China, displaying a vast collection of cultural relics. Few places on earth can match the extraordinary historical panorama on display in Beijing. There are six Unesco World Heritage Sites in this city alone, and it's not just the ancient architecture that wows tourists. Beijing is also home to some of the world's most innovative modern buildings. Constantly reimagining itself as it races towards the future, yet inextricably linked to its glorious, notorious past, Beijing is as compelling as it is complex. Food is an obsession for the Chinese and the dazzling array of different dishes you'll encounter in Beijing reflects the sheer joy locals take in eating. Dining out is the main social activity; it's in restaurants that Beijingers party with friends, romance each other, hold family reunions and do business, and the sheer variety of places to eat here is mind-boggling. China's capital still preserves its ancient and traditional heart in the winding alleyways and backstreets around the Forbidden City, called hutongs. One of the best ways to experience it all is by bike, and there are several biking tours that will help you make the most of your time here.
Discover Beijing by bike. Cycle the old alleyways of China's capital known as hutongs, home to many of Beijing's residents, shops, markets, temples, and historic buildings. Although modernizing at a rapid pace, China's capital still preserves its ancient and traditional heart in the winding alleyways and backstreets around the Forbidden City. Witness traditional way of life, and stop off at a local market to learn about traditional ingredients in Chinese cooking. Enjoy a tasty Chinese lunch at a local spot in a traditional courtyard, before hoping back on your bike and heading off to play a game of mahjong. Sip cups of green tea with locals while observing and playing this intricate game.

offered by Get Your Guide
Meet your guide in front of Drum Tower, then receive a safety briefing before starting your evening bicycle adventure in Beijing. From Drum Tower, your guide leads you through a classic hutong - older alleyways lined with traditional courtyard residences - while sharing stories about the changes of modern-day development in Beijing. Pedal over to picturesque Shichahai Lake where the city lights reflect on the water, then ride past a mix of old buildings flanked by new restaurants, bars and shops. A few minutes later, enter the lush oasis of Jingshan Park, where traditional Chinese temples and pavilions dot the green expanse. Your guide steers you to the Forbidden City; ride next to the moat and marvel at the sight of the imperial city glowing with light against the night sky. Continue to Tiananmen Square and enjoy the tranquility of this place at night while viewing Chairman Mao's Mausoleum, Tiananmen Tower and the Great Hall of the People. Take a break for some authentic local treats at Donghuamen Night Market and Wangfujing Snack Street where street vendors cook up a variety of tasty dishes from all over China. Stroll through the bustling stalls and sample some savory or sweet bites at your own expense. Your guide is happy to offer recommendations and insights into local favorites. Your final destination is Nanluoguxiang, an alleyway with traditional hutong courtyard houses, some that are 800 years old. The vibrant alleyway houses a collection of restaurants, bars, galleries and boutiques. Expect a moderate ride that proceeds at a relaxed pace, with plenty of stops for conversation and photo ops. After enjoying the sights, sounds and snacks of nighttime Beijing, your guide returns you to your starting point where your tour ends.

offered by Viator
Beijing is a city that's both modern and traditional, forward-looking and connected to its past, especially in the small lanes and alleyways around the city. Known as hutongs, these lanes are still home to many of Beijing's residents as well as shops, markets, temples, and historic buildings. As your Beijing bike tour winds through the hutongs, you'll have a unique view of this traditional way of life and witness this neighborhood as it slowly disappears and the developers move in. Riding along the Forbidden City moat and through the parks nearby will hands down be one of your favorite experiences, as it gives you a different perspective on this formerly "forbidden city" now being a welcoming open place for the non-royals. Visit Huiling and enjoy a simple, yet tasty Chinese lunch in a hutong house. Huiling is a community-based NGO which does great work for mentally challenged people, and on our visit you will have a chance to learn about the work that they do and make some friends in the workshop. Hop back on to your bike and continue our cycling journey through the hutongs until you are back at the drum tower, where your Beijing bike tour will come to an end.

offered by Urban Adventures
Make your own way to the Shichahai Metro Station to meet your guide, then walk together to the bike shop where you receive a safety briefing and get outfitted with bike and helmet. When you're ready, follow your guide through the winding streets of Beijing. Bike through the hutongs, small lanes with traditional homes that have not changed much over time, but with present day development, they are rapidly being squeezed out of the city. For now, you can glimpse a simpler way of life as you bike through Beijing's ancient laneways and along the moat of the Forbidden City. Learn from your guide about the sights you pass and the history of Beijing. Then enjoy a sit-down lunch at a community-based NGO that works with people who have physical and mental challenges. After lunch, hop back on your bike to see more of the hutongs on the way to your final destination: Drum Tower and Bell Tower, two top landmarks that were built centuries ago. Learn about their history from your guide then make your own way to your next destination from there.

offered by Viator
Share This Article