Shanghai's Best Cooking Classes: Learn to Cook Chinese Food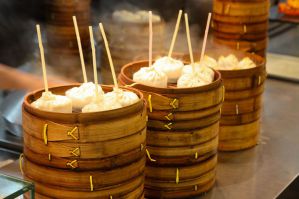 Shanghai, on China's central coast, is the country's biggest city and a global financial hub. Few cities in the world evoke so much history, excess, glamour, mystique and exotic promise as Shanghai. Its heart is the Bund, a famed waterfront promenade lined with colonial-era buildings. Shanghai is home to the world's second-tallest tower and a host of other neck-craning buildings. But it's not all sky-scraping skylines. Beyond the cool veneer of the modern city typified by Pudong, there is a treasure chest of architectural styles. The city has pristine examples of art deco buildings, Jesuit cathedrals, Jewish synagogues and Buddhist temples, home-grown laneway and stone gate housing, offering a little of everything, Shanghai's architectural heritage is like none other. Shopping here is among the best you'll find anywhere. There are pop-up boutiques, high-end designers, bustling markets, cool vintage shops and young designer outlets. Beyond clothing you're also spoiled for choice, whether you're in the market for antiques, ceramics, art, Tibetan jeweler... whatever is on your shopping list. The mouth-watering restaurant scene is varied, exciting and up to the minute - and Shanghai has its own Michelin dining guide. Food is the hub of Chinese social life. It's over a meal that people catch up with friends, celebrate and clinch business deals, and spend hard-earned cash. Some of your best memories of the city could be culinary. With so much to see, do, and taste, Shanghai is a great place to experience, and there are several options for cooking classes in or near the area to help you not only taste the best while you are here, but learn how to recreate these dishes on your own.
Indulge in a half-day Shanghai Chinese cooking class. With a long history of more than 400 years, Shanghai cuisine is growing in popularity. Learn how to cook some Chinese food for yourself by enrolling in a cooking class that teaches you the basics of this culinary art. Whether it's Dim Sum, fried rice, or a succulent fish dish, there are cooks eager to impart their knowledge to you. You can choose to learn from a selection of more than 60 local dishes and 50 Dim Sum preparations.
The Chinese wok course starts with a wet market tour. With the local chef by your side, you will learn how to grocery shop like the Shanghainese at a neighborhood wet market. Bargain hard for your daily bread so you can cook everything on the menu. Then fire up your wok and transform those raw ingredients into authentic Chinese food. The Chinese dim sum course teaches you to make home-made dumplings, buns and cakes, which are becoming a rare treat in China. Learn the traditional techniques and classic fillings in making these flour-based goodies. Explore recipes of some hugely popular street food snacks including sheng jian bao, a steamed dumpling with a crispy pan-fried bottom; xiao long bao, Shanghai's favorite soup dumpling; and jiaozi, a Northern Chinese dumpling staple.

offered by Get Your Guide
Greet your gastronomic guide at a central Shanghai location and commence your walking tour of the former French Concession, a quaint colonial area thronged with enticing food stalls. Watch vendors cook fresh local favorites and begin tasting your way through the city; feast on up to eight samples and savor the unique flavors of guotie (pan-fried dumplings); jiaozi (northern-style dumplings); hun tun (wontons); and Shanghai's renowned xiaolongbao (steamed soup dumplings). Listen as your guide offers fascinating insight into the cultural significance of food in Shanghai and admire the scenery as you stroll past Art Deco architecture to the venue of your cookery class. Greet your professional chef and observe a demonstration on how to make har gow, a Cantonese dim sum specialty that comes in the form of steamed potato wrappers stuffed with shrimp. Under the guidance of your chef, prepare your dumplings and cook them to perfection before sinking your teeth into the delicious delicacy.

offered by Viator
Enjoy a 4-hour cooking class in Shanghai with a unique experience. You will prepare 2 or 3 authentic Chinese dishes in the kitchen of a local, giving you the chance to learn more about life in Shanghai in the bargain. First, you will visit a fresh produce and wet market to buy vegetables and meat. Discover the basic ingredients of Chinese food and learn how to choose the best ingredients. Back at the kitchen, prepare the meal under the guidance of a local teacher. They will explain the basics of Chinese seasoning and cooking methods. Chat about what the locals typically eat at home, and discover the links between food and traditional Chinese Medicine. After you have prepared 2 or 3 dishes, which the teacher and assistant will guide you through step-by-step, sit down to savor the fruits of your labor over some Chinese tea. You will be offered a traditional tea ceremony preparation of gong fu cha, with some of the finest Chinese teas.

offered by Get Your Guide
This fun cooking class starts at 2:00pm on every Wednesday and Saturday. Your instructor will meet you at the meeting point, and take you to visit the local fresh market where you'll learn how to choose the best vegetables, and how to bargain for the best prices. Then you'll go back to the home kitchen and start your cooking class. You will cook 2 to 4 delicious dishes, usually a main meat dish, a soup, and a healthy vegetable dish. From this class, you will learn what the real local Chinese cuisine is like, what local people really eat, and how to cook like a Shanghainese family. Of course, besides cooking, another fun part is to meet new friends who also share the same interest in Chinese food and culture. At the end of the class, you will take a recipe card home with full instructions and ingredients list in both Chinese and English, so that you can cook the dishes again at home. Now, you will have gained Chinese cooking skills and will be able to cook some Chinese dishes to impress your friends and family.

offered by Viator
Share This Article