Shanghai's Best Food Tours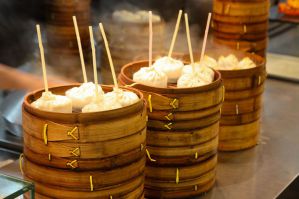 Shanghai, on China's central coast, is the country's biggest city and a global financial hub. Few cities in the world evoke so much history, excess, glamour, mystique and exotic promise as Shanghai. Its heart is the Bund, a famed waterfront promenade lined with colonial-era buildings. Shanghai is home to the world's second-tallest tower and a host of other neck-craning buildings. But it's not all sky-scraping skylines. Beyond the cool veneer of the modern city typified by Pudong, there is a treasure chest of architectural styles. The city has pristine examples of art deco buildings, Jesuit cathedrals, Jewish synagogues and Buddhist temples, home-grown laneway and stone gate housing, offering a little of everything, Shanghai's architectural heritage is like none other. Shopping here is among the best you'll find anywhere. There are pop-up boutiques, high-end designers, bustling markets, cool vintage shops and young designer outlets. Beyond clothing you're also spoiled for choice, whether you're in the market for antiques, ceramics, art, Tibetan jeweler... whatever is on your shopping list. The mouth-watering restaurant scene is varied, exciting and up to the minute - and Shanghai has its own Michelin dining guide. Food is the hub of Chinese social life. It's over a meal that people catch up with friends, celebrate and clinch business deals, and spend hard-earned cash. Some of your best memories of the city could be culinary. With so much to see, do, and taste, Shanghai is a great place to experience, and there are several options for food tours in or near the area to help you get the best culinary experience during your time here.
After meeting your expert guide, who has extensive knowledge and professional experience in Shanghai's food and market industry, begin your walking tour of the New Zhenning Lu Market. Stroll past merchant stalls of this wet market and learn about a variety of topics connected to China's food culture. Your guide will teach you about agriculture-centered trading in Guangdong and the role that Anhui salt merchants play in Chinese cuisine. Hear about fundamental food and cooking concepts in China, such as the importance of sharing meals, the emphasis on freshness, the abundance of vegetables and the staple pork in the Chinese diet. After an hour of exploring the market by foot, follow your guide to nearby Fu 1088, a high-end restaurant where you'll enjoy an authentic Shanghai meal for an additional cost. After getting seated in your private room, you will be introduced to the restaurant's executive chef, who is one of the most-celebrated chefs in the city. Then, dig into a luxurious spread of traditional Shanghai specialties carefully chosen by your guide in order to illustrate the concepts you've learned throughout your tour. As you delight in this delectable meal, enjoy the company of your fellow food lovers and learn more about China's fascinating food culture from your guide.

offered by Viator
Greet your guide at a central, pre-arranged location and embark upon your exploration of Shanghai's street food scene. Stroll to Shouning Lu, a bustling street market replete with seafood stands and desert stalls and spend an hour sampling the vibrant enclave's specialties, pleasuring your palate with exotic bites like stewed crayfish, grilled eggplant and vegetable skewers. Sip a local beer to refresh, then venture to the second foodie spot. Digest your delicacies on the walk to a cosmopolitan district influenced by Shanghai's small Muslim population. Taste succulent grilled lamb and sip a rare regional beer at a local restaurant before heading to the evening's culinary conclusion. Take a seat in an authentic Sichuanese restaurant and awaken your senses to the region's renowned spicy dishes; try a selection of local favorites and feast on bites your guide collected from the street stalls along the way during your banquet. Bid your guide and group farewell in another central Shanghai location at the end of your tour.

offered by Viator
Find your way to the Huangpi Nan Road metro station in Shanghai, where you will meet your guide and group. Depart on foot for the Xintiandi area. Make your first stop at a local restaurant serving up the best soup dumplings in the city. Find a table among the locals, then taste the famous dish and participate in an in-depth discussion on the flavor and consistency of the broth, the quality of the meat filling, and the texture of the dumplings' skin. Learn about the history of this dish as a Shangainese staple. Continue to the famous Yunnan Road, once the border between the French Concession area and the Shanghai residential areas, approximately 15 minutes' walking distance. See the border where French-style apartments suddenly give way to traditional Chinese stone door houses. Visit three restaurants in the neighborhood to try local dishes and see how the native city residents eat and live. Taste dishes such as spring rolls, candied lotus rice, roasted duck, scallion oil noodles, red-braised pork, and parched chicken. Between stops, cleanse your palate with green or black tea and listen to your guide's commentary on Shanghai's culinary culture and traditions.

offered by Viator
Meet your guide in central Shanghai and set off to discover some of its best-loved street snacks. Delve into one of Shanghai's busiest older neighborhoods, and as you walk and talk, hear about the city's culinary styles and history. Learn about the king kongs (si da jingang): the four much-loved specialties of dough sticks, pancakes, rice rolls, and soybean milk. Explore backstreets alive with stalls, and enjoy up to four tasting stops. Enjoy a scrumptious, fried dough stick, savor a sumptuously sticky rice roll, and try some comforting soybean milk and soft, fluffy pancakes. Along the way, absorb the lively atmosphere and view the other goodies on offer as your guide tells you more about the recipes and ingredients. Next, take a cab or the subway at your own expense with your guide to Shouning Road, another street foodie hotspot. Mingle with the locals eating here and taste a select number of additional delicacies, such as xiaolongbao, the city's yummy soup-filled dumplings, and further goodies as you wish at your own expense. After three hours, your tour ends here, leaving you to continue exploring independently or return to your hotel with directions from your guide.

offered by Viator
Share This Article