Best Hostels for solo travellers, couples, & groups in Xi'an
Xian is a historic city in the Shaanxi Province of China. It is more than 3000 years old and served as the capital for 1000 years. It is probably most famous as the location of the Terracotta Warriors. Travelers come from around the world to see this impressive sight.
If you're traveling to Xian on a budget, there are many great hostels in the city that you can choose from. Many offer a social atmosphere and regularly hostel activities and events for guests. They can also help you organize tours and activities of the area.
A good hostel for solo travellers, couples, and small groups.
Dorm Bed:
$
5.65
Private Room:
$
8.07
Overall Rating:
92%
Located in the middle of Xi'an, Xi'an See Tang Hostel is a great option for travelers that want to stay somewhere that's comfortable, modern, and clean. The hostel is conveniently close to the South Gate of the city wall and is also close to the bell tower, drum tower, Muslim Quarter, and a metro station. Its convenient location and its modern and clean feel make it a top pick for travelers to the area.
The hostel also serves as a tour agency and can arrange most types of travel for you. There is also a restaurant and bar on-site, where guests enjoy hanging out and getting to know each other. The rooftop is a nice place to relax with a beer and chat with other guests. It's a social setting without being a party atmosphere. It's definitely a good place to unwind after a busy day around town. Rooms are diverse and include doubles, standard, and dorms. Dorms sleep four or six people and are all co-ed.
No.33 Shuyuanmen Beilin District
,
Xi'an
,
China
,
A good hostel for solo travellers, couples, and small groups.
Dorm Bed:
$
35.00
Private Room:
$
45.00
Overall Rating:
95%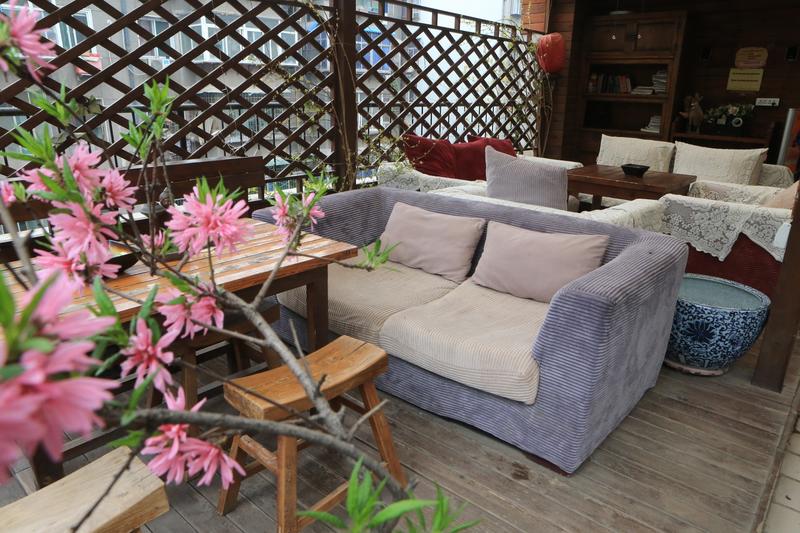 Han Tang Inn Hostel is one of the most popular hostels in Xi'an. It's centrally located near the Muslim Quarter, Shaanxi History Museum, and is accessible to most parts of Xi'an. Despite its close proximity to many tourist attractions, it's actually set in a quiet residential area that has a true authentic feel.
The hostel itself is clean and modern with many western style amenities. They also offer free pickup from the main railway station as well as free wi-fi, a pool table, plane ticket booking, walking tours, and luggage storage. The staff are friendly and helpful and they regularly arrange a variety of activities for guests. Typically, they host one activity a night. Examples including dumpling parties, beer pong, calligraphy classes, game nights, sauna nights, Chinese Majiang, and ping pong tournaments. There's also a bar on-site that many guests enjoy hanging out at. This is a friendly and social place to stay without being a wild, party hostel.
Private rooms sleep two or three people and dorms sleep up to six people.
NO.7 Nan Chang Xiang, South of Xincheng Square
,
Xi'an
,
China
,
A good hostel for solo travellers, couples, and small groups.
Dorm Bed:
$
6.14
Private Room:
$
14.37
Overall Rating:
91%
Originally Green Forest Hostel, Traveling with Hostel is a nice place to stay that offers a social environment in a comfortable and clean setting. The staff organize a variety of activities for visitors including city tours, live music shows, and barbecues. They also can offer any travel advice you might need.
The hostel is located at the North Gate and is close to An Yuan Gate. It's five minutes from a supermarket and ten minute from the Ming Palace. It's also near the Bell Tower and the city's downtown area. Amenities available to guests including wi-fi, a book library, satellite television, and movies. They also offer airport pickups and various tours of the area.
Private rooms are either twins or doubles and dorms sleep either six or eight people.
4F, No.9 Beiguan Zhengjie Lianhu District
,
Xi'an
,
China
,
A good party hostel for solo travellers and small groups.
Dorm Bed:
$
6.76
Private Room:
$
11.83
Overall Rating:
85%
As the name says, this is a self proclaimed party hostel. They offer weekly barbecues, dumpling parties, and all types of western food at their bar and restaurant. It's one of the original backpackers' hostels in Xi'an and it remains a popular place to stay in the area. It's located about a five minute walk from the metro and is within walking distance of the Muslim Quarter and Shaanxi History Museum. It's surrounding by restaurants and shopping, and there's plenty of entertainment in the area.
This hostel is a great place to come to socialize and meet other travelers. There are several places to hang out, both indoors and outdoors. There's a nice garden area with a cafe, and there are common areas with pool tables and ping pong tables. There are also standard amenities available like free wi-fi, laundry facilities, luggage storage and travel information. The hostel can also help you organize tours around the city and to nearby attractions.
Twin double and triple private rooms are available and dorms sleep four, six, or eight people.
No.2 Shunchengxixiang Nanmen Li
,
Xi'an
,
China
,
Share This Article