Affordable Day Trips from Jaco, Costa Rica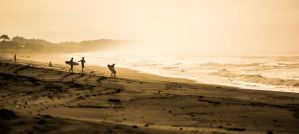 Jaco is a town on the Pacific coast of Costa Rica, southwest of the capital city, San Jose. It's known for its surf beaches and nightlife, and as a gateway to national parks. Rocky, gray-sand Jaco Beach is west of town. Southeast, Hermosa Beach has big waves. To the north, Carara National Park has scarlet macaws and crocodiles at Tarcoles River. A path through the rainforest in Pura Vida park leads to Bijagual Waterfall. Few places in Costa Rica generate such divergent opinions as Jaco. Partying surfers, North American retirees and international developers applaud it for its devil-may-care atmosphere, bustling streets and booming real-estate opportunities. Jaco was the first town on the central Pacific coast to explode with tourist development and it remains a major draw for backpackers, surfers, snowbirds, and city-weary inhabitants of San Jose. Although working-class Tico neighborhoods are nearby, open-air trinket shops and tour operator's line the main drag which. The surfing here is excellent, and the restaurants and bars are great, particularly those lining classy Jaco Walk. With so much to see and do, Jaco is a great place to both experience and use as a base for exploring nearby areas, and there are several exciting options available for day trips to help you make the most of your time here.
Manuel Antonio National Park is the most famous National Park in Costa Rica and is the most visited National park yearly. This tropical forest is located on a peninsula, surrounded by crystal clear Pacific Ocean surf and white sand beaches. The main attractions of this park are its two white sand beaches: Espadilla Sur and Manuel Antonio. There are 109 mammal species such as 3 different types of monkeys, agouti, three-toed sloths, and over 180 species of birds. Let an experienced bilingual nature guide teach you about the native fauna and the distinctive plant life of this beautiful park in the extensive trail system, which takes you through a variety of ecosystems.

offered by Viator
Discover what makes Arenal a favorite Costa Rican destination. After early morning pickup at your Jaco-area hotel, relax on the approximately 3.5-hour drive north to Arenal Volcano National Park. Breakfast will be provided along the way. Once you arrive at the park, take in breathtaking views of Arenal Volcano, which is one of the most active craters in the Western Hemisphere. Accompanied by your knowledgeable guide, explore the rocky lava beds and forested scenery at the base of the volcano. Walk to viewing platforms for an unbeatable view of the peak, which reaches 5,436 feet above sea level. You may be able to see plumes of smoke and rivers of molten lava streaming from the active cauldron. Be assured that the volcano is carefully monitored for activity and trails are chosen for visitor safety. After a lunch of typical Costa Rican cuisine, it's time to relax at one of the area's popular natural hot springs. Try out many geothermal pools of varying temperatures to find your favorite, and enjoy the beautiful tropical surroundings. From secluded pools to cascading waterfalls, soak up the restorative properties of volcanic mineral water and take in views of the sputtering volcano in the distance. After several hours at the spa, bask in your newfound bliss on the return drive to Jaco, where you'll be dropped off back at your hotel in the evening.

offered by Viator
Discover why Manuel Antonio National Park is a favorite destination for visitors to Costa Rica. After morning pickup from your Jaco, Punta Leone or Fiesta Resort hotel, enjoy a scenic drive down the Central Pacific coast, passing through African palm plantations and small villages along the way. Vehicles are not allowed inside the park in order to protect its fragile ecosystem, so you'll leave the van behind at the town of Quepos for a short walk through the jungle and across a creek. Once inside the reserve, you'll be greeted by an expanse of crystal-clear water lapping up against a gorgeous stretch of white sandy beach. The day is yours to spend as you please. Join your guide on a nature hike through the surrounding rain forest to learn about abundant native plant species and spot local wildlife such as capuchin monkeys, sloths, iguanas, coatis and tropical birds. Hike along a trail towards the Cathedral Point outcropping for splendid panoramic views of the park. You can also choose to relax on the beach and soak up the tropical sun, either after your hike or all day. Cool off with a refreshing swim in the crystal-clear water. Midday, enjoy a picnic lunch of fresh Costa Rican cuisine. As the sun begins to fall, hike back out of the park and enjoy the scenic return drive to your hotel.

offered by Viator
Tucked between Costa Rica's Nicoya Peninsula and the mainland, Tortuga Island is a postcard-worthy tropical paradise. Your full-day escape begins with pickup at your Jaco or Punta Leona hotel in the morning, and then a scenic drive to the port at Puntarenas. Here, board a comfortable boat and settle in for a 2-hour cruise across the Gulf of Nicoya. Along the way, admire the brilliant blue water around you and keep an eye out for passing marine life. Once you reach the island, the day is yours to spend as you wish. Drop a towel and catch some rays on the island's pristine, white sand beaches, or head out into the clear water for a refreshing swim. If you crave more adventure, kayaks, boats, and snorkeling equipment are available to rent for a small fee. You can also head out for a nature hike to explore the inland rain forest, where you might spot tropical birds or even one of Tortuga's resident wild pigs. Savor a delicious buffet lunch of grilled meat and fish, rice, salad and fresh fruit prepared by your friendly guide. Dine near the beach where you can take in a spectacular view of the surrounding turquoise waters. After around 4 hours of leisure time on the island, climb back on the boat for the return cruise to Puntarenas and the drive back to your hotel, where you'll be dropped off in the evening.

offered by Viator
Share This Article