Affordable Guanacaste Day Trips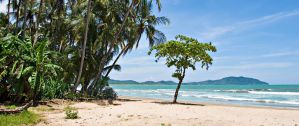 Guanacaste, a province in northwestern Costa Rica bordering the Pacific, is known for its beaches and biodiverse parkland. Guanacaste's geographical features are diverse and exotic. In some areas it is a wide, flat expanse of grasslands and dry tropical forest, where savanna vistas are broken only by windblown trees. Further east, the Cordillera de Guanacaste rises majestically out of the plains in a line of sputtering, steaming volcanic peaks that beg exploration. Further south, higher altitudes create mystical cloud forests teeming with life. Its Santa Rosa National Park is home to rare dry tropical forest, surfing sites and some 250 bird species. Guanacaste's endless beaches include Playa Blanca, with its calm waters, and Playa Hermosa, popular for diving and water sports. Papagayo Peninsula hosts luxury resorts and golf courses. As one of the most popular provinces in Costa Rica, Guanacaste has gained a name for itself as a tropical paradise with a pristine shoreline, beautiful mountain ranges and a number of volcanoes. Visitors are drawn to the long summer days, active culture and unparalleled wildlife. The endless options for recreation means there are countless reasons why locals and international visitors alike travel to Guanacaste. With so much to see and do, Guanacaste is a great place to both experience and use as a base for exploring nearby areas, and there are several exciting options available for day trips to help you make the most of your time here.
Venture into Costa Rica's northern neighbor on a packed full-day tour of Nicaragua from Guanacaste. The day begins with early morning pickup from your hotel in an air-conditioned coach, and then a hearty Costa Rican breakfast in Liberia. Continue on to the Nicaraguan border, where your guide will assist you with all border-crossing procedures. After another 2 hours on the road, hop off the coach at the hilltop Catarina viewpoint for spectacular perspective of the nearby Apoyo Lagoon and the larger Lake Nicaragua. You'll also see the lakeside Mombacho Volcano. In the neighboring town of Catarina, visit the local craft market where you can browse handmade textiles and goods made from leather, wood and ceramic. It's a great place to purchase a unique souvenir to take home. Journey on to the charming colonial town of Granada. You can opt for a 45-minute ride through the town's palm-lined avenues on a horse-drawn carriage at your own expense, or explore the colorful streets and colonial architecture on your own. Admire attractions like Granada Cathedral and the popular Parque Central as you learn about the history and culture of this historic city. Rest your feet and refuel with lunch in Granada, where you can sample Nicaraguan cuisine. Next, continue on to Masaya Volcano National Park. Take in the impressive sight of the park's active volcano, which regularly emits sulfuric smoke, and keep your camera ready for shots of the beautiful surrounding landscape. After your full day, sit back and relax on the approximately 3-hour return drive to Guanacaste.

offered by Viator
Get ready for the ride of your life on one of Costa Rica's only Superman zipline courses. Experienced guides will prepare you for your two-hour adventure, and share tips on how to get the most out of the experience. Leap from a 2,200-foot platform and take in stupendous views of rainforest and sea as you zoom across 13 different zipline cables. It's an experience you'll never forget, and one of the best ways to get a bird's-eye view of Costa Rica's amazing lush scenery. After your Superman zipline adventure, unwind and debrief over a tropical fruit platter at the park's Tucan restaurant.

offered by Viator
Spend a day immersed in the geologic wonders and relaxing hot springs of Arenal. After morning pickup at your Guanacaste hotel, ride in a comfortable air-conditioned coach and enjoy a provided breakfast en route to Arenal Volcano National Park. Join your knowledgeable guide on a leisurely hike around the base of the volcano, which emits a steady stream of smoke, ash, and lava. Rest assured that trails are carefully chosen for visitor safety. Trek across open expanses of lava fields formed from previous eruptions and learn about the geologic history of this seismic wonder. Make your way through the lush greenery of the surrounding forest, where your guide will help you spot interesting plant species and native wildlife. Admire panoramic views of the volcano from a distance, and look for signs of activity shooting out of its crater. Relax after your hike with a therapeutic soak at nearby Baldi Hot Springs. This family-friendly spa boasts 25 thermal pools of varying temperatures surrounded by beautiful tropical scenery. There's something for everyone, including a swim-up bar, waterfall pools, a kids' area with a splash zone, and several exciting water slides. When hunger strikes, enjoy lunch at the on-site restaurant. As dusk falls over Arenal, take in an enchanted atmosphere of steamy pools and emerging stars with views of the volcano in the distance. Bask in your relaxed, blissful state on the ride back to your Guanacaste area hotel in the evening.

offered by Viator
The Monteverde Cloud Forest Reserve in Costa Rica sits 4,660 feet above sea level, where a blanket of clouds and mist provides a unique, wet habitat that's home to six distinct ecosystems and amazing biodiversity. Begin your cloud forest adventure with early morning pickup at your Guanacaste-area hotel. Enjoy breakfast on board during the 2-hour drive through the scenic Costa Rican countryside and up the famously bumpy roads leading to Monteverde. Upon arrival, embark on an hour-long hike in the reserve. Your guide points out native plants and wildlife that make their home in this incredible environment. Next, visit a hummingbird gallery, as well as the famous Monteverde Butterfly Garden, where you'll observe more than 20 species of native butterflies. As you learn about the fascinating life cycle of these insects, you'll have a chance to watch a butterfly emerging from a chrysalis. Leave the reserve enjoy lunch and then finish the day with a final stop at Don Juan's coffee plantation, named after one of the original settlers in the area. Inhale heady scents as you learn how coffee, chocolate, and sugarcane are harvested and processed in this region of Costa Rica. After this satisfying day of sightseeing, enjoy transport back to your Guanacaste hotel.

offered by Viator
Share This Article