Arenal Volcano Tours in Costa Rica for Budget Travelers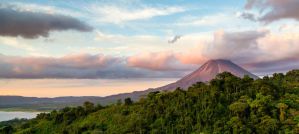 Costa Rica is a rugged, rainforested Central American country with coastlines on the Caribbean and Pacific. Though its capital, San Jose, is home to cultural institutions like the Pre-Columbian Gold Museum, Costa Rica is known for its beaches, volcanoes, and biodiversity. If marketing experts could draw up an ideal destination, Costa Rica might be it. The 'rich coast' has earned its name and stands apart from its Central American neighbors on the cutting edge of so many trends: surfing, farm-to-table restaurants, and sustainable tourism. Rainforest hikes and brisk high-altitude trails, rushing white-water rapids and warm-water, world-class surfing: Costa Rica offers a dizzying suite of outdoor adventures in every shape and size - from the squeal-inducing rush of a canopy zipline to a sun-dazed afternoon at the beach. National parks allow visitors to glimpse life in both rainforest and cloud forest, simmering volcanoes offer otherworldly vistas, and reliable surf breaks are suited to beginners and experts alike. The best part is, given the country's size, you can plan a relatively short trip that includes it all so you don't even have to choose between the many exciting opportunities. Finding your center on a surfboard or yoga mat, descending bat-filled caves or misty volcanic peaks, or hiking, biking or ziplining through a nature-lover's paradise - there's no limit to the adventures waiting for you in this tropical oasis. With so much to see and do, Costa Rica is a great place to experience, and there are several exciting tour options available of the Arenal Volcano to help you make the most of your time here.
Visit the Arenal Volcano and soak up its surroundings during your stay in La Fortuna. Enjoy a 3.5-hour rainforest natural history walk, following your naturalist guide through the El Silencio Mirador nature reserve. Listen to the lava flows and catch impressive views of the Arenal Volcano. Hike along trails within primary rainforest near Arenal National Park. During the hike, it is possible to see a great variety of flora and fauna characteristic of the area including old growth trees, such as Ceiba, Trumpet, and Guarumo trees. Walk through the lava fields of 1992 and also enter areas that were once devastated by the fury of the volcanic eruption of 1968.
While in the park, it is possible to listen to the constant activity of the volcano with its lava flows and sporadic eruptions. On clear days, you will have a magnificent view of the impressive Arenal Volcano, the Arenal Lagoon, and the extinct volcano, Cerro Chato. By night, lava flows are visible down the side of the Arenal Volcano in streaks of red, hot, molten lava.

offered by Get Your Guide
The area surrounding Costa Rica's impressive Arenal Volcano provides ample opportunity for adventure and relaxation. This combo tour gives you a dose of both, starting with an afternoon of hiking in Arenal 1968 Park. After pickup at your Arenal-area hotel in the afternoon, head to the park and begin your hike near the base of the volcano. Accompanied by your expert guide, explore the park's many trails that wind through lush jungle and open lava fields created by the hardened flow of previous eruptions. Experience the excitement of hiking around an active volcano, but rest assured that trail locations are carefully chosen for safety. At the end of your hike, rest your weary muscles with a good soak in one of the area's natural volcanic hot springs and enjoy a hearty dinner of traditional Costa Rican cuisine. Take your pick from three different hot springs to suit your interests and style. Stretch out in the expansive main pool, or sit under a cascading waterfall in a smaller side pool.

offered by Viator
As you ride your horse at the base of the Arenal Volcano, you will ride through various types of terrain including small rivers and unforgettable scenery. You will eventually reach the look-out point which is as close as you can get to the Arenal volcano. On this trail, many people have seen tropical birds such as Kingfishers, Toucans, and Montezuma Oropendola, plus wildlife like monkeys and pizotes, and many interesting plants. Enjoy the scenery, natural wonder, and plant and animal life in a unique way on this exciting tour.

offered by Get Your Guide
Take part in one of the most popular canopy zipline tours near the Arenal Volcano. Located near the Arenal and Cerro Chato volcanoes, this tour includes ziplines that give you the very best views of the colossal volcano and thick, green jungles. You meet at the base camp for your zipline gear and safety instructions and then head up the hill to the first platform. From there it's on to the zipline ride. At times, the cables will be 40 meters above the rainforest treetops and between the enormous trees themselves. You will have time to relax, taking in the view of your surroundings, before reaching the top and beginning your thrilling descent on the rest of the cables. The way back down won't be quite as relaxing. Attached with high-quality safety gear and pulley system, you will soar above the treetops as you zip down a series of 9 different lines and one thrilling rappel to the base of the tree. You won't want to miss out on this exciting Costa Rican adventure.

offered by Get Your Guide
Share This Article