Cheap Tours and Activities in Jaco, Costa Rica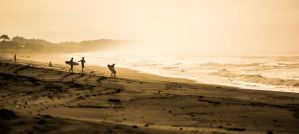 Jaco is a town on the Pacific coast of Costa Rica, southwest of the capital city, San Jose. It's known for its surf beaches and nightlife, and as a gateway to national parks. Rocky, gray-sand Jaco Beach is west of town. Southeast, Hermosa Beach has big waves. To the north, Carara National Park has scarlet macaws and crocodiles at Tarcoles River. A path through the rainforest in Pura Vida park leads to Bijagual Waterfall. Few places in Costa Rica generate such divergent opinions as Jaco. Partying surfers, North American retirees and international developers applaud it for its devil-may-care atmosphere, bustling streets and booming real-estate opportunities. Jaco was the first town on the central Pacific coast to explode with tourist development and it remains a major draw for backpackers, surfers, snowbirds, and city-weary inhabitants of San Jose. Although working-class Tico neighborhoods are nearby, open-air trinket shops and tour operator's line the main drag which. The surfing here is excellent, and the restaurants and bars are great, particularly those lining classy Jaco Walk. With so much to see and do, Jaco is a great place to experience, and there are several exciting options available for activities and tours to help you make the most of your time here.
Upon arrival at Adventure Park Costa Rica, a professional guide will meet and greet, offering advice to get the most out of this thrilling experience - a unique and energizing canopy tour that zooms over 11 waterfalls, the longest in Costa Rica and one of the oldest zip lines in the world. This 6-hour tour features a trek across 25 zip lines, including two rappelling maneuvers and a swing over a hanging bridge. Breathe deep and enjoy the fresh air and spectacular views of Nicoya Gulf from above the rainforest canopy. The tour includes a 30-minute off-road truck adventure, plus an optional swim in a spring water mountain pool and a delicious Costa Rican lunch at the El Tucan restaurant afterward. Good physical conditioning is required with a weight limit of 280 pounds. Be sure to bring a bathing suit, comfortable clothes and closed-toe shoes on this exciting journey.

offered by Viator
Covering 11,600 acres, Costa Rica's Carara National Park is home to an amazing array of native plant and animal species. Begin your tour of this biological reserve pickup from your Jaco hotel. After arriving at the park, set off on a relaxed, 3-hour walking tour through the vibrant ecological transition zone. With a relatively dry climate, Carara's growth is not as thick as other parts of the country, offering more open spaces in which to spot wildlife. Follow your guide along beautiful forest trails, and be on the lookout for mammals like white-faced capuchin monkeys, sloths and kinkajous. Scan the treetops and the sky overhead for vibrant birdlife including scarlet macaws, parrots, motmots, hummingbirds and parakeets. In marshlands fed by the Tarcoles River, you may kingfishers, egrets and herons, plus the occasional American crocodile. Emerge out of the forest for a stop at the gorgeous Jaco Beach, where you can watch expert surfers riding the waves. Your 4-hour tour concludes with drop-off back at your Jaco hotel.

offered by Viator
Thrill seekers, get your adventure fix with this exciting combo tour in the ecotourism reserve of Rainforest Adventures Costa Rica Pacific. After pickup at your Jaco-area hotel, enjoy a scenic drive to the 222-acre reserve. Meet your professional guides, who will accompany you throughout the day to ensure your safety and provide tips on completing each adventure. Trek into the thick, unspoiled jungle and gear up with a hard hat and harness for your first challenge - scaling a 164-foot waterfall. Pull yourself up the slippery rock face using a rope and hand and footholds as the cascade splashes over you. Next, experience an exhilarating airborne adventure as you soar through the rain-forest canopy along two ziplines. Finish with a relaxing guided stroll through rain-forest trails and check out the reserve's serpentarium, where you'll get an up-close look at 20 native snake and reptile species. Your 2-hour adventure concludes with drop-off back at your Jaco hotel.

offered by Viator
Discover the natural beauty and exotic allure of Costa Rica with one of several monkey tours. Enjoy the exciting, fun, informative and ecological tours where you will see different species of birds, mammals and reptiles in their natural Costa Rican habitat. The most prominent and playful monkeys in the area are the white-faced Capuchin, but you will also get a chance to see howler monkeys, spider monkeys and squirrel monkeys. A private driver will meet you at a predetermined time; the vehicles are late model, air conditioned, insured, and come with a bilingual driver and tour guide. The ride is 45 minutes' drive south of Jaco Beach.

offered by Viator
Explore Jaco's rice fields or forests with a 1-, 2-, or 3-hour 4X4 buggy tour that's a family-friendly way to get off the beaten path. Follow your guide along a tropical river and spot the bright birds that nest alongside the water, then enjoy sweeping views of the Pacific Ocean. Discover waterfalls hidden in the trees and zoom up the side of a mountain. Tailor your adventure to your time, interests and group. The 1 Hour Rainforest Express tour takes you along the river where you can either ride alongside it or drive right through it, all while you're surrounded by butterfly trees and the variety of wild birds such as, scarlet macaws, toucans, hawks, and falcons. Head on to the nearest ocean view where you can enjoy another perspective of the city of Jaco. The 2 Hour Extreme Vista tour takes you to the rainforest where wild life spotting is possible. You will see a small waterfall, drive up a mountain where you can enjoy the magnificent views of Playa Jaco, Peninsula Nicoya, Gulf of Nicoya, Tortuga Island, and Manuel Antonio, and head to the Rancho of Dona Marta where you can enjoy an amazing panoramic view of ocean and mountains. The 3 Hour Waterfall Jumper & 4 Hour Extreme Rainforest tours take you toward the rainforest where you have a chance to see wild life such as, Parrots, Toucans, White-nosed Coati, Tayras, various types of Lizards, and occasionally white face monkeys. Stop at a small waterfall, drive up the mountain where you can enjoy the magnificent views of Playa Jaco, Peninsula Nicoya, Gulf of Nicoya, Tortuga Island, and Manuel Antonio, continue to a big waterfall that is approximately 30 feet tall where you can take a swim or relax for a few minutes enjoying the surroundings. The 4 hour tour gives you options to take different routes to other waterfalls.

offered by Viator
Share This Article