Surfing Lessons in Tamarindo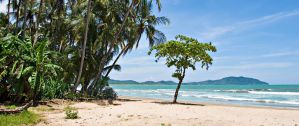 Tamarindo is a town in the Guanacaste Province, on Costa Rica's Pacific coast. It's known for beaches with strong surf, like Playa Tamarindo and Playa Langosta. To the north, Playa Grande beach is a major nesting site for huge leatherback turtles, and forms part of Las Baulas National Marine Park. The mangrove-lined estuary of Tamarindo Wildlife Refuge protects animals such as howler monkeys and crocodiles. Tamarindo's perennial status as Costa Rica's top surf and party destination has made it the first and last stop for legions of tourists. It stands to reason, that this is the most developed beach on the peninsula with no shortage of hotels, bars and restaurants. Despite its party-town reputation, Tamarindo is more than just drinking and surfing. It forms part of Parque Nacional Marino Las Baulas de Guanacaste, and the beach retains an allure for kids and adults alike. Foodies will find some of the best restaurants in the country. Families and students will appreciate the fierce competition that has kept lodging prices reasonably low. And Tamarindo's central location makes it a great base for exploring the northern peninsula. With so much to see and do, Tamarindo is a great place to experience, and there are several exciting options available for surfing lessons to help you make the most of your time here.
Arrive at the surf shop and get geared up with a rashguard (surf shirt) before heading to the beach to get started with your surf lessons. Your instructor will show you the proper way to carry your surfboard and once you get to the beach your instructor will begin with a 20 minute basic introduction to surfing focusing on safety, surfing etiquette, and then explain the 1, 2, 3 step popup process. He will then help you practice this pop up technique while still on the sand until he feels you are comfortable and ready to head into the water and put everything you just learned to use. Your instructor will be with you the entire time in the water providing positive feedback and instruction to help you improve your surfing skill level. After about 1 hour and 40 minutes in the water, it will be time to return to the shop, shower off and check out some of your surfing pictures that are available for purchase if you would like.

offered by Viator
The surf programs includes both round-trip airport shuttle transportation and round-trip hotel to beach transportation. Each student receives bottled water, beach towel, brand new rash guard or T-shirt, board rental throughout the course, 1 hour group Yoga session, 1 hour private sport massage, 1 photo session, and an ISA certified surf instructor also in open water rescue, first aid and CPR. With this program you will learn surfing techniques such as body positioning and alignment techniques, riding stances, surf etiquette, safe ways to de-board, how to accelerate, basic turns, and footwork, and you will get to put what you learn to good use on the beautiful Tamarindo waters. This camp also offers you the chance to choose among two additional half-day tours, including Estuary floating trip in Tamarindo or Zip lines in the dry forest nearby. You will picked up every day from your hotel, house, or condo and driven to the camp. At the end of your 4-day or 7-day program, you will be dropped off at your hotel, house, or condo. If this is the end of your travel then you can be dropped off at the airport to catch your flight home.

offered by Viator
Enjoy the experience of riding a beginner wave at the beautiful beach of Tamarindo. These surf lessons are designed for all ages and all levels with bilingual and friendly local instructors. Start with a 15 to 20 minute "in theory" lesson on the beach. You will be practicing and hard wiring every technique in order to lay on the surf board, paddle, pop up, stay up and fall off the surf board. Then when you feel that you are ready, your guide will take you out to the water where you can ride some beginner waves. You will be practicing in shoulder depth waters

offered by Viator
Surfers of all experience levels can travel and take to the waves on this all-inclusive, 8-day surf camp in Tamarindo. You will land at Liberia International Airport where a shuttle will be waiting to take you to your cabina in Tamarindo, Costa Rica. Your cabina features a flat screen TV, cable, private bathroom, 1 or 2 full-sized beds, and hot water. It is located just a 2-minute walk to the beach. Learn to pop-up, turn, and ride waves with ease while enjoying pura vida lifestyle in Costa Rica. This tour includes three surf trips, nine surf lessons, a tour of Rincon de la Vieja volcano, a snorkeling trip, and all equipment and accommodations. Your instructor will assess your stance, foot placement, paddling and popping up techniques. You will also be taught surf safety and etiquette basics. Journey to Hacienda Guachipelin for the best all-day adventure combo on Rincon de la Vieja Volcano. The day includes a ziplining course with 11 cables, a rappel, a Tarzan swing across the canyon, and a rock climbing wall. You'll then prepare for a 30-minute horseback ride to the Colorado River. At the river, you'll ride in your own tube for 5 kilometers; the river has a great mix of rapids as well as lazy places where you can float and admire the scenery. After a buffet lunch, you'll end this excursion at Rio Negro hot springs where you can relax among 10 different pools - and enjoy a volcanic mud bath. Enjoy a trip to the world famous Catalinas Island for your choice of snorkeling or scuba diving, where you'll get to see giant manta rays, reef sharks, octopus, eels, turtles, and much more. Enjoy these exciting outings along with in depth surf lessons and experiences all in the beautiful area of Tamarindo, Costa Rica.

offered by Viator
Share This Article