Best Hostels for Solo Travellers & Groups in La Fortuna, Costa Rica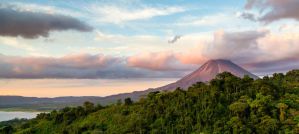 La Fortuna is a small town and popular tourist destination in Costa Rica. It has a variety of different attractions for tourists, but the most famous is the nearby Arenal Volcano. Also worth visiting is La Catarata de la Fortuna, which is a 70 foot waterfall. There are several natural hot springs in the area and resort spas that have developed around them. You can swim in the hot pools, many of which have elaborate garden settings and water slides.
There are several great hostels in and around La Fortuna. If you want to catch a glimpse of the volcano, it's best to have a room with a view so you can see it at night. Most hostels also have nice gardens, hammocks, and bars.
How much do hostels in La Fortuna cost?
| | |
| --- | --- |
| Average Dorm Price | $10 ($6 to $17) |
| Average Double Private Room Price (in a hostel) | $36 ($16 to $73) |
A good hostel for solo travellers, couples, and groups.
Dorm Bed:
$
17.00
Private Room:
$
23.00
Overall Rating:
89%
Arenal Hostel Resort is one of the most popular hostels in La Fortuna. It's a great location that is just a short walk from the bus station, but is also a quiet and safe area. It is near pharmacies, grocery stores, banks, and all of the other essentials that you might need. It's also near transportation.
The hostel is a fun place to stay. It has a lively bar and lounge area where many guests enjoy hanging out and there's also a pool table that keeps people entertained. The area has beautiful gardens that are lush and tropical so it makes a beautiful retreat where you can relax after a busy day exploring the area's natural attractions.
Guests can enjoy a shared kitchen where they can prepare their own meals. There's also laundry facilities, wi-fi in the common areas, a safe in the rooms, luggage storage, and stunning views of the area. If you want to spend time outside, there are hammocks, chairs, tables, and umbrellas that offer shade in the garden.
Facilities in the hostel are spread across five buildings. One building has the reception and souvenir shop, another has guest rooms, a third has the kitchen, a fourth has laundry facilities, and the fifth is where you'll find the bar. Both private rooms and dorms are available. Private rooms are singles, twins, triples, and quads, and are located on the second floor with views of the volcano. Dorms sleep six or ten people and you can choose from co-ed, female only, or male only rooms.
100 m al Oeste de la Plaza de La Fortuna
,
La Fortuna
,
Costa Rica
,
A good hostel for solo travellers, couples, and small groups.
Dorm Bed:
$
12.00
Private Room:
$
12.00
Overall Rating:
87%
Also one of the most popular hostels in the area, Arenal Backpackers Resort is a beautiful but affordable place to stay that offers stunning views of Arenal Volcano. It's just a short walk from the town center and bus stop. It's also a very social setting so is the perfect place to meet other guests and travelers.
The hostel has a range of great amenities. Guests can enjoy the pool which is a refreshing place to take a swim. There is also a wet bar and lounge chairs. The area has a large and beautiful garden that has hammocks and other places to relax. There are games available for guests and travel information for any planning that you need to do. An on-site restaurant is also a great place to grab a bite to eat.
The hostel has eight bed dorms and twin or double private rooms. It's one of the most social places to stay in the area, so if you're looking to make new friends, this is the place to come.
350 meters west of central park, towards volcano
,
La Fortuna
,
Costa Rica
,
Dorm Bed:
$
14.00
Private Room:
$
22.50
Overall Rating:
79%
Mayol Lodge is another great place to stay in La Fortuna. The hostel has an outdoor pool and a large garden with hammocks and a barbecue. There is even live music and barbecue available some nights. This is a lively hostel with a fun atmosphere. It's designed specifically for young backpackers and it's easy to make friends.
The hostel is located about 75 meters from the bus station and is near many amenities that you might need. The hostel has a full kitchen and a range or room types including private rooms with attached bathrooms and dorms that sleep up to six.
21007 Next to adobe rent a car, La Fortuna
,
La Fortuna
,
Costa Rica
,
Private Room:
$
13.88
Overall Rating:
80%
Hostel Arenal La Fortuna is an affordable option in La Fortuna, Costa Rica. The hostel is located about two kilometers outside of town so it is helpful to have your own car. It's near several banks, a supermarket, pharmacies, and restaurants, but a car will ensure that your stay is more efficient. The hostel also has a shared kitchen that guests can use and wireless internet throughout. People come to La Fortuna for the natural beauty, and this hostel offers a nice retreat where you can rest during your time in town.
The hostel has private rooms that are either twins, doubles, or four bed family rooms. Each room has it's own attached bathroom and comfortable beds. The hostel is run by a lovely lady who does her best to make sure your stay is smooth and comfortable. This is a good place to stay if you want a peaceful retreat during your time in La Fortuna.
3km Noroeste Iglesia la Fortuna Arenal 142
,
La Fortuna
,
Costa Rica
,
Share This Article