Best Hostels in Arenal and La Fortuna for Families on a Budget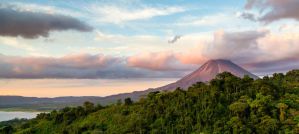 Volcan Arenal is an interesting attraction, because where else can you see an active volcano that erupts on a frequent schedule? Fortunately, the nearby town of La Fortuna is just far enough away to be safe from the lava flows. The town offers everything a traveler could need from restaurants to shops to supermarkets and tour guides. Naturally, there are plenty of hostels and hotels here, too. Many of the hostels tend to offer attractive swimming pools and on-site restaurants, all at affordable prices. So, be picky about your choice, or visit more than one!
How much do hostels in La Fortuna cost?
| | |
| --- | --- |
| Average Dorm Price | $10 ($6 to $14) |
| Average Double Private Room Price (in a hostel) | $36 ($16 to $73) |
An awesome hostel, also great for couples and groups
Dorm Bed:
$
12.00
Private Room:
$
12.00
Overall Rating:
87%
This hostel looks and feels more like a small resort, but with a budget price. It even has a swim-up bar, so why should I even finish writing this review? The building, the rooms, and the bathrooms are all modern and clean. On top of that, the friendly staff will help with whatever you need. The prices are very affordable for the variety of room types they offer: dorms of various sizes (including a female only option), private rooms with ensuite bathrooms, and some very nice outdoor tents (tall enough to stand up in) complete with electricity.
Other amenities (yes, the list keeps going) on offer are towels and linens, an onsite restaurant and the previously mentioned bar, free parking, hot water, air conditioning, lockers, and laundry.
The only downside is that it does not have a community kitchen, so self-caterers will need to buy food at the restaurant or elsewhere. This hostel is walking distance to town, but not right in the center (just a few blocks away).
350 meters west of central park, towards volcano
,
La Fortuna
,
Costa Rica
,
A social hostel with a hotel feel
Dorm Bed:
$
8.00
Private Room:
$
12.50
Overall Rating:
80%
This large hostel with dorms and private rooms offers a little bit of everything, and is a great choice for every type of traveler. From small private rooms sleeping one or two people, to larger privates big enough for families, to dorms (female, male, and mixed), there is an option for everyone. And the establishment is large enough so that everyone can meet like-minded travelers, too.
Start your day with a filling free breakfast that guests describe as very well done. Their friendly staff will also help you plan your activities with their tour booking service. And as a special treat, they are within walking distance to everything in town, being only a couple of blocks from the central square.
A communal kitchen is on hand for those that wish to cook their own meals, and Wi-Fi, lockers, and laundry are also available.
300 mts west from the post office in La Fortuna 200 mts south and 300 mts west from La Fortuna Bus
,
La Fortuna
,
Costa Rica
,
A social hostel, good for couples and families
Dorm Bed:
$
14.00
Private Room:
$
22.50
Overall Rating:
79%
A family run hostel and hotel close to the center of town, the Mayol provides a great social environment around a beautiful pool. Live music is provided several times per week, and the pool, restaurant, and bar area become a great spot for a social gathering and partying.
Sleeping options include dorms with 6 beds each (male, female, or mixed), plus private rooms of various sizes with ensuite bathrooms and large beds. Many of the rooms are away from the pool area, providing for a quieter sleeping arrangement when you wish to step away from the live music at the pool several times per week.
Free breakfast is just a bonus to all of the other great reasons to stay here. The staff is super friendly and lives on site, so you're always receiving the help you need and the facility receives the staff's close attention to detail. With a kitchen for guests, BBQ, lockers, parking, laundry, and tour booking services at the front desk, you will be well taken care of here.
21007 Next to adobe rent a car, La Fortuna
,
La Fortuna
,
Costa Rica
,
A quiet hostel, also great for couples
Dorm Bed:
$
10.00
Private Room:
$
10.00
Overall Rating:
67%
Just a few minutes' walk from the center of town is this gem of a hostel and budget hotel that is situated in a lush atmosphere in the jungle and next to a stream. This quiet location is very attractive to those looking to relax during their stay while visiting Arenal. On offer are dorm beds and private rooms with both shared and ensuite bathrooms - something for every budget.
A communal kitchen is provided for those that wish to cook. Various outdoor courtyard and patio seating areas area available to take in the atmosphere of this well-kept destination. Other amenities include air conditioning, TV, laundry, and tour booking services.
500 MTS norte del Banco Nacional
,
La Fortuna
,
Costa Rica
,
Share This Article