Quiet Hostels for Couples and Solo Travellers in Puerto Viejo and Cahuita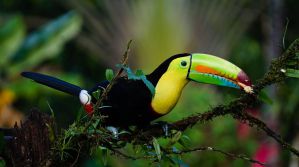 Puerto Viejo has managed to hold on to its Afro-Caribbean vibe despite the growth in tourism across Costa Rica and in the town itself. Located on the beach, the town of Puerto Viejo is actually only one of several small towns in this stretch of shoreline that extends northwest from the Panama border. All along the main road, restaurants, bars, and accommodation options can be found hidden in the jungle or on the beach. Staying in the town itself offers many options, but if you're looking for paradise, so many great hostels can be found just a few kilometers away.
If you head north of Puerto Viejo, Cahuita (and the national park) are nice to visit if you're looking for an untouched jungle paradise on the beach. South of Puerto Viejo are several smaller towns with beach access and a much quieter vibe.
How much do hostels in Puerto Viejo cost?
| | |
| --- | --- |
| Average Dorm Price | $12 ($8 to $15) |
| Average Double Private Room Price (in a hostel) | $34 ($16 to $70) |
In Playa Punta Uva, a great hostel for couples and backpackers
Dorm Bed:
$
14.00
Private Room:
$
16.67
Overall Rating:
77%
A few kilometers south of Puerto Viejo is Punta Uva, a quiet town with a few restaurants and a stunning beach on a blue cove, perfect for snorkeling, swimming, and kayaking. This is where you'll find the Walaba, an amazing hostel with a terrific atmosphere and great amenities. They have dorms and private rooms at a variety of price tiers to cater to everyone's needs and budgets. And a convenient bus can take you up to Puerto Viejo in a few minutes, or you can ride a bike.
In this atmospheric establishment, the communal kitchen is well outfitted and available for self-caterers, while the outdoor terrace and other common areas let guests relax in a true
pura vida
environment. The surrounding jungle is filled with wildlife such as monkeys, sloths, birds, frogs, and more. Check out the photos!
Other amenities include Wi-Fi, mosquito nets, hot showers, bike rental, free parking, tour and shuttle services, and more.
6km after Puerto Viejo, in Punta Uva beach, 100 mts after Selvins Rest
,
Puerto Viejo
,
Costa Rica
,
A great hostel for backpackers, couples, and families with kids
Dorm Bed:
$
20.00
Private Room:
$
25.00
Overall Rating:
84%
A relatively new hostel, the Playa 506 has a lot to offer those travelers looking to stay on budget. Right on the beach, just 2km from the middle of town in the Playa Cocles area, this property has a wonderful vibe that is also close to restaurants and bars. With room to relax in hammocks, play beach volleyball, swim or snorkel, or just lounge at the onsite restaurant and bar, you'll never run out of activities.
On offer are fun outdoor showers (with hot water), a communal kitchen, bike rental, a game room with TV and Wii, Wi-Fi and internet, lockers, and more.
Frente costa de Papito
,
Puerto Viejo de Limon
, ,
A great hostel for solo travelers or groups looking to meet others
Dorm Bed:
$
13.50
Private Room:
$
17.00
Overall Rating:
93%
Another fairly new hostel, the Kalunai is located in the middle of the town of Puerto Viejo, just steps from everything in town and the beach. Both private rooms and dorms (with a female only option) are available in this newly renovated building. The outdoor shared kitchen and eating area also provides hammocks for relaxing and socializing with other guests. Although they are in town, they are a couple of blocks away from most of the bars and restaurants in town, so the atmosphere is still quiet.
150 Metros Taller Mecanico Dani
,
Puerto Viejo
,
Costa Rica
,
A great hostel for couples
Private Room:
$
10.75
Overall Rating:
74%
With a beautiful atmosphere on the beach and surrounded by gardens, this budget-friendly hostel and hotel is in a quiet spot just minutes away from town. With rooms of varying sizes (from 1 person up to 6) and dorm beds, all with and without ensuite bathrooms, there's something for everyone. The onsite restaurant serves breakfast (not included in the room price) and other meals, as well as their own specially brewed beer! An outdoor courtyard and a deck with hammocks creates a relaxing atmosphere to socialize or take in the scenery. Bike rentals, tour booking, a BBQ, and a pool table round out the amenities.
Playa Negra s/n
,
Puerto Viejo
,
Costa Rica
,
A new, modern hostel, great for couples and solo travelers
Dorm Bed:
$
15.21
Private Room:
$
16.15
Overall Rating:
91%
This new and modern hostel is clean and well-kept and updated with modern bathrooms, a nicely stocked kitchen, and a perfect location in the middle of town in Puerto Viejo. Offering lockers, a kitchen, towels, bike rental, Wi-Fi, and other standard amenities, guests will have everything they need and will be just steps from anything in town, as well as the beach.
Dorms and private rooms are available, all with shared bathrooms.
Guest reviews tend to highlight the friendly staff and cleanliness of the facilities. It's also walking distance to many great dining options in town.
Puerto Viejo de Talamanca Avenida 67
,
Puerto Viejo
,
Costa Rica
,
Share This Article