Hostels for Groups in Prague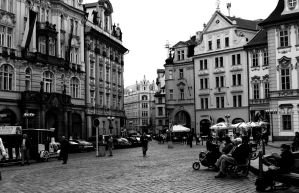 Prague is a city filled with history. The city's world renowned Old Town is beautiful and quaint with impressive architecture, delicious restaurants, and no shortage of the entertainment. The city offers visitors all kinds of activities and it has long been a favorite destination for school groups and young adults alike. Whether you're traveling in a small group and looking for the best nightlife, or leading a school group of eager students, then there is plenty to see and do around Prague. There is also no shortage of accommodation options that can accommodate groups of both small and large sizes.
How much do hostels in Prague cost?
| | |
| --- | --- |
| Average Dorm Price | $13 ($5 to $30) |
| Average Double Private Room Price (in a hostel) | $40 ($5 to $105) |
Dorm Bed:
$
7.00
Private Room:
$
8.00
Overall Rating:
85%
Hostel Rosemary offers comfortable accommodation for groups of travelers, families, couples and individuals. The hostel offers a variety of perks for larger groups including a group breakfast, group dinners at a local restaurant, transportation, and travel guides in your native language. Each of these items does require an extra fee. The hostel has both dorms and private rooms of a variety of sizes. Dorms range in size from 12 beds to 4 beds and private bathrooms are available for the larger dorms. Private room sizes include 10 person rooms with a private bathroom, a deluxe 5 person room with a private bathroom, 5 person rooms with shared bathrooms, as well as four, three, and 2 person rooms with shared bathrooms. There are also twin rooms available with private bathrooms.
The hostel is conveniently located in the center of Prague. It is just steps from Wenceslas Square and Old Town Square. It's also within walking distance of most of the city's main attractions. Charles Bridge is about a ten minute walk away and the Main Train Station is just a short two minute walk.
The staff is very knowledgeable and helpful with any of your travel questions or concerns. There are city maps and tour information available as well. This is a friendly and welcoming hostel that will go out of their way to make sure your group's needs are met.
Ruzova 5/971
,
Prague
,
Czech Republic
,
Dorm Bed:
$
18.11
Private Room:
$
30.25
Overall Rating:
87%
This hostel is a great option for large groups. They accept groups that are up to 50 people in size and there are a variety of room types available to meet your needs. Dorm rooms range in size from 16 bed dorms to 4 bed dorms with both shared and private bathrooms available. There are also twin and double private rooms available with shared bathrooms. The largest dorm room also has a balcony. Prices are very budget friendly and the location is ideal. The hostel sits right on Wenceslas Square and is located in a beautiful historical house. Most of the city's sights and attractions are just a short walk away. This hostel truly is in the middle of all that Prague has to offer.
Other amenities available through the hostel include luggage storage, lockers, computer access, free bed linens and towels, and free tea and coffee.
For groups traveling with eight or more people, half or the price must be paid in advance. The rest can be paid upon arrival.
Wenceslas Square 20 (Vaclavske namesti 20)
,
Prague
,
Czech Republic
,
Dorm Bed:
$
9.60
Private Room:
$
9.51
Overall Rating:
77%
Hostel Marabou is also a great option for groups. It is a social hostel where it's easy to meet fellow guests. The hostel has large common areas that are perfect for relaxing or just hanging out. There's also a fully equipped kitchen where meals can be prepared for the budget conscience. There's also an impressive buffet breakfast available that includes cheese, pate, bread, toast, honey, jam, fruit, cereal, yogurt, milk, coffee and tea. The breakfast is available for an extra one euro charge per person, per night. There is also a "beer zone" that has a selection of more than one hundred microbrew beers. Room types include both large dormitories and comfortable private rooms.
The hostel is located on the first two floors of a newly renovated neoclassical building. It's in the district of Zizkov, in an art nouveau part of town. The bohemian neighborhood has a great nightlife with many restaurants, bars, cafes and clubs. There are grocery stores and large parks nearby as well. The hostel is a 15 minute walk to Old Town Square, or a 7 minute ride by bus.
Konevova 738/55
,
Prague
,
Czech Republic
,
Private Room:
$
13.83
Overall Rating:
71%
Joy Spot welcomes groups of all sizes. There are 18 fully equipped apartments with ensuite bathrooms. Some also have bathtubs. Rooms are large and comfortable and range in size from singles to 8 person rooms (with everything in between). The apartments are fully furnished and have their own kitchen. Bed linens and towels are included in the price of the room and free wireless internet is available.
For an additional six euros a person, per night, you can enjoy an all you can eat continental breakfast. This includes pastries, sausages, eggs, granola, cereal, yogurt, salami, ham, cheese, honey, fruit, and more. Pickup to and from the airport is also available for an extra charge. Arrangements must be made in advance.
The hotel is in a great location very close to Wenceslas Square. From here you can walk to most of the city's main attractions. The building is from the 19th century renaissance with a great atmosphere and history.
krakovska street 3 Praha 1
,
Prague
,
Czech Republic
,
Share This Article