Aix-en-Provence's Best Hostels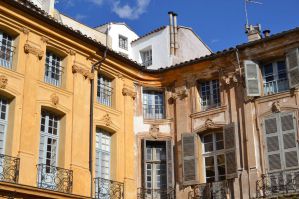 The magnificent city of Aix-en-Provence truly is the epitome of class. Civilized yet lively, you will never be bored here. Be you a fan of music, fine art or striking architecture, Aix has everything and more! The birthplace of renowned painter Paul Cezanne, Aix's most famous son is certainly a popular figure here, his name and likeness adorning streets, cafes, even statues. The city's top attractions include the beautiful La Rotonde fountain, the sophisticated old town and the Archbishop's Palace, the operatic hub of Provence. Travelers have a wealth of residential options, the choice split between the social and the serene, with hostels available both in the center and in the beautiful surrounding countryside. Located right in the middle of the Provence region, and less than an hour's drive from the Mediterranean's stunning beaches, Aix is the perfect base for those wishing to explore.
How much do hostels in Aix-en-Provence cost?
| | |
| --- | --- |
| Average Dorm Price | $21 ($13 to $30) |
| Average Double Private Room Price (in a hostel) | $70 ($53 to $106) |
A social hostel with a personal touch
Dorm Bed:
$
12.72
Overall Rating:
89%
This hostel gives you one of the best, most authentically French experience you can have anywhere in this region. It's perfect for more social travelers, as Nicolas, the host, organizes group meals, where all guests come together for dinner to share their experiences. Coupled with the sociable dorm-room environment, this makes the hostel a favorite for those wanting to meet new people. He will also readily help you to arrange day trips and give his recommendations for the area.
You are given the option to rent electric bikes, which make the short ride into town a pleasure. It is out from the center, but in a fabulous neighborhood with lots of green space, meaning you don't suffer from the street noise you would suffer from a more central homestay.
50 Chemin de Brunet
,
Aix-en-Provence
,
France
,
An affordable hostel with a fun social atmosphere
Dorm Bed:
$
29.80
Private Room:
$
34.86
Perfect for students, this hostel houses a maximum of 140, with bright and spacious bedrooms holding between 2 and 5 guests. Rooms each have a shower and a sink, with the use of cutlery, microwave and fridge available on request.
Here, no curfew is requested, and the reception remains open until midnight, allowing for flexibility of arrival times. Free Wi-Fi and board games come with foosball and pool tables to provide a wide variety of entertainment for all to enjoy.
Imp de l'Eolienne 3 Av Marcel Pagnol
,
Aix-en-Provence
,
France
,
Near the city center with comfortable amenities
This hostel is ideally located, just a five-minute walk from the central Cours Mirabeau, and near to Aix's main shopping district. Helpful staff are on hand to provide city maps and recommendations on what to do during your visit.
The hostel's charming rooms each have double beds and small ensuite shower-rooms, and guests indicate the quality is akin more to a hotel than a regular hostel. If you have large cases, they can be kept in luggage storage facilities, leaving you with more space to move in the rooms. Despite its central location, street noise is at a minimum, and a blackout curtain gives you an excellent night's sleep.
Centre Historique 69 Bd Carnot
,
Aix-en-Provence
,
France
,
A quiet and relaxing hotel with apartment-style rooms
Private Room:
$
26.64
Overall Rating:
73%
This fabulous budget hostel is a little further out from the city center, giving guests the opportunity to explore from a distance. There is a convenient bus, which will get you to the center in 15 minutes, but this can be driven in even fewer if you have a car (plenty of free parking spaces are provided).
Rooms take the form of small apartments, which are clean, and come with self-catering facilities, each with its own fully-equipped kitchen and ensuite shower-room, as well as free wireless internet and air conditioning throughout. Served by CCTV, this is very secure, and its proximity to local shops makes it a perfect holiday let.
531, Avenue Paul Julien
,
Aix-en-Provence
,
France
,
Share This Article