Best Hostels in Lyon (2017)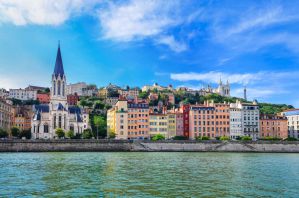 Travelers visit Lyon for it's history, architecture, culture, and food. It's a beautiful city with plenty of entertainment and cultural events. If you're traveling alone, there is no shortage of places to stay that range from party hostels to affordable and charming hotels.
How much do hostels in Lyon cost?
| | |
| --- | --- |
| Average Dorm Price | $30 ($21 to $50) |
| Average Double Private Room Price (in a hostel) | $80 ($36 to $153) |
Dorm Bed:
$
20.79
Overall Rating:
91%
Le Flaneur Guesthouse is a great option for travelers who are on a budget and want an affordable and comfortable place to stay. The hostel is about fifteen minutes from many of the city's top tourist attractions. It's also ten minutes from the Rhone.
The hostel is small, with only 11 rooms, so it has a personal vibe. It has a local feel and if you want to experience an authentic side to Lyon, then this is a great place to stay. There's also a nice common area where you can hang out and meet other guests. The hostel has four, six, ten, twelve and sixteen bed dorms. Female only dorms are available.
The hostel has the standard amenities including a kitchen. Breakfast is served for an additional charge. The hostel is very clean and comfortable, and you should be able to get a good night's sleep here. It's a social atmosphere without being overly loud.
56, Rue Sébastien Gryphe
,
Lyon
,
France
,
Private Room:
$
30.57
Overall Rating:
86%
Hotel Victoria Lyon Perrache Confluence is not a hostel, it's a hotel. It's a pleasant, family run hotel in a convenient central location. If you're looking for a quiet place to stay that is affordable for solo travelers, then this is a good option. The atmosphere is friendly and welcoming, but it has the privacy of a hotel. It's not as social as a hostel, but it is a nice option for independent travelers who want affordability without sacrificing quality.
The staff is wonderful and can help you with any travel information that you may need. They'll go out of their way to answer any questions you may have and you will quickly feel right at home during your time here.
The hotel is also conveniently close to public transportation, so you can really access most parts of the city with minimal effort or expense. If you're traveling alone to Lyon and don't want to stay in a hostel, then this hotel is an excellent option.
3 Rue Delandine Cours Verdun
,
Lyon
,
France
,
Share This Article