The Best Quiet, Safe, and Affordable Hostels in Lyon, France for Backpackers and Students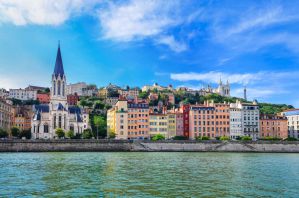 Lyon is the third largest city in France and the second largest metropolitan area in the country. The city is famous for its excellent cuisine and it's interesting historical center. There's a rich culture throughout the city that attracts visitors from around the world.
Lyon continues to grow in popularity as it hosts more international events and brings in an increasing number of international students and travelers. It's a fun place to spend some time and if you're a budget traveler, there are a handful of good hostels and budget hotels in the area.
How much do hostels in Lyon cost?
| | |
| --- | --- |
| Average Dorm Price | $30 ($21 to $50) |
| Average Double Private Room Price (in a hostel) | $80 ($36 to $153) |
A good hostel for backpackers, students, and couples.
Dorm Bed:
$
26.59
Private Room:
$
25.26
Overall Rating:
89%
Away Hostel and Coffee Shop is a popular hostel in Lyon, France. It's located in a 19th century building in the middle of the city's historic district. It's less than a 20 minute walk to most of the city's top tourist attractions and it's right by a metro station and five minutes from a major transportation center for the city. The train and bus stations are about 15 minutes away.
The hostel has both dorms and private rooms available. The dorms are relatively large and offer comfortable furnishings, security lockers, and shared bathrooms. They sleep either four, eight, or ten people. The private rooms offer a little more personal space. They are doubles and have en-suite bathrooms and comfortable hotel style furnishings.
The hostel also has a variety of amenities available for guests. There are laundry facilities, luggage storage, lockers, a good security system, and wi-fi throughout the facilities. The staff are also wonderful. Most are local to the area and can tell you any thing you might want to know about Lyon. There's also an on-site event manager that organizes all kinds of activities for guests. There are daily walking tours, cultural events, and wine tastings. This is a great place to stay where you can meet other visitors and immerse yourself in the French culture.
21, Rue Alsace Lorraine
,
Lyon
,
France
,
A good hostel for backpackers, students, and small groups of friends.
Dorm Bed:
$
23.57
Private Room:
$
25.93
Overall Rating:
86%
Ho36 Hostel is a very welcoming and friendly hostel in Lyon. It's located in a cosmopolitan neighborhood in the heart of the city and it's housed in a building that was once an old hotel. The hostel has all kinds of places for guests to hang out including a nice cafe, a bar area, and a common room in the basement. Many guests enjoy spending time in these areas and getting to know each other.
Ho36 Hostel is conveniently located near public transportation. There are trams that are just a minute's walk away and these trams can take you directly to the train station. Guillotiere metro station is the closest metro station to the hostel and it offers access to the city's best shopping, restaurants, and sights.
The hostel has dorm rooms that sleep up to eight people. There are also twin, double, and six bed family style rooms to choose from. Whatever your travel style and budget, you'll likely find something that meets your needs at Ho36 Hostel.
36 Rue Montesquieu
,
Lyon
,
France
,
A good hotel for couples and budget travellers.
Private Room:
$
28.82
Overall Rating:
96%
Hotel Simplon is not really a hostel, but it is an affordable hotel that's great for budget travelers. It's located in Lyon's Presqu'ile district which is between the Rhone and Saone Rivers. The hotel has a lot of character and charm but it also offers all of the modern amenities that you might need including air conditioning, satellite television, and private bathrooms. There's even an elevator available to take guests to the rooms on the upper levels.
The hotel has a pleasant "drawing room" that has a piano. Wi-fi is available throughout the facilities and the front desk is open 24 hours a day. Breakfast is also available for a small price. This is a friendly and welcoming place to stay that is in a great location. The staff are also helpful and knowledgeable and can recommend any number of restaurants and activities around town.
The hotel has private rooms that include singles, twins, doubles, and three or four bed rooms. If you're looking for affordability but don't want to sacrifice quality, then Hotel Simplon is a great option.
11 Rue Duhamel
,
Lyon
,
France
,
Share This Article