Best Hostels for Solo Travellers and Students in Frankfurt, Germany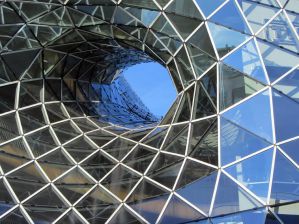 Frankfurt is at the business and financial heart of Germany. It's also the largest city in the state of Hesse and has the busiest airport in the country. The city is located on the river Main and it is a transportation center for Germany. Frankfurt hosts a number of events and conferences that attract travelers from around the world.
Whether you're a student studying abroad or a backpacker traveling alone, a hostel can offer an affordable and social place to stay. There are a handful of good hostels in Frankfurt that appeal to a variety of different types of travelers.
How much do hostels in Frankfurt cost?
| | |
| --- | --- |
| Average Dorm Price | $18 ($14 to $22) |
| Average Double Private Room Price (in a hostel) | $60 ($27 to $198) |
A good hostel for independent travellers, budget travellers, and school groups.
Private Room:
$
24.81
Overall Rating:
89%
Meininger Frankfurt/Main Messe is located about two subway stops for the city center and is accessible to the airport by public transportation. The hostel originally opened in 2010 and it has a modern and trendy style with a wide variety of common areas where guests can hang out. There's a relaxing but social atmosphere that makes it easy to meet other guests. The hostel also has an on-site bar where you can enjoy a drink, and there are games and a pool table available for guests as well.
The hostel has a wide variety of amenities available to guests. There's a communal kitchen where you can cook your own food. This is particularly helpful for guests who are on a tight budget and don't want to spend a lot of money eating out. There are also laundry facilities on-site and luggage storage available. There's an all-you-can-eat buffet served every morning for a small price. Bicycle rental is available as is any travel information and assistance that you might need.
This hostel is a fun but relaxing place to stay that is great for budget travelers or solo travelers who want to meet other guests. The staff are friendly and outgoing, and many are travelers themselves so they know what you're looking for in accommodation.
Europaallee 64
,
Frankfurt
,
Germany
,
A great hostel for independent travellers and small groups of friends.
Dorm Bed:
$
22.22
Private Room:
$
23.34
Overall Rating:
87%
Five Elements is another popular hostel in Frankfurt, Germany. It's conveniently located just around the corner from the train station and is about a fifteen minute walk from the Alte Oper. The hostel is located in the middle of the Red Light District, which may be off-putting to some guests.
The hostel appeals to a young and diverse crowd of people and there's a wide variety of activities and events for guests. The staff regularly host free pub crawls, free pasta dinners, and game nights. There's also an on-site bar that's open 24 hours a day. There are also the standard amenities available for guests including wi-fi access, security lockers, luggage storage, and a guest kitchen.
The hostel has single, double, and twin sized private rooms available as well as three, four, six, and eight bed dorms. There are both female only and co-ed rooms to choose from.
The staff here are excellent and they can help you with any information you might need. They know the area well and can recommend any number of restaurants, bars, or clubs that you might want to check out.
Moselstr 40 Frankfurt/Main
,
Frankfurt
,
Germany
,
A good hostel if you're arriving or leaving from the airport.
Dorm Bed:
$
18.91
Private Room:
$
17.72
Overall Rating:
89%
Meininger Frankfurt Main Airport is another option for budget travelers to Frankfurt, Germany. It's most convenient if you're going to be flying in or out at an inconvenient time as it is close to the airport. The hostel also has a kitchen where you can make your own food and a bar where you can hang out and pass the time. There are also several conference rooms available.
The hostel has comfortable beds and is a great place to relax before or after a flight. There's free wi-fi available in the public spaces so you can send any emails or check your flight info. There's also an all-you-can-eat buffet breakfast available for a small price. If you're about to start a long transportation day, this a great way to begin with a filling meal.
This hostel has private rooms that include singles, twins, and three or four bed rooms. There are also six bed dorms available. The rooms are kept clean and all of the conveniences and comforts that you might need are available.
Bessie-Coleman-Straße 11
,
Frankfurt
,
Germany
,
Share This Article