Affordable Hiking Tours in Panajachel, Guatemala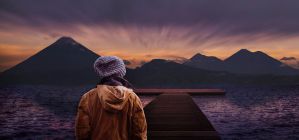 Panajachel is a town in the Guatemalan Highlands, west of Guatemala City. It is on the north shore of Lake Atitlan. Surrounding the lake are the San Pedro, Toliman and Atitlan volcanoes. Cafes, bars and stalls selling handicrafts and textiles line Calle Santander, the main street. In the old town is the colonial San Francisco Church, with a stone facade. Boats connect Panajachel with lakeside Mayan villages. Panajachel is the busiest and most built-up lakeside settlement in the area, and a hike down to the lakeshore will give you a better idea of why Pana attracts so many visitors. Aside from the astounding volcano panorama, the town's excellent transportation connections, copious accommodations, varied restaurants and thumping nightlife make it a favorite destination for weekending Guatemalans.
The Kaqchiquel and Tzutujil Maya from surrounding villages come to sell their handicrafts to tourists. The mix of people here makes Pana a curiously cosmopolitan crossroads in an otherwise remote, rural vicinity. With so much to see and do, Panajachel is a great place to experience, and there are several exciting options available for hiking tours to help you make the most of your time here.
This natural colossus is the highest of the three volcanoes facing the southwest of lake Atitlan. Its maximum altitude is 3,557 meters above sea level. The Volcano has a 250 meter diameter crater and in the highest part there are several cracks resulting from the latest eruption that occurred in the year 1853. It is also sometimes possible to observe smoke expulsing gasses from the top of the volcano.
The top of the volcano offers one of the best views in the area. In the dry season, observing the landscape from the higher parts is a fantastic opportunity and the best way to appreciate the volcanic chain of Guatemala. Enjoy this day in nature with a climb to see some of the best views around.

offered by Get Your Guide
On this tour, you will see different panoramic views of Lake Atitlan. You will be picked up from your hotel in Panajachel by a professional driver and will be taken to Solola. Before arriving at the market, you will stop along the way to admire Lake Atitlan's geysers. You will then head to the market to experience an authentic exchange of products from one seller to another, as the locals bring their own harvest to the market. Get the chance to meet a local women's group and will be able to enjoy their craft work. You will then stop at San Jorge for a typical lunch. After lunch you will be driven back to your hotel in Panajachel.

offered by Viator
Located south of Lake Atitlan and surrounded with beautiful landscape stands the San Pedro Volcano. A hike to the top will give you an excellent viewpoint to see some Mayan villages. There are two routes to climb, the first one starts by the side of Santiago Atitlan in a boat transfer and starts at an altitude of 1,560 meters above sea level. The second option is starting in San Pedro la Laguna, getting a boat trip for the transfer and then starts from an altitude of 2,100 meters above sea level.
It takes about three and a half hours to climb to the top and two and a half hours coming down. The volcano has an altitude of 3,020 meters above sea level, with a spectacular landscape from the lake and around it. This an exciting and exhilarating way to see and experience the area.

offered by Get Your Guide
Enjoy a 3-hour rock climbing adventure in Lake Atitlan that is perfect for anyone with no experience, or who has only ever climbed in a gym before. A professional teacher will be on hand at all times, and will provide you with all the equipment and instruction necessary for a safe but fun adventure. The only climbing school in Guatemala where you can learn the basic principles of top rope climbing, you will receive full instruction on tying knots, harness sizing, and climbing techniques. After the class, try your skills on one of the easier walls. A unique over-the water climb is available for those looking for more experience. Get a taste for climbing and you might even decide to advance to a climbing camp in Santa Cruz La Laguna on Lake Atitlan's northern shore. Climbing sites are available for a range of ages and abilities.

offered by Get Your Guide
Share This Article