Cheap Tours and Activities in Antigua Guatemala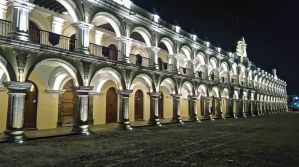 Antigua is a small city surrounded by volcanoes in southern Guatemala. It's renowned for its Spanish colonial buildings, many of them restored following a 1773 earthquake that ended Antigua's 200-year reign as Guatemala's colonial capital.
The city boasts an impressive catalog of colonial relics in a magnificent setting. Streetscapes of pastel facades unfold beneath three volcanoes. Many old ecclesiastical and civic structures are beautifully renovated, while others retain tumbledown charm, with fragments strewn about parklike grounds.
Thanks to the dozens of Spanish-language schools that operate here, Antigua is a global hot spot. Yet it remains a vibrant Guatemalan town; its churches, plazas and markets are throbbing with activity. Outside the city, indigenous communities, coffee plantations, and volcanoes offer ample opportunities for exploration.
A place of rare beauty, major historical significance and vibrant culture, Antigua remains Guatemala's must-visit destination. With so much to see and do, Antigua is a great place to experience, and there are several exciting options available for activities and tours to help you make the most of your time here.
Spend the day discovering Antigua on this guided day tour. Located in the central highlands of Guatemala, Antigua is home to cobblestone streets and terracotta roof buildings that give the city its colonial charm. See some of its most famous sites with your knowledgeable guide. After pickup from your Antigua hotel, your tour begins with a visit to Cerro de la Cruz, where you'll admire the whole city of Antigua from atop the hill. Then, head back down to Antigua's Central Plaza, where you'll visit San Francisco Church, home to the shrine of Peter of St Joseph Betancur. See also the famous arch of Santa Catalina, built in the 17th century and once home to Santa Catalina Convent. Next, visit La Merced Church, which has a beautiful Baroque-style facade, and explore the ruins of Santo Domingo Monastery, which was once the biggest and richest monastery in Antigua. You'll also have time to visit the Museo del Jade (Jade Museum), where you can watch craftsmen turning stones into unique jewels. Browse the jewel gallery and admire these gorgeous pieces of work. Head to a nearby coffee plantation where you'll learn how coffee is made and sample some of the fresh product before being transported back to your hotel.

offered by Viator
The day begins in Antigua with an early pick up at 8:00am to start your adventure. As you're near the Lake Atitlan caldera, descend 3,500 feet over 10 miles to one of the most beautiful caldera lakes in the world. Arriving at the Solola indigenous market at 10:00am, your local guide will meet you to start your guided tour. The Solola market happens every day and very few tourists visit this market. The handicrafts are more authentic and have not been modified for tourists. You decide how much time you want to spend at the market, and how much time you want for the remaining destinations. Your guide will help you choose an appropriate restaurant for lunch at your own expense. You can take a side trip to the mountain farming community, Conception, and enjoy the isolated tranquility and fresh mountain air while exploring the pristine Catholic church constructed in 1612. The road to Conception was only paved 10 years ago, but the village seems untouched by the modern world. The drive is along ancient roadways that have been used by the Kachekel Maya for centuries. Next continue further down into the volcanic caldera to Panajachel, the gateway to Lake Atitlan. The streets are lined with handicraft vendors and cafes. Spend your time shopping or enjoying the lake views from the malecon (lakeshore pedistran walk). Another option is to visit the Sacred Caves a bit above Panajachel. Take a moderate hike in the mountains to see the caves, and learn why the locals make offering at the altars inside the caves. It is very likely you will witness a Mayan shaman performing the Fire Ceremony for a local family. No matter which activity you choose, the day will be fun and interesting. Meet back at the shuttle at 4:00pm and relax during the 2-hour drive back to Antigua.

offered by Viator
The day begins in Antigua or Panajachel with a 2-hour plus drive to Lake Atitlan. Exit the shuttle and meet your local bi-lingual guide. Together you will jump on a boat for an exciting ride along the north shore of Lake Atitlan. This will be your first contact with the local Cakchiquel and Tzutujil Mayan that are indigenous to this area. The locals are friendly, and will engage you in conversation if you wish. Exit the boat in Santa Cruz la Laguna where your 3-4 -hour hike begins. Visit the isolated village of Santa Cruz la Laguna and then head high into the mountains. The trail gains altitude quickly, and you are a thousand feet above the lake in less than an hour. You hike along ancient paths that have been used by the Kachekel Maya for centuries. You will view villagers going about their daily life, encounter farmers tending their maize and coffee fields, and see some of the most magnificent scenery in the world. You can visit a sacred Mayan site where rituals are performed by the local shamans, and make your own offering at the altar. This rugged and remote area has barely been touched by the outside world. Your hike takes you 2,500 feet above the waters of Atitlan for breath taking views and pristine scenery. It is a difficult walk/climb, but is not overly challenging for those in good health. The hike is approximately 3 hours through magnificent scenery. You walk through a remote Mayan village high in the mountains. From there, take a shared van which will pick you up for the last few miles into Solola where you will visit the second largest market in Guatemala, then return via chicken bus or pickup into Panajachel. The shuttle back to Antigua departs at 4:00pm, so you may have a bit of time to explore Panajachel.

offered by Viator
The tour can depart from Guatemala City or Antigua Guatemala depending on where you are staying. During this one day Tour you will have the chance to learn how to prepare the local cuisine from Guatemala. Guatemala is well known for its delicious and unique flavors. Guatemalan food is a great mixture of unique and traditional colonial Spanish and local Mayan cooking that are both fun to prepare.
Start with an explanation of the traditional dish itself, the ingredients and the basic process of how to prepare it. You will choose one main dish, two side dishes, and one dessert to learn how to prepare. Then take your time to enjoy and taste the amazing food you just prepared. Arrive back at your hotel in Guatemala City at 2:30 pm.

offered by Get Your Guide
Coffee isn't just a drink in Guatemala - it's a way of life. Since coffee was first introduced to Guatemala in the 18th century, it has rapidly grown to become the country's main export, as well as a big part of local traditions. On this Antigua Guatemala tour, dig into the history of the bean and get a full hands-on coffee culture experience. Your Antigua Guatemala tour will start with a short bus ride to the town of San Miguel Escobar, where you'll meet with a representative of the Farmers Cooperative. From that point on, you'll be diving into Guatemalan coffee culture, learning about the whole process from bean to brew, as well as the history of coffee in this corner of the globe. You'll explore coffee plantations and learn about the different varieties of plants being farmed in the region. You may even get your own hands dirty, helping to plant coffee seedlings or harvesting the beans. You'll also visit the home of a local coffee farmer and sip a cup of homemade brew with the family. From there, you'll take a bus back to Antigua, where you'll get dropped off at the local market. You'll wander through the market and visit some of the many fresh fruit and vegetable stands, so you can sample a variety of local produce. You'll then head to the tasty "comedores" section of the market (food stands) and try some of the most popular regional dishes of Guatemala.

offered by Get Your Guide
Share This Article