The Best Day Trips from Antigua Guatemala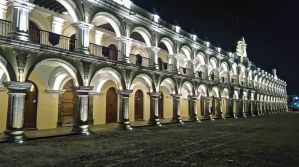 Antigua is a small city surrounded by volcanoes in southern Guatemala. It's renowned for its Spanish colonial buildings, many of them restored following a 1773 earthquake that ended Antigua's 200-year reign as Guatemala's colonial capital.
The city boasts an impressive catalog of colonial relics in a magnificent setting. Streetscapes of pastel facades unfold beneath three volcanoes. Many old ecclesiastical and civic structures are beautifully renovated, while others retain tumbledown charm, with fragments strewn about parklike grounds.
Thanks to the dozens of Spanish-language schools that operate here, Antigua is a global hot spot. Yet it remains a vibrant Guatemalan town; its churches, plazas and markets are throbbing with activity. Outside the city, indigenous communities, coffee plantations, and volcanoes offer ample opportunities for exploration.
A place of rare beauty, major historical significance and vibrant culture, Antigua remains Guatemala's must-visit destination. With so much to see and do, Antigua is a great place to both experience and use as a base for exploring nearby areas, and there are several exciting options available for day trips to help you make the most of your time here.
Experience views of some of Guatemala's most active volcanoes from up close as you hike to the top of Pacaya, where you'll enjoy unforgettable views from the top of this 8,000-foot peak. Start your day with an 8am pickup from your Antigua hotel, taking a 15 mile drive southeast to the base of this lumbering giant. Upon reaching the base, you'll begin a 2.5-hour climb to the peak with your guide, learning about the history of this unique volcano and the vegetation that thrives in this strange environment. A mild walk brings you the lagoon of Calderas, where you can take in the amazing views of three nearby volcanoes, including Agua, Fuego and Acatenango. Then continue on towards a plateau in the trail, a vantage point from which you'll be able to observe the main crater along with stunning views of the surrounding countryside. Due to safety concerns, you won't venture all the way to the volcano's crater, but you will have the chance to see glistening lava and a series of steam baths created by its heat. Take a few moments to revel in the incredible views from up high before beginning your descent back down to the base and then back to Antigua for a drop-off at your hotel.

offered by Viator
Step back in time as you visit one of the most impressive ruins of the ancient Mayan civilization at Tikal National Park during this 10-hour day trip. Best of all, you'll get to visit this one-of-a-kind wonder of the world via a flight from Antigua, saving time during your Guatemala adventure. Begin your trip with a 3:40am pickup from your hotel in Antigua, before proceeding to Guatemala City's airport for your flight to the town of Flores in northern Guatemala. Upon your arrival in Flores, a pre-arranged vehicle will transfer you to Tikal National Park, where you'll begin your exploration of this amazing UNESCO World Heritage site. Covering an area of 341 square miles, this fascinating Mayan city offers a wealth of structures for exploration. Check out a number of Tikal's most important buildings with your guide, including the Central Acropolis, containing a labyrinth of interior temples and courtyards, as well as Complex Q and R, home to twin pyramids and intricate religious complexes at their base. You'll also have time to admire the giant Temple I, also known as the Temple of the Grand Jaguar. This 144-foot religious structure was built to commemorate the burial of Mayan King Moon Double Comb. Finish your exploration with a stop at Temple II, which has been dubbed the Temple of the Masks. Take a break to sample a tasty lunch on the grounds of the national park before getting some time to wander the site at your leisure in the afternoon. Then proceed back to Flores airport to catch your flight back to Guatemala City and transfer back to your Antigua hotel.

offered by Viator
The day begins in Antigua at 8:00am with a hotel pick up. Then travel approximately for 2 hours to the beautiful Lake Atitlan. As you arrive in Panjachel your guide will meet you and bring you to the boat. Enjoy a 15 minute boat ride along the rugged north shore to Santa Cruz la Laguna. Start with a kayaking experience with proper kayak and PFD gear provided. You'll paddle your kayak to a special cliff jumping area. The jumping area has short jumps of 2 - 3 feet, and longer jumps up to 30 feet. All jumping areas are in deep landing water that has been tested by the guides. If you and your family prefers only to paddle, you skip the cliff jumping. Return to the center for some fun game time. There is a kids archery range where the children can try their hand with bows and arrows and shaded cabanas with hammocks if you want to relax. You'll also be able to enjoy a home cooked meal by a personal chef. Meal selections can be pre-ordered to taste. After lunch, hike through the hidden Pumpatin Canyon through the local forest to a rock wall. Prior to rock climbing, your guide will size you up for the proper harness, helmet, and safety gear. Full instruction is available for those who have never experienced top-rope climbing, or have only climbed on gym rock walls. Climb up to 45 feet, then rappel down. When you are ready, return to the center for free time to swim, kayak, or just hang out. Return by boat to Panajachel on time for your 4:00pm departure back to Antigua where you will be dropped back off at your hotel.

offered by Viator
Your day begins in Antigua with a hotel pick up. Travel through Guatemala's exotic Western Highlands to the caldera Lake Atitlan. Arrive at the gateway to Lake Atitlan, Panajachel. Here you will meet your adventure guide for the day. Travel will be by boat while you are at Lake Atitlan. Choose from many options that include kayaking, hiking, cliff jumping, or rock climbing. In addition to the adventure, you can choose to visit one or more of the interesting Mayan villages surrounding Lake Atitlan: Santa Cruz - A small village with no roads that feels very exotic, Jaibalito - The smallest village with a population of 500 Kachekel Mayan Tzununa - No tourism in this isolated village, so you can see an authentic village untouched by tourism, San Marcos - A new age energy center as claimed by visitors young and old, San Juan - An artisanal village of painters, weavers, medicinal plant healers, and the cleanest village on the lake, San Pedro - A larger Tzutujil Mayan village and destination for young backpackers from around the world, Santiago - The largest of the villages and still the most traditional in many ways. After your day of adventure and discovery, board the shuttle for the ride back to Antigua. Your day will finish with a drop off at centrally located Antigua hotels.

offered by Viator
On this tour you'll enjoy a 2-hour walk to the summit of Pacaya Volcano and experience the stunning views there. Leave from Antigua for a 1-hour bus journey to the volcano's base before immediately starting your 2-hour trek with your local guide. Hike through wonderful pine forests up to the trickier volcanic ash section and finally to the sulfur smoking cone. On occasions you can even see small eruptions and lava flowing, depending on the activity of the volcano.
From the summit you can enjoy great views of the nearby volcanoes, Agua, Fuego and Acatenango, the pacific lowlands and all the way to El Salvador. To ensure your safety you won't be able to visit the crater, but you will get an amazing view of red-hot lava flowing and steam baths created by the heat of Pacaya. Take a break and relax here as you take in more scenic views before hiking back to the base of the volcano, from where you will transfer back to your accommodation.

offered by Get Your Guide
Share This Article