Affordable, Safe, and Quiet Hostels in Hong Kong
Hong Kong is a major tourist destination that appeals to travelers from around the world. It's an interesting place to visit that offers a diversity of cultures and a mix of view points. Hong Kong can be an expensive place to visit, but there are some decent budget hostels around the city. Many people focus on location and security when they choose their accommodation. The hostels below offer comfortable facilities at a reasonable price.
How much do hostels in Hong Kong cost?
| | |
| --- | --- |
| Average Dorm Price | $20 ($10 to $50) |
| Average Double Private Room Price (in a hostel) | $53 ($15 to $362) |
A good hostel for backpackers, couples, and small groups.
Private Room:
$
26.00
Overall Rating:
79%
Guangdong Guest House is located in the infamous Chungking Mansion in Tsim Sha Tsui. The Chungking Mansion has a reputation as one of the less safe and dingy places to stay, but Guangdong Guest House breaks the stereotype. The facilities are quite clean and the staff focus on safety and security. This is a comfortable and safe place for budget travelers to Hong Kong. It's located near many businesses, shops, and entertainment venues. There are many restaurants around that serve either Chinese or Western food and there are many bars and clubs if you want to enjoy the area's nightlife.
The hostel has a variety of different room types to choose from. There are single, double, triple, and quad rooms (with two double beds). Every room has a television, internet access, and air conditioning. The rooms are cleaned daily and the staff are reliable and respectful.
B2, 5/F Block B, Chungking Mansion 36-44 Nathan Road
,
Hong Kong
,
Hong Kong
,
A good hostel for backpackers, female travellers, and small groups.
Dorm Bed:
$
180.00
Overall Rating:
90%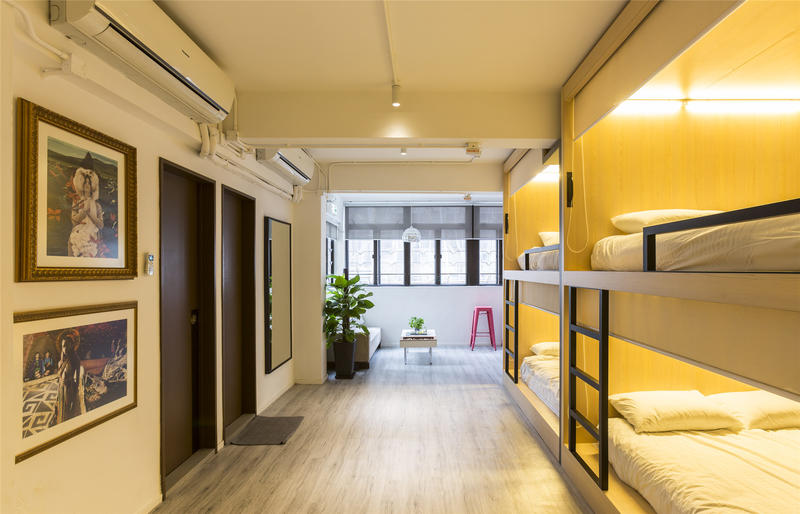 The Mahjong is a trendy hostel in the Hongkie neighborhood. This hostel is centrally located and is easily accessible with public transpotation. There are more than thirty bus routes that run near the hostel and it's about ten to fifteen minutes from Tsim Sha Tsui and Mong Kok. It's also about half an hour from Causeway Bay and Central. In the surrounding area you'll find many great local restaurants and an authentic Hong Kong experience.
This is a social hostel, but it's also a safe and secure place to stay where you can be assured a good night's sleep. There's a large lounge area where guests can hang out. Every guest also has a keycard security locker and a privacy screen.
There are a variety of dorm rooms available that range in size. Guests can choose from six, eight, and ten bed dorms that are either co-ed or female only. Each bed has its own "pod" so guests have a little personal space. Each bed is also equipped with a personal reading light and power outlets.
Flat 2A, 1F, Pak Tai Mansion, 2A-2B Ma Hang Chung To Kwa Wan
,
Hong Kong
,
Hong Kong
,
A good hostel for solo travellers, female travellers, backpackers, and small groups.
Dorm Bed:
$
189.00
Private Room:
$
224.50
Overall Rating:
91%
YHA Mei Ho House is a traditional backpacker hostel. It's located in Sham Shui Po in Kowloon and is just a short walk from the MTR Station. The location is central and the easy access to public transportation means you can easily reach most parts of the city. It's also just a short walk from Sham Shui Po Night Markets.
This is a fun, safe, and secure hostel where you can enjoy everything that Hong Kong has to offer. There are private twin and double rooms as well as four and eight bed dorms and every room has its own bathroom. Dorm options included female only, male only, and co-ed rooms.
The hostel has a large common area, a nice courtyard, a garden, and a cafe on-site. There are also laundry facilities, a small store, and free breakfast every morning.
Block 41 Shek Kip Mei Estate Sham Shui Po
,
Hong Kong
,
Hong Kong
,
A good hostel for solo travellers, female travellers, couples, and groups.
Dorm Bed:
$
19.34
Private Room:
$
17.96
Overall Rating:
88%
Check Inn HK is a great hostel in the heart of Hong Kong Island. It's close to the metro and offers easy access to most of the touristy parts of Hong Kong. This is a great place to base yourself during your time in Hong Kong.
The hostel is family run and it has a friendly and welcoming environment. The staff can give you any information you might need on the area. There is also wi-fi available throughout the building, several musical instruments you can borrow, and a shared kitchen if you want to make your own food.
If you want a friendly hostel where it's easy to make new friends then this is a good option. It's relatively small and there is a cozy lounge area where you can hang out with other guests. The staff also regularly organize dim sum meals and hiking trips.
This hostel has private rooms that range in size from singles to eight bed rooms. There are also dorms that sleep six, eight, or nine people.
2/F, Kwong Wah Mansion 269-273 Hennessy Road,Wan Chai
,
Hong Kong
,
Hong Kong
,
Share This Article