Best Party Hostels in Budapest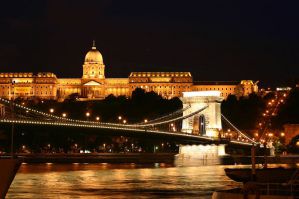 Budapest continues to grow in popularity with travelers, particularly young backpackers who take advantage of it's growing, yet affordable, nightlife. It's the capital city of Hungary and has lots to offer in the way of culture, music, and art. It's also famous for its thermal baths. If you're looking for a party hostel in Budapest, you want have any trouble as there are many. Any of the ones listed below are guaranteed to have a fun atmosphere.
How much do hostels in Budapest cost?
| | |
| --- | --- |
| Average Dorm Price | $12 ($1 to $42) |
| Average Double Private Room Price (in a hostel) | $32 ($4 to $104) |
Dorm Bed:
$
8.48
Private Room:
$
20.05
Overall Rating:
92%
This hostel is a self proclaimed "party hostel" and it's a popular option for backpackers looking to party their way through the city. Many guests spend their days partying in the onsite bar and then head into town at night to experience some of the city's best clubs. It's located in the city's 6 district which is right downtown and near the most popular nightclubs. It's also close to public transportation so you really can reach anywhere in the city with ease.
The courtyard has a bar which is where many guests choose to linger in the mid morning. It's easy to make friends from all over the world. The hostel is run by backpackers who know what you want. There's no lockout period for cleaning and you can check out as late as you wish.
The staff is great at getting guests together and taking them out on the town. They know where the best parties are, the best clubs, and the cheapest drinks. If you're looking to party into the night then this is the place for you. If you're hoping for a good night's sleep, then you might want to look elsewhere.
O utca 41 Budapest
,
Budapest
,
Hungary
,
Dorm Bed:
$
7.40
Private Room:
$
12.00
Overall Rating:
86%
This hostel and nightclub is a favorite hangout not just for travelers, but also for locals. It has several bars, dance floors, and interesting decor. The hostel is located on the second floor. There are 30 beds split between five rooms, a full kitchen, and a large lounge and balcony for guests to enjoy.
The hostel is located near most of the major attractions which can generally be reached on foot or by bike. This is a great place to base yourself if you plan to explore the city and take advantage of its lively nightlife. The staff are readily available to answer any questions you might have or point you toward the cheapest drinks.
Nagymezo u. 38
,
Budapest
,
Hungary
,
Dorm Bed:
$
3,300.00
Overall Rating:
96%
This is the perfect hostel for solo travelers who are hoping to meet others. The atmosphere is lively and fun and there's always something going on. The staff know all the best places to direct you, from the best clubs, to the most popular bars and restaurants. There are bean bag chairs you can hang out in and there's free tea and coffee available all day long. Every night there are events including pub crawls, karaoke nights, cheap drink nights, and live music nights. This hostel prides itself in having a community atmosphere where everyone gets to know each other and hang out.
This hostel does have a noise curfew at 9 pm, so guests typically head out on the town from that point on. That doesn't mean that the party stops though. There's always somewhere to go and something to do, but if you're hoping to catch up on sleep, that's an option as well.
Szobi utca 5, 3/8a
,
Budapest
,
Hungary
,
Dorm Bed:
$
3.73
Private Room:
$
14.55
Overall Rating:
88%
This hostel offers unique rooms designed by local artists. There's an nearby bar that has been featured in travel magazines and international blogs which the hostel offers discounts for guests to. The staff are all travelers themselves and know all of the best places in the city to go. Karaoke nights, pub crawls, and raves are common events. There's even a late night hang out room with a hammock where you can pass the night after all of the bars and clubs are closed. Grab a drink out of the beer vending machine and listen to music with your new travel companions. There really is no other party hostel like this in all of Hungary.
Nagy Diofa Utca 8
,
Budapest
,
Hungary
,
Share This Article