Hostels for Groups in Budapest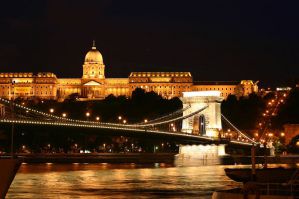 Budapest is a city filled with a rich history and impressive architecture. There is also an energetic nightlife and a fun culture that attracts travelers of all ages. Student groups, backpackers and educational programs all head to Budapest to take advantage of everything that this cosmopolitan city has to offer. There are also plenty of budget friendly accommodation options that can meet your groups needs.
How much do hostels in Budapest cost?
| | |
| --- | --- |
| Average Dorm Price | $14 ($1 to $63) |
| Average Double Private Room Price (in a hostel) | $33 ($4 to $104) |
Dorm Bed:
$
9.00
Private Room:
$
10.00
Overall Rating:
57%
The Grand Hostel in Budapest is a great option for small groups who are looking to have a good time. There are a variety of room types you can choose from including doubles, singles, triples and dorms. Dorms sleep between four and six people and have shared bathrooms. There are female only and male only four bed dorms as well. The hostel has a bar and cafeteria downstairs where you can grab a snack or drink. This hostel is perfect for groups who are looking to have a good time and enjoy a party setting. Concerts and DJs are sometimes on site as well. There's a cookout party every Wednesday when traditional Hungarian food is served in the garden. Although there is no kitchen in the hostel, there is a fridge and a fireplace in the garden for barbecues. Other amenities through the hostel include free parking, bike rental, free internet, travel information and much more.
The hostel is located on the Buda side of Budapest close to Castle Hill. It's near many of the city's more important historic sites including the Buda Castle, the Royal Palace, the National Gallery as well as museums, restaurants and bars.
Huvosvolgyi ut 69
,
Budapest
,
Hungary
,
Dorm Bed:
$
6.90
Private Room:
$
9.90
Overall Rating:
86%
This hostel is a good option for groups of most sizes. It offers four, six, and eight bed dorms as well as private rooms that sleep eight or nine people. Groups with more than 25 people should contact the hostel directly. Those groups that book a room with more than four people will be upgraded to an apartment free of charge. Groups larger than seven may be divided into two, two room apartments next door to each other.
This hostels is conveniently located between the Astoria and Ferenciek Tere metro lines. It's in walking distance to many of the city's major sites and entertainment areas and is centrally located near many restaurants, bars and cafes.
The staff are friendly and welcoming and will go out of they way to make sure your stay is enjoyable. They speak English, German, Italian and French and are experts on the city's history and culture.
11 Magyar utca, 5th district floor 1, door 13
,
Budapest
,
Hungary
,
Dorm Bed:
$
25.62
Private Room:
$
10.98
Overall Rating:
71%
This hostel is also a good option for small groups. There are four and six bed dorms that are large and comfortable. The six bed dorm is specifically reserved for groups. The room is huge and has it's own balcony. There's also a common area and a kitchen. Single, double and three bed rooms are also available. All bathrooms are shared.
Included in the price of your room are linens and towels, free wireless internet access, luggage storage, a fully equipped public kitchen, and free tea and coffee. The staff are readily available to help you with any of your travel needs. For an additional fee you can organize and airport pickup, sightseeing tours, or breakfast for your group.
The hostel is located in the heart of Budapest near many of the city's best attractions. It's also near many restaurants and entertainment venues. It is between two metro lines and very close to Vaci Street, the Danube River, Deak Square and the covered Market Hall.
Kossuth Lajos utca (street) 13
,
Budapest
,
Hungary
,
Dorm Bed:
$
6.00
Private Room:
$
10.00
Overall Rating:
83%
This hostel is ideal for groups up to 13 people in size. It has apartments that are within 100 meters of each other, most of which are on the second floor of a historic building. There are large windows that offer plenty of natural light and look out on a quiet courtyard. The apartments have been recently renovated and have new furniture as well as a modern kitchen and bathroom. The hostel also offers discounts to many of the nearby pubs and restaurants.
The hostel is conveniently located in front of the city's famous, large synagogue. It's near the Astoria metro station and Deak ter. It's also near some of the most interesting pedestrian shopping areas and is ideal for those who want to explore the city.
The staff at this hostel are readily available to answer any questions you may have. They can help you with travel information or recommend local restaurants and clubs that might interest your group.
7th discrict, Rakoczi ut no 4, 3rd floor Doorbell 27
,
Budapest
,
Hungary
,
Share This Article