Affordable, Safe, and Quiet Hostels and Bed and Breakfasts in Genoa, Italy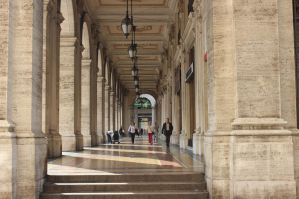 Genoa is a historical port city in northern Italy. It has become a popular tourist destination for travelers to the area and although it is not as popular as cities such as Rome or Florence, it does have a lot to offer visitors in the form of history, architecture, and cuisine. There are interesting markets, beautiful churches, and lots of great restaurants that you can check out. If you want to experience a genuinely Italian city, then Genoa is a great option.
There are a variety of budget accommodation options that visitors can choose from in Genoa. Whether you're looking for a hostel, hotel, or bed and breakfast, the options below are affordable, comfortable and reliable.
How much do hostels in Genoa cost?
| | |
| --- | --- |
| Average Dorm Price | $21 ($6 to $26) |
| Average Double Private Room Price (in a hostel) | $61 ($13 to $98) |
A good bed and breakfast for female travellers, couples, families, and budget travellers.
Private Room:
$
32.47
Overall Rating:
94%
B&B Delfino Blue is actually more of a bed and breakfast than a hostel, but it's an affordable place to stay that is great for all types of travelers. It's located in a historic building that has character and charm. The rooms are relatively large and there is a nice view of the harbor. The bed and breakfast is also easily accessible if you're arriving at the Train Station Genova-Piazza Principe. From the train station it's either a ten minute walk to the building or you could take a bus and arrive in minutes. B&B Delfino Blue is also conveniently located right near the cruise terminal and the ferry terminal. It's also walking distance to museums, the Old Harbor, the aquarium, and the historical heart of the city.
There are single, twin, double, and three or four bed rooms available. This is a warm and welcoming place to stay and the owner is friendly and knowledgeable. The breakfast is quite good and filling, and it offers a great way to start your day. Whatever your reason for visiting Genoa, this is a great option in a convenient location.
Via B.Buozzi, n. 18/4
,
Genoa
,
Italy
,
A good hostel for female travellers, couples, and small groups of friends.
Dorm Bed:
$
19.00
Private Room:
$
20.00
Overall Rating:
95%
Victoria House is a fun and friendly hostel that is affordable and social. It's located about five minutes from the Brignole Train Station and is two minues from Via San Vincenzo, Piazza Colombo, and the Oriental Market. The hostel is located on the fourth floor of a building and it has only five rooms available. There are both dorms and private rooms to choose from and travelers come here from all over the world. Private room options include a double and four or eight bed rooms. There are also four and eight bed dorms available. The beds are comfortable and the rooms are well furnished.
The hostel has a nice common room where guests often hang out and get to know each other. The owners keep the atmosphere friendly and respectful and this place will quickly become your home away from home. There's also a kitchen available where you can cook your own meals if you choose.
If you're looking for a friendly and relaxing place to stay that isn't too expensive, then Victoria House is a great option in Genoa.
Via Gropallo, 4 Interno 11
,
Genoa
,
Italy
,
A good hotel for couples and small groups of friends.
Private Room:
$
32.47
Overall Rating:
89%
Hotel Nologo is another affordable and comfortable place to stay in Genoa. The rooms are bright and well decorated and they offer all of the modern conveniences that you might need. Every room has a television and wi-fi is available throughout the building.
The hotel is conveniently located near many great shops, bars, and restaurants, and it's easy to explore the neighborhood and get a feel for the city. Many of the most popular shopping streets are also just a short walk away.
The hotel offers single, twin, double, and three or four bed rooms. Each room has its own private, en-suite bathroom and the furnishings are modern and nice. The hotel also has a great atmosphere where it's possible to meet other guests. The staff are readily available to answer any questions that you might have.
Viale Sauli 5
,
Genoa
,
Italy
,
Share This Article