Popular Hostels in Rome, Italy
Rome is one of the most popular cities to visit in Europe. It is a favorite destination for people who are interested in history, art, and, of course, Italian cuisine. There is no shortage of hostels available throughout the city. Many are located near the train station. If you're traveling as a couple, you may be able to find a double room in a hotel for the same price as two beds in a dorm, but hotels do not have the kitchen and amenities available to guests that you find in hostels. It is a question of balancing privacy, amenities, and cost and every traveler must decide what accommodation style best meets their needs. The hostels below are some of the most popular available in Rome.
How much do hostels in Rome cost?
| | |
| --- | --- |
| Average Dorm Price | $19 ($6 to $46) |
| Average Double Private Room Price (in a hostel) | $58 ($3 to $232) |
Dorm Bed:
$
20.85
Private Room:
$
20.85
Overall Rating:
82%
This hostel is located right in the middle of the historical center of Rome. It's close to the Termini Station and just a few minutes from the Colosseum and the Roman Forum. It's a friendly place with a welcoming atmosphere. It's a comfortable place to stay and offers many different perks to its guests. Among these are free luggage storage, breakfast, daily cleaning service, towels, internet access, and more. There are double rooms, triple rooms, and dorms that sleep up to six people. Guests can also choose between rooms with private bathrooms and shared bathrooms. There are also air conditioned rooms and those with just a fan.
This is a great place to stay for all types of travelers. It's child friendly and welcomes families. It also has a range of options so rooms are available to meet all budgets.
Via C.Cattaneo - 22 -
,
Rome
,
Italy
,
Dorm Bed:
$
16.99
Private Room:
$
17.99
Overall Rating:
85%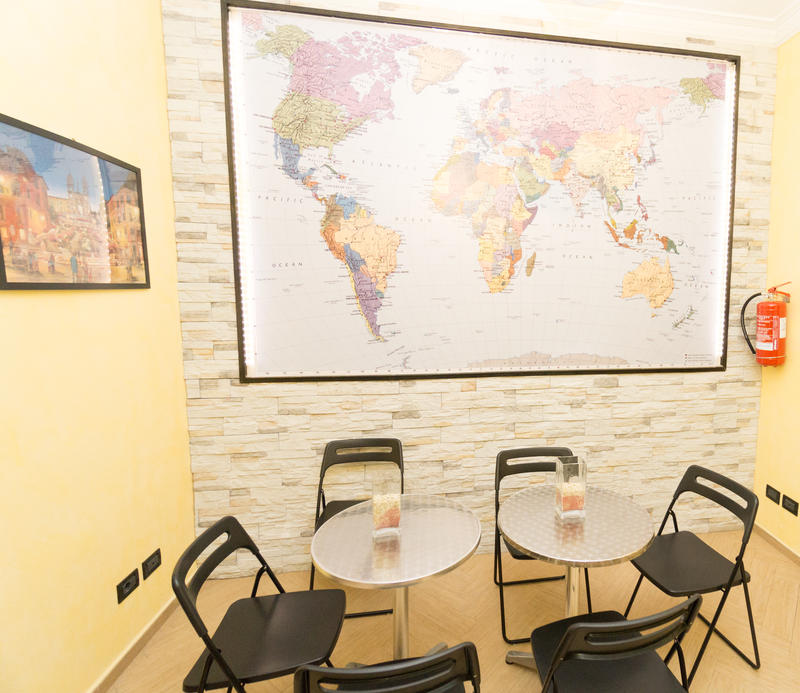 This hostel is just a few blocks from the train station and is close to everything you might need including supermarkets, cafes, travel agencies, and laundry service. It's also near some of the most popular attractions in Rome.
This hostel has a unique but welcoming feel. The staff are international and multilingual. They work hard to make sure your visit in enjoyable and the hostel feels like home. The rooms are large and comfortable and they're kept clean and secure. You can choose between private rooms and dorms, both of which are affordable and pleasant.
Via Varese 33/31
,
Rome
,
Italy
,
Private Room:
$
9.75
Overall Rating:
88%
This hostel is located in a quaint Art Nouveau Villa. It's set in a pleasant residential neighborhood that is peaceful and calm. In the surrounding area there are local restaurants and bars that have an authentic Roman charm. It's removed from the chaos of central Rome but still in easy access of the historical sights of the city.
The staff is multicultural and multilingual. They work hard to offer guests tips and advice on the best way to experience Rome. The rooms are clean and comfortable. There are both private and shared rooms and options available that accommodate families, solo travelers, groups, and more. This is a great place for those who want to experience the real Rome and still have easy access to the city center.
Via Oristano, 14
,
Rome
,
Italy
,
This hostel offers guests a warm and welcoming atmosphere that truly gives it the feel of a home away from home. The decor and furnishings are simple, but they are comfortable. Prices are quite reasonable and guests regularly reward this hostel with positive reviews.
It is located right in the middle of the historical part of Rome. It is in front of the Santa Maria Maggiore Basilica and is only a short walk from the Colosseum as well as the Roman Forum, the Spanish Steps, Navona Square, Campo De Fiori and the Trevi Fountain. The central location mean that it is easily accessible by public transportation, but many restaurants are nearby and the area is very walkable.
Via Cavour, 124
,
Rome
,
Italy
,
Share This Article