Cheap Day Trips from Kyoto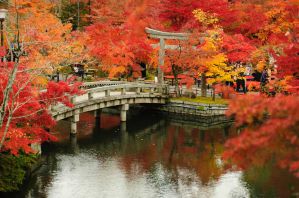 Kyoto is one of the best examples of old Japan: atmospheric temples, sublime gardens, traditional teahouses and geisha scurrying to secret liaisons. Kyoto is said to be Japan's spiritual heart with over 1000 Buddhist temples. You'll find true masterpieces of religious architecture, such as the retina-burning splendor of Kinkaku-ji (the famed Golden Pavilion) and the cavernous expanse of Higashi Hongan-ji. Within the temple precincts are some of the world's most sublime gardens, from the Zen masterpiece at Ryoan-ji to the riotous paradise of moss and blossoms at Saiho-ji. And then there are the Shinto shrines, monuments to Japan's indigenous faith. While the rest of Japan has adopted modernity with abandon, the old ways are still clinging on in Kyoto. With its roots as the cultural capital of the country, it's no surprise that many traditional arts and crafts are kept alive by artisans from generation to generation. Wander the streets downtown to find ancient specialty shops from tofu sellers, washi (Japanese handmade paper) and tea merchants, to exquisite lacquerware, handcrafted copper chazutsu (tea canisters) and indigo-dyed hanging curtains. Few cities of this size pack such a punch when it comes to their culinary cred, and at its heart is Nishiki Market ('Kyoto's Kitchen'). Kyoto is crammed with everything from Michelin-starred restaurants, chic cocktail bars, cool cafes, and sushi spots to food halls, Japanese pub-eateries, craft-beer bars, and old-school noodle joints. With so much to see, do, and taste, Kyoto is a great place both to experience in itself and also to use as a base for exploring nearby areas, and there are several options for exciting day trips and tours to help you make the most of your time here.
Your day starts with a short walk to Kyoto Station after meeting your guide at the New Miyako Hotel. Board the JR Shinkansen in the non-reserved section and relax on the scenic 1-hour journey to Himeji. When you arrive, your guide leads you to Himeji Castle, a UNESCO World Heritage site that attracts more visitors than any other castle in Japan. The impressively fortified 5-story complex features architectural elements on its exterior that resemble a heron taking flight, giving the castle another name: Shirasagi Castle (White Heron Castle). See the interior and exterior components of the magnificent site with your guide, who shares fascinating details about the 14th-century castle and feudal times in Japan. Then enjoy a lunch buffet that features both Japanese and Western cuisines. After lunch, ride the JR Special Rapid Service or Rapid Service from Himeji to Maiko Station. From there, an easy five-minute walk takes you to Akashi Kaikyo Bridge. Stop into the Bridge Exhibition Center to learn about the world's longest suspension bridge, which spans 12,828 feet between the city of Kobe and Awaji-shima Island. Then see more from the Maiko Marine Promenade, an observation walkway located under the roadway and 154 feet above the waters of Akashi Strait. The enclosed walkway has some sections with glass flooring that gives views of the sea below. Your tour ends at Kyoto Station when you return by train in the early evening.

offered by Viator
Select your preferred starting point on booking (Osaka, Kyoto or Hiroshima), and then start your tour of the UNESCO World Heritage Sites of the Itsukushima Shrine and Hiroshima Peace Memorial Park and Museum with a boat trip to the small island of Miyajima. Marvel at the beauty of the natural surroundings, and take a look at the Itsukushima Shrine on the island of Itsukushima, best known for its "floating" torii gate, surrounded by the ocean at high tide. Get some free time to stroll around Miyajima and enjoy lunch. Then, journey to the Hiroshima Peace Memorial Park and Museum in the world's first city to suffer from nuclear attack. The ruin serves as a heart-rending memorial to the people killed in the atomic bomb of August 6, 1945, when over 70,000 people were killed instantly and another 70,000 suffered fatal injuries from the radiation. See the belongings of the people who died, and the remains of the city as a poignant reminder of the disaster, and as a call for peace. End with a look at the Atomic Bomb Dome at the bomb's hypocenter, and experience the Hiroshima Peace Memorial Park's most iconic symbol.

offered by Get Your Guide
This incredible 2-day tour with an informative guide includes one restaurant lunch, all public transport and accommodations at the Hotel Granvia Hiroshima. On day one, after morning pickup from the New Miyako Hotel, head to Kyoto station to board the train to Hiroshima station, then disembark and walk with your guide to Hotel Granvia Hiroshima to check in. From here, board a comfortable coach to Miyajimaguchi, where your tour continues via boat to Miyajima, aka Sacred Island. Follow your guide on a tour of Itsukushima Shrine. Afterward, enjoy some free time before returning by boat to Miyajimaguchi, where you'll board a coach with your guide. Visit Peace Memorial Park, located near the epicenter of the first atomic bomb. Gaze in wonder at the Hiroshima Peace Memorial, the only original structure left standing in the area. You'll also visit Hiroshima Peace Memorial Museum. Then return to your hotel and enjoy free time in the evening. On day 2, after checking out of your hotel, depart the Hiroshima station to Shin-Kurashiki station, where you'll take a walking tour of the town's Kurashiki Bikan Historical Quarter lined with well-preserved buildings from the 17th to 20th centuries. Then proceed with your guide to the Ohara Museum of Art. This private museum is the oldest in Japan to feature Western art. Then, continue on from Kurashiki station to take the JR train to Okayama. Take a short walk from the station to Okayama Korakuen Garden. Completed in 1700, the World Heritage site was destroyed in World War II and later restored to its original appearance by using Edo-period paintings and diagrams of the gardens. You'll return to Okayama station in the evening to ride the 1.5-hour Hikari bullet train back to Kyoto station, where your 2-day tour ends.

offered by Viator
Make your way to the Samurai Kembu Kyoto dojo, conveniently located in downtown Kyoto, where you'll meet your instructor for a 1- or 2-hour lesson in the traditional art of Kembu. Start by watching a three-minute film that introduces you to the general concepts of the samurai, a warrior class that ruled Japan from the 12th to 19th century. After further orientation from your instructor, you'll put on Japanese-style socks, tie a white belt and receive a sword to be used during your lesson. After you learn to bow, you're shown how to draw the curved samurai sword and replace it in the scabbard. Once you've mastered this difficult technique, practice ways to strike the sword to make a cutting sound. Take a break from your samurai training to change into a costume of your choice and enjoy a photo session. Then continue wielding your sword as a samurai would against his opponent during more practice. Before departing the dojo, you will receive a certificate of completion and photos that were taken on-site.

offered by Viator
Share This Article