Cheap Food Tours in Kyoto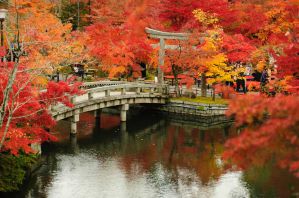 Kyoto is one of the best examples of old Japan: atmospheric temples, sublime gardens, traditional teahouses and geisha scurrying to secret liaisons. Kyoto is said to be Japan's spiritual heart with over 1000 Buddhist temples. You'll find true masterpieces of religious architecture, such as the retina-burning splendor of Kinkaku-ji (the famed Golden Pavilion) and the cavernous expanse of Higashi Hongan-ji. Within the temple precincts are some of the world's most sublime gardens, from the Zen masterpiece at Ryoan-ji to the riotous paradise of moss and blossoms at Saiho-ji. And then there are the Shinto shrines, monuments to Japan's indigenous faith. While the rest of Japan has adopted modernity with abandon, the old ways are still clinging on in Kyoto. With its roots as the cultural capital of the country, it's no surprise that many traditional arts and crafts are kept alive by artisans from generation to generation. Wander the streets downtown to find ancient specialty shops from tofu sellers, washi (Japanese handmade paper) and tea merchants, to exquisite lacquerware, handcrafted copper chazutsu (tea canisters) and indigo-dyed hanging curtains. Few cities of this size pack such a punch when it comes to their culinary cred, and at its heart is Nishiki Market ('Kyoto's Kitchen'). Kyoto is crammed with everything from Michelin-starred restaurants, chic cocktail bars, cool cafes, and sushi spots to food halls, Japanese pub-eateries, craft-beer bars, and old-school noodle joints. With so much to see, do, and taste, Kyoto is a great place to experience, and there are several options for food tours to taste some of the best flavors of the city.
Start your excursion by meeting your guide at JR Kyoto station. Walk from Inari station with your guide to the area's iconic Fushimi Inari Shrine, situated on the hills of Mount Inari. Pass through the pathway leading up to the shrine, walking beneath the thousands of bright red torii covering the trail. This eye-catching sight is a favorite shooting location for TV and film crews. After a 15-minute exploration of the shrine, head back 15 minutes by train to the Gekkeikan Sake Brewery, founded in Kyoto in 1637, to get a crash-course in the production and history of this beloved beverage, a drink that you'll often find at Japanese celebrations and festivals. Check out the Brewery's museum, providing an introduction to the history of the drink, and then see the tools and ingredients used to make sake, the components of which typically include water, yeast, malt and steamed rice. Before you leave the museum stop to enjoy a sampling of 3 varieties. Then take a short walk to a local specialty shop, selling more than 80 different kinds, as you experience a special tasting session with the shop's owner. Take a few minutes to browse the nearby shopping arcade before returning by train to Kyoto station, where you finish your excursion.

offered by Viator
Start the tour in a small group of the famous traditional food market called Nishiki. At the market, you will find lots of interesting food store and help the English speaking guide to buy some ingredients which will be used for the cooking later.
After visiting the market, explore back streets of Kyoto city until you reach a former sake brewery. At the Sake brewery, enjoy a 20 minute tour of the brewery and learn about sake-brewery process as well as enjoy sake-tasting. Then another 2 minute walk will take you to a traditional house for your Japanese Home Cooking experience. Here you will learn how to make rolled-sushi, miso-soup and cooked salad with seasonal fruits for your dessert. After dinner, you can explore the night time of Kyoto or simply go back to your hotel on your own.

offered by Get Your Guide
Explore the lineage of ancient Japan during this excursion offering three different tea ceremonies in the legendary city of Kyoto. Depending on the experience you select you'll have the chance to enjoy a typical ceremony, try on a Japanese kimono, and in the case of the 2.5-hour experience, get an up-close demonstration of the entire tea-making process from a Japanese master. For the 2.5-hour option, you'll be picked up from your Kyoto hotel, while in the other two tour choices you'll make your own way by public transport or taxi to meet your instructor at their home or machiya. Over the course of your ceremony experience you'll witness the methodical steps behind Japanese tea preparation. Receive a lesson in proper sitting posture, and then observe your instructor as they prepare the tea from matcha, a powdered tea mixture used since the 12th century when the Japanese monk named Eisai introduced the mixture from China. When your brew is ready, enjoy the delicate nuances of its earthy flavor, and sample a sweet snack that is typically consumed alongside the drink. You'll also have the chance to get an in-depth lesson on the correct preparation of this celebrated drink, a refreshment that is half meditation, half performance art.

offered by Viator
Experiencing Kyoto by night is an essential part of any visit to Japan's city of tradition. Walking through the old town's lantern-lit wooden streets is an otherworldly experience not to be missed. Begin your Kyoto tour at Minamiza Theatre in Kyoto's famed Geisha district of Gion. From there, avoid the crowds and traverse the serene wooden backstreets through to Yasaka Shrine, where there's an explosion of light and noise. Famous Yasaka is eternally alive, brought to life by bright lights and buzzing crowds, and lined with street food stalls selling Japan's favorite evening snacks, everything from frozen bananas to skewered squid. Dart into the backstreets of northern Gion, walking through the narrow streets lined with smaller and more modern clubs and bars. Crossing the Kamo River, take in the sprawling view of Kyoto's restaurant district as it stretches into the distance along the river, before crossing into Pontocho. A centuries-old entertainment district now lined with bars and restaurants, Pontocho is lit almost entirely by traditional Japanese lanterns of every shape and size. From Pontocho, cross to Teramachi, a traditional Japanese-style arcade strip that stretches off into the distance. Roofed with glowing, cathedral-like arches, Teramachi is home to a countless variety of merchants and restaurants, including traditional Japanese bookstores and the ubiquitous, brightly lit Manga comic shops. Leaving Teramachi's arcade, head past the Nishiki food market to check out a tachinomiya - 'stand and drink shop.'

offered by Urban Adventures
Share This Article