Cheap Tours and Activities in Kyoto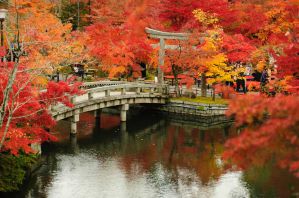 Kyoto is one of the best examples of old Japan: atmospheric temples, sublime gardens, traditional teahouses and geisha scurrying to secret liaisons. Kyoto is said to be Japan's spiritual heart with over 1000 Buddhist temples. You'll find true masterpieces of religious architecture, such as the retina-burning splendor of Kinkaku-ji (the famed Golden Pavilion) and the cavernous expanse of Higashi Hongan-ji. Within the temple precincts are some of the world's most sublime gardens, from the Zen masterpiece at Ryoan-ji to the riotous paradise of moss and blossoms at Saiho-ji. And then there are the Shinto shrines, monuments to Japan's indigenous faith. While the rest of Japan has adopted modernity with abandon, the old ways are still clinging on in Kyoto. With its roots as the cultural capital of the country, it's no surprise that many traditional arts and crafts are kept alive by artisans from generation to generation. Wander the streets downtown to find ancient specialty shops from tofu sellers, washi (Japanese handmade paper) and tea merchants, to exquisite lacquerware, handcrafted copper chazutsu (tea canisters) and indigo-dyed hanging curtains. Few cities of this size pack such a punch when it comes to their culinary cred, and at its heart is Nishiki Market ('Kyoto's Kitchen'). Kyoto is crammed with everything from Michelin-starred restaurants, chic cocktail bars, cool cafes, and sushi spots to food halls, Japanese pub-eateries, craft-beer bars, and old-school noodle joints. With so much to see, do, and taste, Kyoto is a great place to experience, and there are several options for exciting activities and tours in or near the area to help you make the most of your time here.
Journey back in time to ancient Japan as you admire the Geishas, Zen gardens, and colorful temples of Kyoto, with this small-group walking tour, limited to just 12 people. This personalized exploration of Kyoto, a now-modern city that is also the historic heart of Japanese culture, is the perfect introduction to this famous Japanese city's centuries of tradition. Start your exploration by meeting your guide at 2pm at Kyoto station. Begin your visit to the city's many attractions with a stop at Tofukuji Temple, a lovely 13th century Zen temple famous as one of five great religious buildings of Kyoto. Make sure to check out the wealth of idyllic gardens located on the temple grounds of this still-operational monastery. Continue next to Fushimi Inari Shrine, a sacred religious site situated on the outskirts of the city on a densely-forested hillside. Admire the shrine's brilliant-red sacred gates, or torii, which you may recognize from the film Memoirs of a Geisha, and make sure to check out the site's many smaller monuments and its fox statue. Finish your day in Kyoto's Gion District, renowned for the many geishas that populate its streets. Wander among the area's traditional tea houses and eateries, and keep your eyes peeled for sightings of these elegantly-dressed women, clothed in the traditional Japanese kimono.

offered by Viator
Study the art of the samurai warrior that ruled ancient Japan for centuries. Practice the stylized movements that make up the samurai technique as you handle a sword and uncover the discipline of Kembu. Watch a 3-minute film about the basics of the samurai. Then, suit up and take hold of your samurai sword. Learn how to bow before your sword training begins. Discover how to draw it and replace it in its protective scabbard. Get a short photo shoot in your samurai suit, and then discover how to wield the sword against a potential opponent. End with a respectful bow to your instructor, grab your souvenir photos and certificate of achievement before leaving.

offered by Get Your Guide
Bang out a tune as you learn the practice of taiko, a traditional Japanese drumming art, during a small-group class in Kyoto that's limited to 12 guests. It's a great way to get hands-on and learn a new skill during your trip while also discovering a new aspect of Japan's rich musical culture. Meet at the Taiko Center in the afternoon on the day of your lesson. Get an introduction to your instructor before starting with a few pre-session exercises to warm up your body for the drum course. This will also help you avoid any injuries during this introduction to this traditional art form. Then begin your drum training. Learn the proper methods to hold the drumsticks, called bachi, before you begin your drum work. Follow your instructor for an introduction to basic drum rhythms, taking you through a series of fun drills to help you get the hang of it. After just a short amount of practice, you'll be ready to join your drum class to play a basic song. You'll leave your drum class at the end feeling excited, swaying to the rhythms of this energetic, fun-filled Japanese musical art.

offered by Viator
Explore the historic streets and fascinating culture of ancient Kyoto on a pedal-powered tour driven by an informative guide. Sit back and relax as your driver whisks you past some of the most fascinating sites in this former imperial capital. Start your trip by meeting your guide at a time of your choosing from either Arashiyama or Higashiyama. From there, climb aboard your authentic rickshaw, a two passenger vehicle invented in Japan in the 19th century. This relaxed ride offers the perfect up-close method to view some of the most notable temples and streets of historic Kyoto, many of which can be difficult to explore on foot due to the distances between them. Along the way your guide will share various details about the history and importance of the town's principal attractions. Among the attractions you might visit during your ride are Togetsu-kyo Bridge, Nonomiya Shrine, Rakushisya's Cottage, Heian Jingu Shrine, Oyashiki Street and Nanzen-Ji Buddhist temple.

offered by Viator
Share This Article