Cheap Tours and Activities in Tokyo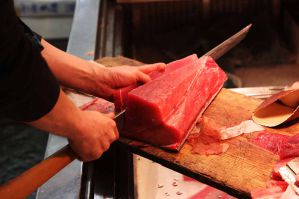 Tokyo, Japan's busy capital, mixes the ultramodern and the traditional. Tokyo's neon-lit streetscapes still look like a sci-fi film set - and that's a vision of the city from the 1980s. Tokyo has been building ever since, pushing the boundaries of what's possible on densely populated, earthquake-prone land, adding ever taller, sleeker structures. Come see the utopian mega-malls, the edgy designer boutiques from Japan's award-winning architects, and the world's tallest tower - Tokyo Sky Tree - a twisting spire that draws on ancient building techniques. Tokyo may be forever reaching into the future but you can still see traces of the shogun's capital on the kabuki stage, at a sumo tournament or under the cherry blossoms. It's a modern city built on old patterns, and in the shadows of skyscrapers you can find anachronistic wooden shanty bars and quiet alleys, raucous traditional festivals and lantern-lit yakitori (grilled chicken) stands. The opulent Meiji Shinto Shrine is known for its towering gate and surrounding woods. The Imperial Palace sits amid large public gardens. The city's many museums offer exhibits ranging from classical art to a reconstructed kabuki theater. Tokyo has more Michelin stars than any other city and Japanese cuisine has been added to the Unesco Intangible Cultural Heritage list. But that's not what makes dining in Tokyo such an amazing experience. What really counts is the city's long-standing artisan culture. With so much to see, do, and taste, Tokyo is a great place to experience, and there are several options for exciting activities and tours in or near the area to help you make the most of your time here.
Discover the fascinating traditions of sumo wrestling as you visit the sport's main stadium in Tokyo on a small-group tour, venturing inside its sumo stables to learn about how these massive fighters live and train. Then sample a hearty lunch of the typical post-workout sumo meal. Start your sumo tour at Ryogoku Station's main exit in the morning, where you'll meet your guide for the day's experience. Then head with your guide inside the area's training stables to learn about the wrestler's daily life. The Ryogoku district of Tokyo, which is home to the sport's main stadium, is also the location for numerous sumo stables where the wrestlers live and prepare for competition Enjoy a 3-hour exploration of the various stables around Ryogoku, learning about the sumo's daily routine, lifestyle and traditions along the way. If you're lucky, you may get a glimpse of some of these impressive wrestlers in action, though a sighting is not guaranteed. If you want to watch a sumo tournament in action, your guide will explain the ticketing system and help you purchase passes to an upcoming match. Finish your sumo experience with a typical sumo lunch of chanko hot pot. This calorie-dense meal often includes fish, vegetables, meat and tofu, and is served with rice and beer. Enjoy your fill of lunch before heading back to the station and on to your next destination.

offered by Viator
Greet your guide at your Tokyo hotel and depart to an aikido dojo for your in-depth martial arts lesson. Arrive at the training center and listen as your sensei regales you with the foundations and religious principles that underline the complex martial art of aikido. Watch a captivating demonstration from elite professionals and then transition into a lesson in the intricate art of Japanese calligraphy. Learn the correct way to draw each stroke of ink and create incredible Japanese pictographs after a short practice session. Relinquish the pen in favor of the mighty sword and head to the sword museum in Shibuya; delve into the history of the enigmatic samurais with your guide and observe some of the weapons used in fearsome duels. Revitalize with lunch at a restaurant of your choice at your own expense and then head into a sake shop to sample one of Japan's most iconic beverages; become enlightened on the complex processes used to make sake and educate your palate in the subtle flavors of the drink. Continue to Ginza, Tokyo's premier shopping district, to enjoy a relaxed wander through an old shogunate garden. Conclude your tour in Akinhabra, a pop culture temple in which anime stores and toy shops abound. Browse endless shelves of colorful manga and hear about the art form's origin from your knowledgeable guide. Bid farewell to your guide in this vibrant district and make your own way back to your hotel.

offered by Viator
Take a private insider's tour of the world of Japanese otaku culture on this 3.5-hour private tour of Tokyo's famous Akihabara Electric Town. This intriguing area offers a paradise of stores and cafes catering to fans of video games, comic books, cosplay culture and discount electronics. Start your exploration by meeting your guide at your hotel, continuing by public transport to Akihabara for an afternoon start time. This iconic area, which was nicknamed Akihabara Electric Town due to its origins as an electronics district after World War II, has evolved in recent years into a cultural hub for lovers of anime, manga, cosplay and video games, who refer to themselves as otaku, or "nerds." Begin your walking tour of Akihabara by performing your favorite songs with family and friends at a decorated karaoke room. One complimentary beverage is included with your karaoke visit, but feel free to order a few more and some snacks if you're feeling hungry or thirsty. Continue your exploration by taking part in a fun purikura photo shoot. This fun photo machines offer hilarious options to customize your image with stamps, sparkles, and frame before printing out a copy you can keep as a souvenir. When you finish with your photo shoot, follow your guide to one of Akihabara's famous maid cafes. Here you'll find waitresses dressed in playful French maid outfits, treating guests as if they're in a private home rather than a public restaurant. Get a welcome from your maid with a "Welcome home, master (or mistress)" greeting, and then enjoy a complimentary choice of coffee or tea, other food or drinks at your own expense. Enjoy an hour at this entertaining example otaku culture, and for an additional fee, join your waitress to play a game or sing a song. Finish your Akihabara excursion at Don Quijote, affectionately known by residents as "Donkey." This sprawling retail superstore sells everything from luxury goods to everyday groceries. Literally every inch of shelf space is packed with products, offering a fun chance to dig for a bargain. Your tour concludes here leaving you with time to do some much shopping.

offered by Viator
Enjoy this off-the-beaten-track tour for an introduction to the two main religions of Japan. Start at the very active Fudo-do Temple. With the stunning temple grounds as your backdrop, learn how Shintoism and Buddhism, Japan's two primary religions, coexist. Discover the differences between the two and how they represent the whole spectrum of life. Watch a unique Buddhist ceremony known as a Goma ritual, held in the main temple hall. The ceremony involves burning a special kind of firewood as an offering to the principal deity, Fudo Myou. When the ceremony ends, you'll have a bit of time to explore the other floors of the temple, such as the trippy prayer corridor with 9500 miniature crystal statues. Talking is not allowed inside, so your guide will explain a bit beforehand about some of the things you can expect to see, and will answer any questions you have when we leave the temple. From Fudo-do, you'll stroll over to Hachiman Shrine, which is best known for its close ties to the sumo world. The shrine is said to be the birthplace of Kanjin-zumo and the origin of current, professional sumo. The grounds are adorned with sumo-related stone monuments, and when a sumo wrestler reaches the highest rank, known as yokozuna, there is a dedication ceremony done at the shrine. Your last stop will be Kiyosumi to admire a traditional Japanese stroll garden. There has been a garden of some form here since the early 18th century but it was Iwasaki Yataro, the founder of Mitsubishi, who shaped it into the tranquil spot it is today. Yataro rebuilt the gardens for the pleasure and enjoyment of his employees and as a place to entertain important guests. At the end of your tour, either stay to explore the rest of the gardens or the guide will walk you back to the train station.

offered by Urban Adventures
Greet your expert instructor at the Tokyo Tower and don your disguising 'doji' (training clothes) before your ninja training commences. Calm your mind and sharpen your focus during meditation practice and hear about why 'kujikiri', a method of using hand gestures to strengthen the mind, is integral to a ninja's success. Once mentally prepared, immerse yourself fully into the secret world of the 'shinobi' (ninja) and learn the secrets behind their impressive fighting techniques. Choose to practice one of a selection of ninja skills under the guidance of an expert instructor, opting to try grappling, self-defense, and swordsmanship or rope techniques. Return to your original departure point with your guide after completing your lesson.

offered by Viator
Share This Article