Crazy Day Tours of Tokyo (Sumo, Manga, Robots, and More)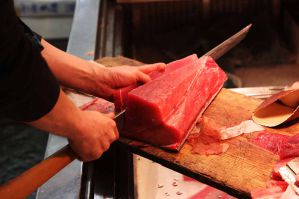 Tokyo, Japan's busy capital, mixes the ultramodern and the traditional. Tokyo's neon-lit streetscapes still look like a sci-fi film set - and that's a vision of the city from the 1980s. Tokyo has been building ever since, pushing the boundaries of what's possible on densely populated, earthquake-prone land, adding ever taller, sleeker structures. Come see the utopian mega-malls, the edgy designer boutiques from Japan's award-winning architects, and the world's tallest tower - Tokyo Sky Tree - a twisting spire that draws on ancient building techniques. Tokyo may be forever reaching into the future but you can still see traces of the shogun's capital on the kabuki stage, at a sumo tournament or under the cherry blossoms. It's a modern city built on old patterns, and in the shadows of skyscrapers you can find anachronistic wooden shanty bars and quiet alleys, raucous traditional festivals and lantern-lit yakitori (grilled chicken) stands. The opulent Meiji Shinto Shrine is known for its towering gate and surrounding woods. The Imperial Palace sits amid large public gardens. The city's many museums offer exhibits ranging from classical art to a reconstructed kabuki theater. Tokyo has more Michelin stars than any other city and Japanese cuisine has been added to the Unesco Intangible Cultural Heritage list. Tokyo is also the hub of activity for many media platforms including the huge manga, anime, and sci-fi cultures, which attract people of all ages from all over the world. With so much to see, do, and taste, Tokyo is a great place to experience, and there are several options for unique and exciting tours to help you make the most of your time here.
This package includes a ticket to a show at the Robot Restaurant and Kaiseki dinner at Ise Sueyoshi restaurant in Nishi-Azabu. This restaurant uses fresh seasonal ingredients directly transported from the Ise region. You can first go to dinner and then see the show, or vice-versa depending on the option you select. The two venues are approximately 30 minutes apart via train, plus extra walking. The Robot Restaurant in Kabuki-cho in Shinjuku is one of the most famous entertainment venues in Tokyo, offering a fusion of Japanese culture and robots. This futuristic loud music, dancing and state-of-the-art technology will all leave you mighty impressed. Your meal includes one Sake drink, an appetizer, sushi, wanton, tempura, and more. This will be an exciting night out that you won't soon forget.

offered by Get Your Guide
This is the ideal tour for die-hard manga and anime fans. Visit all the centers of this movement, such as Akihabara, Nakano, and Harajuku, in order to experience Japanese pop culture. This is a private tour by a chartered vehicle. By using this service, you can charter a vehicle of your choice and visit many famous sightseeing spots. You don't have to hurry or wait for any other tourists, since this tour is only for your group. You can request a stop for any specific spots that you want to visit, such as figure shops and manga stores. Recommended spots include Nakano Broadway, a shopping complex full of manga, idols, figures and toys. This area is famous for otaku culture, but you will also feel like a local here. Akihabara is the center of Japan's otaku culture, with anime shops and maid cafes. Another option is Harajuku's Takeshita Street, the focal point of teenage fashion and culture. This is a mix of cultures and it is interesting to watch people in unique clothing.

offered by Get Your Guide
Sumo is a Japanese national sport and one of the most traditional parts of the culture. It is believed that the origin was in the mythical age. Sumo has been influenced the Japanese culture and the lives of many. Sumo has many faces: historical, cultural, Shinto ritual or athletic, and each of them has an important role.
You will learn a lot about sumo from knowledgeable experts and have an opportunity to try Chanko Nabe, a Japanese hotpot dish unique to the Sumo world, as well. You will listen to the history of sumo as well as explanations of the manner, and training in English and receive a brief explanation about fundamental actions by two wrestlers who were real sumo wrestlers in the past. You will also be introduced to some techniques including prohibited techniques and observe three real matches. You can try your hand at sumo with the wrestlers, while wearing a provided costume, and take a souvenir photo with them.

offered by Get Your Guide
Your translator guide will pick you up at your hotel and bring you to the training dojo in Ginza. After you meet the sword-master, you will be instructed in how to put on the traditional kimono worn by samurai. The sword-master will explain and show you various swordplay techniques in the Iai-style of sword drawing, and correct your form as you try it for yourself. This style of swordplay focuses on the fast unsheathing techniques used to draw the sword and immediately disable your opponent. You will also get the incredibly rare experience of "tameshigiri" - chopping up grass tatami mats with a real sword. After watching the master swordsman's demonstration you will get to attempt to cut the mat and compare your results. The full lesson will be translated by your personal guide, who will also translate any questions you may have for your instructor. After the lesson is over, you will be free to explore Ginza or travel wherever else you would like to in the city.

offered by Get Your Guide
Share This Article