Kyoto's Best Cooking Classes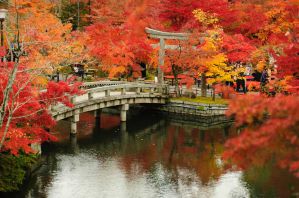 Kyoto is one of the best examples of old Japan: atmospheric temples, sublime gardens, traditional teahouses and geisha scurrying to secret liaisons. Kyoto is said to be Japan's spiritual heart with over 1000 Buddhist temples. You'll find true masterpieces of religious architecture, such as the retina-burning splendor of Kinkaku-ji (the famed Golden Pavilion) and the cavernous expanse of Higashi Hongan-ji. Within the temple precincts are some of the world's most sublime gardens, from the Zen masterpiece at Ryoan-ji to the riotous paradise of moss and blossoms at Saiho-ji. And then there are the Shinto shrines, monuments to Japan's indigenous faith. While the rest of Japan has adopted modernity with abandon, the old ways are still clinging on in Kyoto. With its roots as the cultural capital of the country, it's no surprise that many traditional arts and crafts are kept alive by artisans from generation to generation. Wander the streets downtown to find ancient specialty shops from tofu sellers, washi (Japanese handmade paper) and tea merchants, to exquisite lacquerware, handcrafted copper chazutsu (tea canisters) and indigo-dyed hanging curtains. Few cities of this size pack such a punch when it comes to their culinary cred, and at its heart is Nishiki Market ('Kyoto's Kitchen'). Kyoto is crammed with everything from Michelin-starred restaurants, chic cocktail bars, cool cafes, and sushi spots to food halls, Japanese pub-eateries, craft-beer bars, and old-school noodle joints. With so much to see, do, and taste, Kyoto is a great place to experience, and there are several options for cooking classes so you can learn to recreate your favorite flavors when you return home.
Start your food experience with a meet-up at the city's Daimaru Kyoto Department Store in the afternoon, where you'll meet your guide. Follow your guide out into the city for a 2-hour walking exploration of some of Kyoto's food hotspots. Visit the famous Nishiki Food Market, where you'll explore the wide variety of Japanese foodstuffs for use in your cooking class later that day. Explore the market's collection of spices and produce as you sit back and observe the blur of activity at the city's main food center. Then head to a former sake brewery and museum, where you can taste a few of the country's wide variety of sakes. You'll also learn about how this celebrated beverage is created. Continue after your tasting to the machiya, a typical Kyoto-style wooden home, which will host your cooking lesson. Your 1.5-hour session teaches you to prepare a classic Japanese dinner, including items such as miso soup, cooked salad, sushi and seasonal fruit. Enjoy your meal with the other guests before spending the rest of the evening exploring Kyoto at your own leisure. For those who wish to return to their hotel after the tour, your guide will help coordinate transportation.

offered by Viator
Meet your guide at the machiya, just a 5-minute walk from the Kyoto Imperial Palace. Your cooking class takes place in this traditional Kyoto townhouse, where your instructional chef teaches you to make a healthy meal of Kyoto-style teriyaki chicken or a vegetable-based dish called obanzai. In this relaxed and friendly atmosphere with your small group, learn Japanese culinary secrets and cooking techniques. You'll prepare several dishes that you can enjoy together for lunch at the end of your lesson. Afterward, explore Kyoto on your own or make your way back to your accommodation.

offered by Viator
Experience an authentic Japanese food tradition and prepare your own bento box at a morning bento cooking class in Kyoto. Learn about typical Japanese dishes, such as sushi, tempura and miso soup, and hear about the cultural background of the well-known Japanese "bento" takeaway meal. Traced back to the late Kamakura Period (1185 to 1333), the bento box has now become a staple of Japanese cuisine. Arrive for your 2.5 to 3-hour class and collect your ingredients, apron and utensils. Then, watch and follow your chef as they demonstrate the art of bento and explain the tricks to making beautiful Japanese dishes often found in a bento box. Once you have finished cooking your dishes, enjoy the fruits of your labor and dig into your bento lunch.

offered by Get Your Guide
Learn the fine arts behind sushi-making during this fascinating and delicious class that allows you to eat your creations when you're finished. Join your guide at a pre-arranged meeting point in the early evening, taking a short 5 minute walk to the machiya, a traditional Japanese townhouse near the city's Imperial Palace that will host your sushi-making lesson. At the machiya, join your instructor as you take a crash course into proper sushi-making technique and ingredients. After rolling a special rice onto the nori, which are sheets of dried seaweed, you'll begin to add your fillings. These delicate rolls may look complex, but as you follow the step-by-step instructions from your instructor and guide, you'll be an expert in no time. Finish your class with a chance to taste the results of your sushi-making prowess. Side dishes including miso soup, sumashi (clear soup), salad, and seasonal fruit will be served to accompany your meal. At the end of your dinner, your guide will direct you back to your starting point.

offered by Viator
Begin your private cooking lesson with pickup by taxi from your Kyoto hotel by your guide. Proceed in your taxi to a local Kyoto home where your cooking lesson will take place. Learn first to make sushi, observing the instructor's demonstration of how to roll rice and add fillings inside a sheet of nori (dried seaweed). Try your hand at rolling and filling some sushi of your own. Continue your lesson with an introduction to tempura, the deep-fried cooking style that is often used to prepare seafood and vegetables. Watch as a variety of fresh produce like mushrooms, along with shrimp, is battered in a seasoned mixture of flour and rice, before getting dipped in oil. Tempura can be tricky to get just right, so you'll leave your lesson with a recipe in English you can use to continue perfecting the technique at home. Finish your cooking lesson with a meal where you can enjoy your day's work with your hosts along with some tasty side dishes. Dig into your cooking creations, plus miso soup and a seasonal salad. Your memorable evening of cooking and fun with your hosts ends with a taxi drop-off back at your hotel.

offered by Viator
Share This Article