The Best Cheap Walking Tours of Tokyo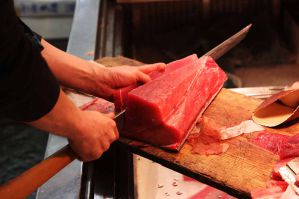 Tokyo, Japan's busy capital, mixes the ultramodern and the traditional. Tokyo's neon-lit streetscapes still look like a sci-fi film set - and that's a vision of the city from the 1980s. Tokyo has been building ever since, pushing the boundaries of what's possible on densely populated, earthquake-prone land, adding ever taller, sleeker structures. Come see the utopian mega-malls, the edgy designer boutiques from Japan's award-winning architects, and the world's tallest tower - Tokyo Sky Tree - a twisting spire that draws on ancient building techniques. Tokyo may be forever reaching into the future but you can still see traces of the shogun's capital on the kabuki stage, at a sumo tournament or under the cherry blossoms. It's a modern city built on old patterns, and in the shadows of skyscrapers you can find anachronistic wooden shanty bars and quiet alleys, raucous traditional festivals and lantern-lit yakitori (grilled chicken) stands. The opulent Meiji Shinto Shrine is known for its towering gate and surrounding woods. The Imperial Palace sits amid large public gardens. The city's many museums offer exhibits ranging from classical art to a reconstructed kabuki theater. Tokyo has more Michelin stars than any other city and Japanese cuisine has been added to the Unesco Intangible Cultural Heritage list. But that's not what makes dining in Tokyo such an amazing experience. What really counts is the city's long-standing artisan culture. Tokyo's vibrant food culture is legendary, and is one of the many reasons why people flock to the Japanese capital. With so much to see, do, and taste, Tokyo is a great place to experience, and there are several walking tours available to help you make the most of your time here.
Meet your guide and small group at the Asakusa Culture Tourist Information Center. Set out on foot for your 2-hour walking tour to view the cherry blossoms in bloom. Follow your guide across the Azuma-bashi, a bridge dating from the 1930s, watching the Sumida River stream by below. Once you cross to the opposite bank, you'll be surrounded by the delicate pink and white petals of the sakura. Get views of the Tokyo skyscrapers across the river as you continue toward Sumida Park's Ushijima Shrine. Stop at Asakusa Kannon Temple, one of the city's oldest, where you'll explore with your guide. Your 2-hour walking tour ends here.

offered by Viator
Meet your scholar guide in front of the flagship GAP store in Harajuku and start your exploration of Japanese design and architecture at the Meiji Shrine. The very modest design aesthetics on display at this shrine help to underpin the discussion of the rest of the tour's look at more modern Japanese design. Stroll through the kaleidoscopic neighborhood of Harajuku, listening as your guide explains how traditional Japanese roles and principles are expressed via the mechanisms of consumerism and clothing, helping to create social identities. Continue to Omotesando, a district that is home to some of Tokyo's most exclusive fashion brands like Prada and Dior, each of which uses architecture to help reinforce their brand philosophy and aesthetics. This role is evident in Omotesando's many fine examples of modernist architecture, including the Cartier building, the Nezu Museum, Tokyo Plaza, the TOD's building and Gyre, a structure which combines dining and retail under one roof. Move next to Roppongi, where you'll have the chance to view examples of Japanese design including superflat, a postmodern art movement, along with modern expressions of the movement known as Japonisme. Finish you walking excursion in Roppongi Hills, an interesting example of urban planning that blends commercial, cultural and residential spaces into one area. Finish your tour here and make your own way to your next destination or your hotel.

offered by Viator
This classic walking tour explores the contrast of the modern and traditional neighborhoods in Tokyo: Meiji Jingu, Senso-ji and Harajuku. Start the tour with a visit to Meiji Jingu, the city's most prominent Shinto site. Learn about Japan's ancient religion as you visit the sanctuary, treasure house and other structures built of Japanese cypress with copper plates for the roofs. The next stop is to stroll through the neighborhood of Harajuku, the epicenter of Tokyo's youth culture. Harajuku is one of Tokyo's most eclectic shopping districts and home to a distinctive style of urban fashion. Continue on visiting Tokyo's oldest Buddhist temple - Senso-ji. The five-story pagoda, Thunder Gate and distinctive temple architecture are the highlight of this temple. You'll also have the opportunity to sample lots of Japanese snacks and foods and shop for souvenirs on the way up to the temple. Your tour concludes at Sensoji Temple in Asakusa.

offered by Viator
Yanaka, selected as one of the top 100 beautiful and historical natural features of Japan, is an increasingly popular destination for international visitors. Enjoy some time away from the busy modern city and experience the Tokyo of the past. Yanesen (a shortening of Yanaka, Nezu, and Sendagi) is a historic district from Tokyo's Edo period known for its traditional style. Your guide will take you to visit Yanaka-Ginza, a shopping street from the old days. As you'll find on the 3.5-hour tour, Yanaka has many interesting sights to see, including the Yanaka Reien (cemetery), which is famous as a site for viewing cherry blossoms in the spring. Over the years many great Japanese writers have come to this area for inspiration. From the vantage point of a slope, you'll be able to look across to a labyrinth of pathways, with views that evoke a feeling of traveling back in time.

offered by Get Your Guide
Share This Article