The Best Food Tours in Tokyo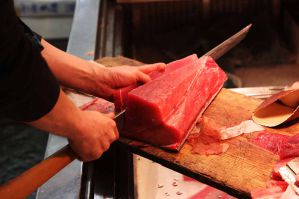 Tokyo, Japan's busy capital, mixes the ultramodern and the traditional. Tokyo's neon-lit streetscapes still look like a sci-fi film set - and that's a vision of the city from the 1980s. Tokyo has been building ever since, pushing the boundaries of what's possible on densely populated, earthquake-prone land, adding ever taller, sleeker structures. Come see the utopian mega-malls, the edgy designer boutiques from Japan's award-winning architects, and the world's tallest tower - Tokyo Sky Tree - a twisting spire that draws on ancient building techniques. Tokyo may be forever reaching into the future but you can still see traces of the shogun's capital on the kabuki stage, at a sumo tournament or under the cherry blossoms. It's a modern city built on old patterns, and in the shadows of skyscrapers you can find anachronistic wooden shanty bars and quiet alleys, raucous traditional festivals and lantern-lit yakitori (grilled chicken) stands. The opulent Meiji Shinto Shrine is known for its towering gate and surrounding woods. The Imperial Palace sits amid large public gardens. The city's many museums offer exhibits ranging from classical art to a reconstructed kabuki theater. Tokyo has more Michelin stars than any other city and Japanese cuisine has been added to the Unesco Intangible Cultural Heritage list. But that's not what makes dining in Tokyo such an amazing experience. What really counts is the city's long-standing artisan culture. Tokyo's vibrant food culture is legendary, and is one of the many reasons why people flock to the Japanese capital. With so much to see, do, and taste, Tokyo is a great place to experience, and there are several options for food tours to help you experience all the wonderful flavors of the city.
Spend your morning exploring Tsukiji Fish Market, the largest market of its kind in the world. Start by wandering through Tsukiji's outer market, which is brimming with vibrant food stalls and retail shops. This is the place to be if you're looking for the freshest and most delicious sushi breakfast one could ever hope for. With over 2,500 tons and 450 types of fish coming through the market every day, you're bound to come across some foods and fish you've never seen before. Try some squid jerky or perhaps scrambled eggs on a stick. No matter what kind of unusual snacks you may encounter, Tsukiji promises to be an experience for all five senses. Along the way, your tour guide will explain about the history of the market, all the different seafood on offer, the legendary tuna auction, and what a typical day is like for all the vendors who work inside the inner markets. Stop to sample a couple of fresh foods, and you're free to try any additional snacks at your own expense that may catch your eye. Once you're finished snacking, make your way to a nearby sake shop for a tasting and introduction to Japan's beloved beverage of choice. Learn how to taste the difference between different sakes and about the role it has played in Japanese culture. As tour groups are prohibited from entering the inner markets, your guide will leave you at the door to Tsukiji's inner markets where you can go explore on your own and watch the wholesale vendors in action.

offered by Urban Adventures
Greet your guide at Yurakucho Station and embark upon your gourmet exploration of the city. Immerse yourself in the electric atmosphere of Yakitori Alley, an atmospheric enclave replete with informal restaurants serving delectable yakitori (grilled chicken skewers). Smother this staple snack in home-made sauce then sip a sake for a refreshing aftertaste. Next, venture to Monja Street to sample the local delicacy of monjayaki, a pan-fried pancake favored by locals. Learn about the snack's interesting origin as you chat with your chef and listen to your pancake sizzling on the grill. Continue to Ginza, a district thronged with confectionery shops, while learning about the rich variety of Japanese sweets. Sample a sweet then conclude your culinary tour at a local pub that serves refreshing local beverages available at your own expense. Bid your guide and group farewell in the bar where the tour concludes.

offered by Viator
Decide on the neighborhood you want to visit and the time you want your 2-hour bar-hopping tour to begin. Meet your local guide at a nearby train station and together make your way to the first izakaya, away from the typical tourist spots. Whether it's a street-seating or standing-only bar, or even a bar so tiny you have to squeeze in, enjoy tasty snacks and drinks (two drinks and one dish, or one drink and two dishes) ordered by your guide from the Japanese-only menu. Learn about local tradition, culture, and food, and enjoy what is sure to be a memorable experience. At the end of the tour, accompany your guide back to the nearest station where, full of cheer and feeling a little more like a local, you say goodbye.

offered by Viator
Sail into Tokyo Bay on board a 2.5-hour dinner cruise on a luxury yacht, offering great food and drink plus fantastic views of the Tokyo skyline lit up at night. Start your cruise at the Hinode Terminal Boarding Point, making sure to arrive at least 15 minutes before the boat's evening departure time. Climb aboard your luxury yacht as the staff welcomes you into the boat's sumptuous dining room. The room's elegant tables are situated on an open floor plan, offering easy paths to move about. Meanwhile huge picture windows ensure you'll have the perfect view of Tokyo's glittering skyline during your cruise. Those hoping for an even better view can step onto the deck. Begin your high-end dinner including a selection of Western and international favorites. You'll be served an appetizer, soup, seafood, a meat dish and dessert, along with a choice of tea or coffee. Your meal also comes with a free glass of wine, beer or a non-alcoholic beverage. Additional refreshments are available for purchase at the bar. Soon your cruise passes beneath the glitzy Rainbow Bridge. This 2,618-foot bridge includes a collection of white towers that mimic the city skyline. As you admire the bridge, make sure to keep an eye out for planes taking off at the airport and nearby Tokyo Disneyland, visible in the distance. You'll also be able to see the illuminated Tokyo Skytree, which reaches a height of 2,080 feet along with Hamarikyu Gardens and the shoreline of Odaiba, an island neighborhood that lines the bay. Finish your magical cruise with a return to your departure location.

offered by Viator
On this Tokyo tour enjoy the food culture of Tokyo. Throughout your Tokyo food tour, your local guide will explain the history of food and places you visit, sharing with you his own personal experiences and food related family traditions and customs. Begin in Yakitori Alley, near Yurakucho, an area with many casual bar-style restaurants and the birthplace of yakitori, one of many Japanese people's favorite appetizers. Enjoy a drink of sake or a local beer, then sample yakitori at one of the many local restaurants, each with their own sauce mixed with their secret ingredients. Travel to Tsukishima to visit "Monja" Street, where "Monja-Yaki" is said to have originated, a type of Japanese pan-fried batter with various ingredients. You'll have the chance to watch your food being cooked, chat with the cook, and devour your Monja-yaki fresh from the hot plate. Take a quick stroll through Ginza, where you can find great confectionery shops and learn about the rich variety of traditional Japanese sweets and choose one to try. Usually made of rice and red beans, these sweets change based on the ingredients available at each time of year, and even their shapes are inspired by what you can find in nature during that season. End your delicious Tokyo night tour by checking out a local pub for some more drinks, where you're welcome to stay longer or return to the start point with your guide.

offered by Get Your Guide
Share This Article