The Best Walking Tours in Kyoto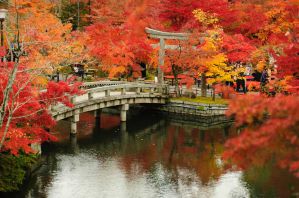 Kyoto is one of the best examples of old Japan: atmospheric temples, sublime gardens, traditional teahouses and geisha scurrying to secret liaisons. Kyoto is said to be Japan's spiritual heart with over 1000 Buddhist temples. You'll find true masterpieces of religious architecture, such as the retina-burning splendor of Kinkaku-ji (the famed Golden Pavilion) and the cavernous expanse of Higashi Hongan-ji. Within the temple precincts are some of the world's most sublime gardens, from the Zen masterpiece at Ryoan-ji to the riotous paradise of moss and blossoms at Saiho-ji. And then there are the Shinto shrines, monuments to Japan's indigenous faith. While the rest of Japan has adopted modernity with abandon, the old ways are still clinging on in Kyoto. With its roots as the cultural capital of the country, it's no surprise that many traditional arts and crafts are kept alive by artisans from generation to generation. Wander the streets downtown to find ancient specialty shops from tofu sellers, washi (Japanese handmade paper) and tea merchants, to exquisite lacquerware, handcrafted copper chazutsu (tea canisters) and indigo-dyed hanging curtains. Few cities of this size pack such a punch when it comes to their culinary cred, and at its heart is Nishiki Market ('Kyoto's Kitchen'). Kyoto is crammed with everything from Michelin-starred restaurants, chic cocktail bars, cool cafes, and sushi spots to food halls, Japanese pub-eateries, craft-beer bars, and old-school noodle joints. With so much to see, do, and taste, Kyoto is a great place to experience, and there are several options for walking tours to help you make the most of your time here.
Start your religious-themed exploration of Kyoto by meeting your guide in the afternoon at the Lawson General Store in front of the city's Yasaka Shrine. Head inside this impressive Shinto complex, encompassing a multitude of intricate gates and halls. You'll also have the chance to witness temizu, the ceremonial washing of the hands practiced by visitors before entering such sites. Listen as your guide explains the primary structure of Shinto, the indigenous Japanese spiritual practice, including an outline of its kami, or spiritual deities. Head back into the throughways of Gion as you proceed on to Kiyomizu-dera, one of Kyoto's most celebrated temples. First built in 788 AD, this UNESCO World Heritage-listed temple is situated high above the city on the slopes of Otowa Mountain, providing fantastic views of the surrounding urban area. Begin a discussion about the origins of Buddhism with your scholar guide, covering the history of the religion and an explanation of the organizational principles for Buddhist temple complexes. Make your last stop of the day at Kennin-ji, a Zen Buddhist complex first constructed in 1202 AD. Spend some time here observing the typical rituals and practices of the site's resident Buddhist monks, who use a combination of meditation and work to help reach spiritual enlightenment. Finish your tour back at Kyoto's Yasaka Shrine after your insightful journey.

offered by Viator
On this Kyoto tour, you'll discover some of the magic of the city through cultural explorations and local experiences. First head to one of the city's must-see sights, the Tofukuji Temple. Originally built in the 13th century, and famous for its traditional, yet modern, Zen garden. Next walk through a nice local residential neighborhood to the Fushimi Inari Shrine. Home to a seemingly endless stretch of iconic red torii gates spread across a thickly wooded mountain, this shrine is a world unto itself. Walk through snaking corridors of red gates, made famous in the film "Memoirs of Geisha", stopping to admire the shrines and many fox statues. Head to Gion, famously known as Kyoto's Geisha district. This area was the model for Memoirs of Geisha, and it comes alive with people and lights in the evening. Stroll past the 17th-century traditional restaurants and teahouses, many of which are still exclusive establishments for Geisha entertainment, see the theaters and traditional shops, and soak up the atmosphere of this historic quarter where your tour comes to an end.

offered by Get Your Guide
Start by meeting your small group at the Golden Pavilion, also called Kinkaku-ji, for a 3-hour walking tour where a scholarly guide will focus on Japanese garden design during the Muromachi period, an era when Japanese culture flourished. Starting at the Zen Buddhist temple, learn how Shogun Ashikaga Yoshimitsu purchased and transformed the land. Visit the lush gardens as your guide delves into villa garden design from approximately 1337 to 1573. After a short trip on the local bus at your own expense, arrive at two excellent examples of Zen rock gardens: Karesansui Garden at Ryoan-ji and the gardens of Ninna-ji. The dry Zen gardens at Ryoan-ji showcase a stylized landscape created from gravel and rocks. Karesansui Garden from the Muromachi period exemplifies the typical design found at Zen Buddhist temples. You'll learn to read the landscape as your expert guide points out how form and function are bound tightly together with the philosophy behind Zen Buddhism. Your final stop, Ninna-ji, dates from the Heian period, contains both dry gardens and gardens with water features, tying together the Japanese principles of precision and idealization you've come to appreciate during your small-group walking tour.

offered by Viator
Explore the glorious city of Kyoto, led by an authentic Samurai guide who knows the city as well as he knows his own swordsmanship! Kyoto was the 2nd capital of Japan from 794-1868, with a legacy of 72 Emperors and 3 Shoguns. The site still retains much of its history among more modern developments. The tour starts at the Kyoto City Hall Plaza, from there visiting a variety of traditional arts and crafts shops, including a wood engraver, a brush and ink maker, and fine tea shops. Visit a Buddhist temple and Shinto shrine. Continue onward to a typical Japanese market to sample the produce and enjoy a lunch. Afterwards watch your Samurai guide demonstrate his skills.

offered by Get Your Guide
Share This Article