The Best Party Hostels in Amsterdam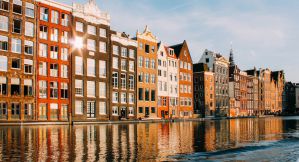 Even during historical times, Amsterdam earned a reputation as a party town. When sailors on old trading ships came into this water-born town looking for rest and recreation, the city provided prostitution, bars, and other various forms of entertainment. This culture of debauchery and artificially induced entertainment continues today along side Amsterdam's world-renowned art, museums, architecture, and culture. The famous red light district is perhaps more touristy than functional (but still functional). Combine that with the town's liberal views of inhaled stimulants, and you have a recipe for a good time, just as the old sailors did.
The following places to stay will not only serve as a springboard to the nearby attractions, but also help you meet other travelers to party with. Make some memories and have a good time, but don't go too overboard!
How much do hostels in Amsterdam cost?
| | |
| --- | --- |
| Average Dorm Price | $22 ($8 to $44) |
| Average Double Private Room Price (in a hostel) | $77 ($6 to $342) |
Dorm Bed:
$
18.50
Private Room:
$
29.00
Overall Rating:
88%
The Flying Pig Downtown Hostel in Amsterdam, Netherlands is the place to be if you're looking for fun nights and socializing with other travelers in a comfortable setting. It's a popular hostel for partying but there are some great facilities where you can just sit back and relax as well. You can chill out in the hostel and play pool in the bar or you can enjoy the dance music and the DJ hosted party that happens regularly. Twice a week the hostel hosts a party. If you're in a more mellow mood there's also a television room with a DVD player and free internet access 24 hours a day. The bar stays open until four in the morning and the beer is some of the cheapest in town.
The hostel also offers a free and complete kitchen where many travelers get to know each other during meal times. The hostel itself is only a couple minutes walk from the central train station and you're surrounding by some good, but cheap restaurants, shops, and more. It's also a few minutes walk from Amsterdam's world famous Red Light district. Other nearby sights include the Anne Frank House, the Royal Palace, and Dam Square.
Please do take note that the maximum stay at the hostel is seven days.
Nieuwendijk 100 1012 MR
,
Amsterdam
,
Netherlands
,
Dorm Bed:
$
22.52
Private Room:
$
45.27
Overall Rating:
88%
Located right in the middle of Amsterdam, this hostel is conveniently situated right next to the Leidseplein. This square is one of the most famous in the city and is well known for its artists and the large number of clubs, coffee shops and restaurants nearby. The hostel itself is in an old Amsterdam mansion and looks out over Vondelpark. It has a wonderful laid back atmosphere and is a great place to experience the "real" city with its parties, and social atmosphere. There's a bar at the hostel which encourages guests to get to know each other and make friends. The staff is really friendly and can help you figure out anything you might need to know. There are games, movies, and drinks available and there's an indoor smoking area for guests as well. The street that the building is on is very beautiful. The building is right next to a park and is only a minute from plenty of activities.
If you're in town looking for culture then the Van Gogh Museum and the Rijksmuseum are just around the corner. The Concert Building is also nearby. You can wonder through many of the city's top historic sites or visit the Red Light District or Chinatown, all of which are just a short walk away. If you need to travel farther you'll find public transportation nearby as well.
If you're looking for a social hostel that always offers up a good time then this is the place for you. There are always things going on and interesting people to meet so it's definitely a number one pick for travelers to the area.
Vossiusstraat 46
,
Amsterdam
,
Netherlands
,
Dorm Bed:
$
16.21
Private Room:
$
17.37
Overall Rating:
66%
Anybody who spends a significant amount of time in Europe will likely end up in Amsterdam at some point during their trip. It's a beautiful city with plenty of things nearby to see and do. If you stay at the Inner Amsterdam you assured to meet other travelers and make some new friends while you're in town. It's a great place for visitors who are looking to have some fun and enjoy themselves a little. The staff is friendly and the atmosphere is relaxed so you will immediately feel right at home in this establishment. It's close to Vondelpark, the Van Gohmuseum, Rijmuseum and the world famous LeidesPlein Square. You'll find plenty of bars and restaurants nearby and many popular activities are within a short walking distance.
There are several great amenities available through the hotel. These include use of the internet free of charge and a breakfast that is included in the price of your room.
Wanningstraat 1
,
Amsterdam
,
Netherlands
,
Dorm Bed:
$
32.75
Private Room:
$
37.94
Overall Rating:
87%
St. Christopher's Inn in Amsterdam, Netherlands, is a great place to stay, whether you're looking to relax or head out on the town for a good party. There's an on site bar and restaurant that has several comfortable couches and offers good music and many sports games on television. It also has great food and drink promotions throughout the year. The food is filling and healthy and the menu has everything from burgers to salads, nachos, wings, and daily specials. There's also a 25% discount for all guests of the hotel.
The hotel is only a five minute walk from the Amsterdam Central Station. It's right in the middle of the city and is between Dam Square and the Red Light District. You'll have the opportunity to enjoy everything from canal tours to coffee shops and beer gardens that are nearby. It's a safe area as well and you'll feel comfortable walking almost anywhere.
The hotel is right next door to the Winston Kingdom Nightclub. They offer live music or DJs all night, every night.
Warmoesstraat 129
,
Amsterdam
,
Netherlands
,
Dorm Bed:
$
15.88
Private Room:
$
23.16
Overall Rating:
76%
This hostel is a popular place in Amsterdam for travelers who are hoping to meet others and make some new friends. It's a very social environment and on the bottom floor you'll find a popular Irish Bar. All guests of the hostel will receive a 20% discount on all food and drinks from the bar. There are also daily Heineken Happy Hours when there is a buy one get one free special going on.
The hostel has all kinds of amenities including free wireless internet, no curfew, free access to lockes, towels and linens included in the price of the room, and a central location. There's also a smoking terrace available, bicycles for rent, and popular pub crawls for guests. There's a tour desk where you can inquire and organize any number of activities and the staff is available 24 hours a day. Guests have access to any number of discount cards and the staff can keep you informed of the most popular Amsterdam night life activities any night of the week.
Warmoesstraat 87
,
Amsterdam
,
Netherlands
,
Dorm Bed:
$
25.00
Private Room:
$
28.13
Overall Rating:
69%
This hotel has twenty rooms that are clean and comfort. Each room has its own attached bathroom and there are a variety of rooms styles and sizes including triples, quadruples, and dorms available. The hotel is more than just a place to spend the night though. Attached to the building is one of the largest bars in the Red Light District. It stay open until 3:00 AM on weekdays and 5:00 AM on weekends. There's also a restaurant where you can grab either an English or American breakfast. They also serve lunch and dinner for reasonable prices.
One of the most popular parts of the hotel is the sports cafe. It's the place to be if you're hoping to watch any major sporting event. Crowds flock here for the Super Bowl, NBA games, and more. There are nine televisions and two big screens.
Hotel guests also receive a twenty percent discount on all food items at the restaurant. There are also frequent happy hours between Sunday and Thursday at the bar where you can take advantage of a buy one beer, get the second free deal.
Oudezijds Voorburgwal 3
,
Amsterdam
,
Netherlands
,
Dorm Bed:
$
28.46
Private Room:
$
40.50
Overall Rating:
75%
Hans Brinker Hotel is located on the pleasant street of Kerkstraat that is near the vibrant Leidseplein Square area. It's in the heart of the city and is close to some trendy activities, restaurants, and bars. Whether you're looking for somewhere interesting to eat out, a great pub to grab a drink, or a club where you can enjoy some dancing, you don't have to go far from this hotel. It's also close to the major attractions in the city. If you're interested in immersing yourself in the area's history and culture, all you have to do is wander the beautiful streets and canals in the neighborhood. There are museums where you can duck into and shops that sell local goods. Whatever your motivation for visiting Amsterdam, you won't have to go far from here.
There are some conditions for staying at this hostel. You must arrive before noon unless you have called in advance. Call the day of arrival to insure that your reservation is kept. If you do not show up for the reservation you will still be charged for one night.
There are several room options here. The dorms are simple with several basic beds. Every bedroom has an attached bathroom with a toilet and shower. There are lockers connected to each bed. There is some common space on the ground floor. There's also luggage storage available to guests. There is no on site kitchen for guests, but there is a restaurant that has reasonably priced meals. The disco that is located downstairs is open until three or four in the morning.
Kerkstraat 136-138 1017 GR Amsterdam
,
Amsterdam
,
Netherlands
,
Private Room:
$
14.57
Overall Rating:
64%
The Travel Hotel in Amsterdam, Netherlands has a wide variety of rooms which you can choose between. There are singles, doubles, triples, quads, and even small five person rooms available for small groups. There's a color television in every room as well as a private telephone. Depending on your travel budget and preference you can choose whether you prefer a private bathroom or shared as well.
The hotel itself is very cozy and comfortable. It's located right in the middle of the Old City Centre and is only a five minute walk from the central train station. It's also in easy reach of the many of the most famous Dutch attractions including Dam Square, the Royal Palace and the Red Light District.
Amsterdam is an impressive city in that in spite of the large number of tourists that visit every year, it still manages to hold on to a high level of authenticity and genuineness. There are quaint, old crooked houses that line the cobblestone streets and there are tree lined canals that have wonderful parks along side of them. The high season in the city is around Easter and then again between July and August during the summer months. If you're in ton between April and may then the daffodils and tulips will likely be in bloom, but the crowds will be very high. If you're in town on a warm summer night a favorite activity is to get a drink and enjoy it by a canal.
Beursstraat 23 1012JV
,
Amsterdam
,
Netherlands
,
Dorm Bed:
$
25.00
Private Room:
$
30.00
Overall Rating:
70%
The Dam Hotel in Amsterdam, Netherlands, is located right in the city centre. It's surrounded by beautiful historical buildings and is near many of the area's best museums. There are plenty of diverse shops nearby and you are not far from coffee shops or the city's vibrant night life. It's also only a few minutes on foot from the central train station and it's just across the street from the famous Red Light District.
Right nearby is Dam Square, which is an area that is famous for its history and buildings. You can walk from here to many of the city's top attractions and you're not far from almost anything. Madame Tussauds, the Tears Monument, the Anne Frank Museum, and the Diamond Factory are all very close by.
If you're looking to have a good time at some of the city's most popular clubs or pubs then you're also in the right place. Nearby you'll find clubs including Melkweg, Sugar Factory, Paradiso, and the Hard Rock Cafe. This hotel is definitely a top choice if you're looking to have a good time without the hassle of having to travel very far.
Damrak 31-32
,
Amsterdam
,
Netherlands
,
Dorm Bed:
$
14.05
Private Room:
$
14.69
Overall Rating:
67%
This accommodation option is conveniently surrounded by bars and coffee shops and it provides guests with direct and immediate access to some of the most lively and interesting neighborhoods in the city. It's a great hostel option for larger groups because it has the resources and amenities to accommodate groups of every size, but it's also a good option for individual travelers because it provides a social setting where its easy to meet people and make new friends. There are a variety of room options ranging from dorm rooms that hold up to six people to private rooms where couples can have some peace and quiet.
The facility also has a small supermarket and a lounge area that is on the ground floor of the hostel. There you can purchase any number of types of food or drinks. The staff are friendly and knowledge and can give you any kind of tourist information you might need. This is a great place to stay if you're looking for a welcoming and social environment where it's easy to get to know fellow guests.
N.Z.Voorburgwal 160
,
Amsterdam
,
Netherlands
,
Share This Article