Best Hostels in Amsterdam for Solo Travellers and Couples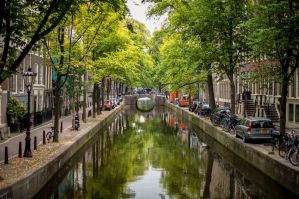 Amsterdam is one of the most popular cities to visit in Europe. Backpackers flock to the city for it's history, culture, beauty, and liberal nature. There are many different hostels to choose from and they offer a range of experiences and styles. Some hostels have gained a reputation as a favorite among travelers. These hostels have grown in popularity and continue to be in high demand, so be sure and book early.
How much do hostels in Amsterdam cost?
| | |
| --- | --- |
| Average Dorm Price | $21 ($8 to $44) |
| Average Double Private Room Price (in a hostel) | $76 ($6 to $342) |
A good hostel for solo travellers and couples.
Dorm Bed:
$
17.50
Private Room:
$
12.00
Overall Rating:
90%
The staff and employees at ClinkNOORD are eager to welcome you to this friendly city. Many people in Amsterdam speak English as their second language and they will almost always go out of their way to make sure your stay is enjoyable. The people here will help you with any questions or confusion you may have and the staff will do everything possible to make sure you have a great experience in the city. If you need directions or need help locating something do not hesitate to ask.
The hostel is located right in the middle of Amsterdam. Situated in a completely renovated building with a variety of amenities available, this hostel has rooms that are suitable for any type of traveler, including solo travelers, couples, or even families. If you're in the city on business or pleasure you are sure to find what you are looking for here. There are private rooms with private bathrooms as well as more budget friendly rooms and dorms (bunk style) with shared facilities. The room rates also include WiFi internet access and a game room.
The staff is multilingual and is available 24 hours a day. They will warmly welcome you and help you begin planning your stay.
As a bonus for families and other travelers looking for a quiet place to stay, the hostel discourages larger party-oriented groups from booking.
Badhuiskade 3 1031 KV Amsterdam
,
Amsterdam
,
Netherlands
,
A good hostel for solo travellers and couples.
Dorm Bed:
$
23.52
Private Room:
$
23.52
Overall Rating:
85%
The Generator Amsterdam is part of a chain of hostels that is found around Europe. It's a secure and safe place to stay that has several great social areas, a nice cafe, and an outdoor terrace. There's also a nice lounge area and bar, as well as an old library where you can relax with a good book. The hostel has all of the standard amenities available including free wi-fi, laundry facilities, and a secure luggage room. There are also bikes available for rent, which offer guests the most convenient and enjoyable way to explore the city. The staff also host regular events which help guests get to know each other.
This is a large hostel that can hold up to 564 guests in 168 rooms. There are twin and four bed rooms available, some that have nice views. There are private rooms and dorms both available as well. There's also one apartment area that sleeps up to six people and has it's own attached kitchen.
This is a stylish, fun and comfortable place to stay in Amsterdam. It's also close to public transportation which makes most of the city accessible.
Mauritskade 57
,
Amsterdam
,
Netherlands
,
A good option for couples and groups of friends that are traveling together.
Dorm Bed:
$
28.41
Private Room:
$
44.89
Overall Rating:
87%
The BullDog offers a good option for travelers who are looking for an affordable place to stay that is clean and well kept. It's more of a hotel than a hostel, but it's designed to appeal to budget travelers who aren't looking to spend a lot of money but still want comfort and style. The owner has done a good amount of traveling himself so he understands what travelers want and need and he's gone out of his way to make sure it's provided at this guesthouse. It's a popular option with backpackers, but the diversity of room styles and sizes make it appealing for a variety of different people.
There is 24 hour a day security so guests know that they and their belongs are in a safe environment. The building is in downtown Amsterdam and is near the Red Light District and Dam Square. It's right by all of the excitement and bars and clubs that this vibrant city has to offer. It's a great place to relax and meet other people who have come from all over the world. You can enjoy a cup of coffee, smoke a cigarette, or simply watch your favorite television show. There are also DVDs available for guests to enjoy.
The staff understand that many travelers are budget conscious but they still make sure you have the comforts you deserve. This hotel goes beyond the level of most budget accommodation in Amsterdam and you will enjoy a level of privacy you might not get at a hostel. There are both dorms and private rooms available. If you're looking for tourist information, that is available as well. Any information you might need on the city or the surrounding area is at your finger tips.
Oudezijds Voorburgwal 220
,
Amsterdam
,
Netherlands
,
A good hostel for groups of friends.
Dorm Bed:
$
16.50
Private Room:
$
18.17
Overall Rating:
86%
This modern hostel is one of the most popular and well reviewed in the the city. It is conveniently located in the middle of the famous Vondelpark, so you can easily walk to some of the best attractions and most impressive nightlife in the city. The hostel is large and has 536 beds that are split between rooms with either 2, 4, 6, or 8 beds. There are also some much larger dormitories available. Guests are provided with a personal locker and there is a great game room, meeting rooms, lobby area, and internet service. There's also a bike shelter and bike rental available as well as travel information.
There's an onsite bar that shows sports on television and offers great music. There's also a daily happy hour and 10% discount to hostel guests.
Zandpad 5 1054 GA
,
Amsterdam
,
Netherlands
,
Share This Article