Best Hostels for Solo Travellers in Christchurch, New Zealand
Christchurch is the largest city on New Zealand's South Island. It's a popular arriving point as it has a convenient international airport. The city also has a decent number of hostels to choose from. If you're traveling alone, then it's helpful to find a hostel that hosts events and activities for guests. It's also important to consider what activities you prioritize during your time in the city and choose a hostel in the most convenient location for you.
How much do hostels in Christchurch cost?
| | |
| --- | --- |
| Average Dorm Price | $20 ($8 to $27) |
| Average Double Private Room Price (in a hostel) | $60 ($42 to $108) |
Dorm Bed:
$
21.75
Private Room:
$
28.55
Overall Rating:
86%
This hostel is a favorite and one of the most popular in Christchurch. It's located in a building that was originally Addington Prison, hence the catchy name. The building has been renovated and now it is a welcoming hostel with private single, double, and twin rooms, as well as dorms. There are also larger rooms available for families or groups. If you're traveling alone, this is one of the most popular hostels in the area and there are sure to be plenty of other guests around.
The hostel has all of the standard amenities including comfortable beds, free towels and linens, off street parking, and a shared kitchen. There is also a television room with dvds available, and pool table. It's also possible to rent a bicycle from the hostel.
The hostel is located in the suburb of Addington, very close to the Tranzalpine train station. It's also possible to walk to Hagley Park and Canterbury Museum. You'll find no shortage of cafes and bars nearby as well.
338 Lincoln Rd, Addington Christchurch
,
Christchurch
,
New Zealand
,
Dorm Bed:
$
24.49
Private Room:
$
31.21
Overall Rating:
88%
The Old Countryhouse is another favorite in Christchurch. It's a pleasant place to stay with a garden path that connects the charming colonial villas. Each villa has been restored and has quaint wooden floors and native timber furniture. You will quickly feel welcomed here as it has the feel of a home away from home. There's even a pet dog, Max, who will greet you eagerly with cuddles. The staff are travelers themselves, so they understand what you might be looking for as a solo traveler.
The hostel has doubles, twins, and triples as well as large dorms. Shared and private bathrooms are available and heating is available during the winter months. Other amenities include free wi-fi, a full kitchen, a television room, a reading room, laundry facilities, and off street parking.
The hostel is located on the eastern side of central Christchurch. It's about a 15 minute walk into the city center. There are many shops, restaurants, and a grocery store nearby. You can also easily catch a bus to a local beach or shopping mall.
437 Gloucester Street
,
Christchurch
,
New Zealand
,
Dorm Bed:
$
25.00
Private Room:
$
30.00
Overall Rating:
65%
If you want to stay near the beach, then this is the hostel for you. Point Break Backpackers is the only hostel in this area of Christchurch. They have dorms that sleep anywhere from two to eight people as well as private rooms if you want some personal space. The hostel also includes a free breakfast (weekdays only) to help you start your morning. They host a variety of activities for guests and the hostel has a social atmosphere. There are movie nights, summer barbecues, and meal nights that help guests get to know each other. There's also a cafe on site where you can grab a quick, cheap meal.
If you're interested in hanging out on the beach, it's possible to rent surfboards and wet suits through the hostel. Bikes are also available for hire.
The hostel staff is friendly and welcoming. They're also knowledgeable on the area and can help you with any travel related questions you may have. There's even a travel desk that can help you arrange anything from bus tours to rental cars.
6 Union Street New Brighton
,
Christchurch
,
New Zealand
,
Dorm Bed:
$
35.00
Private Room:
$
31.67
Overall Rating:
77%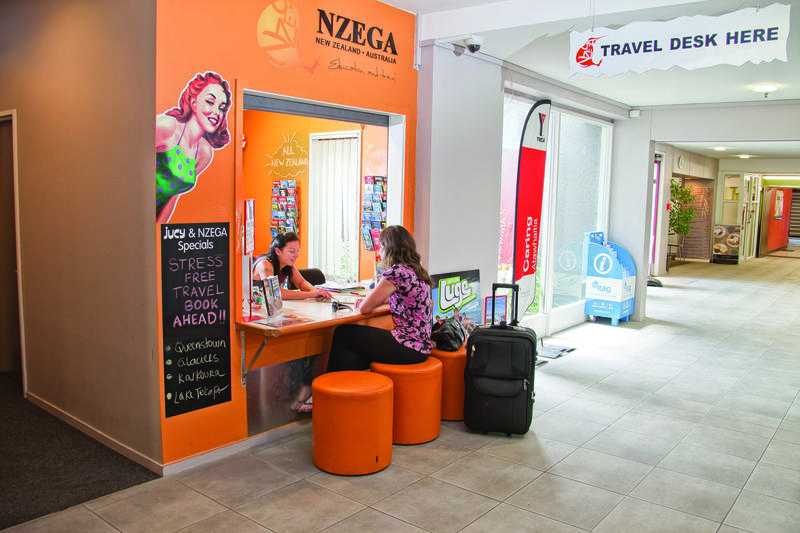 This hostel has a great location in the central part of the city. It's right next door to the Arts Centre & Botanical Gardens, and is in walking distance to a variety of restaurants and bars. The hostel is an affordable option if you're traveling alone and on a tight budget. Perhaps the biggest challenge with this hostel is that it does not have the most social atmosphere and it can be difficult to meet other guests. But if you're looking for clean, comfortable, and affordable, in a central location, then it's a good option.
The hostel has some unique amenities including a gym, climbing wall, cafe, and restaurant. There's also a travel desk where they can answer any travel related questions that you might have or help you make travel arrangements.
The hostel has single, twin, double and triple private rooms as well as six bed male dorms and ten bed female dorms.
12 Hereford Street Christchurch 8011 P O Box 2004 Christchurch 8140
,
Christchurch
,
New Zealand
,
Share This Article